Whitespace Gallery # Maitree Siriboon # Lotus Disco
November 20, 2014 @ 7:00 pm
January 18, 2015 @ 10:00 pm
ICT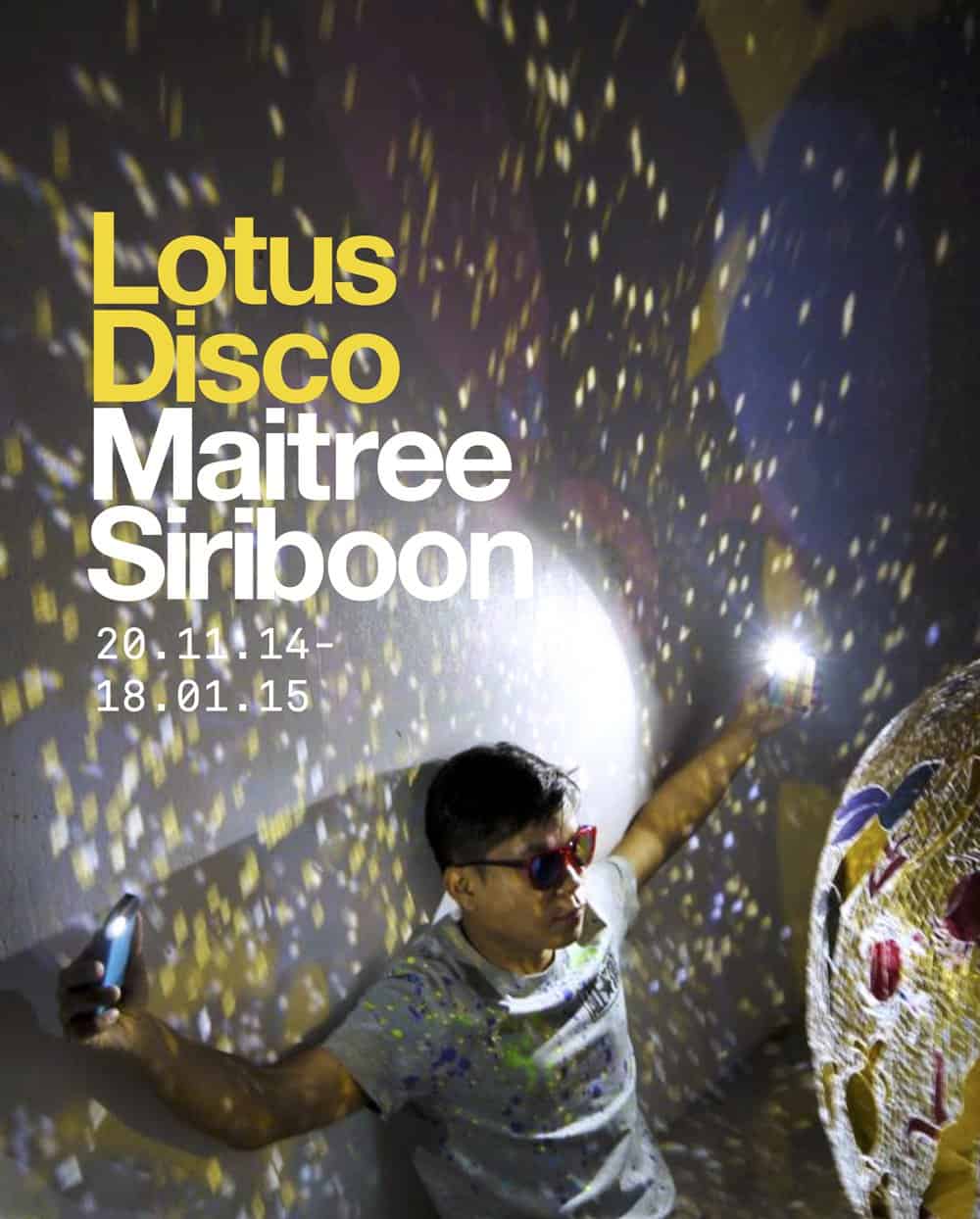 Lotus Disco
New Solo Exhibition by Maitree Siriboon At Whitespace Gallery in collaboration with Thaillywood Artist Residency
Exhibition Period: November 20 – January 18, 2015
In a productive eight-year career Maitree Siriboon (b. 1983) has already made a significant impact upon Thai art. The 31-year-old artist's practice is a colorful mix of elaborate glass mosaic collages and loose photographic portraiture. Widely exhibited internationally, his identity-coded art explores differences in rural and urban existence, alienation and acceptance.
Maitree's art evolves from the decorative glass encrusting Thai temples. Rich in flora and fauna, the partly autobiographical imagery is born from childhood memories of rural upbringing, shepherding water buffalo to nearby paddy fields while his mother sold lotus flowers to fund his education. His use of shimmering reflective materials conveys a sense of distant recollection and illusion.
For the ambitious new installation at Whitespace Gallery, Maitree presents a series of three- dimensional lotus (bua) shape mosaic 'disco balls' that were recently created during his five- month residency at Thaillywood in coastal Chonburi province. While there he furthered his previous deliberations towards fellow Isan characters who aspire to the metropolitan ideal, while injecting their own cultural nuances to the urban conflation.
Born from the Bangkok nocturne, the immersive installation evokes a nightclub atmosphere of disco globes, flashing lights, pumping tunes, and smoke filled rooms. Subverting negative connotations of the capital's nightlife, Maitree envisions the discotheque as a metaphor for the experiences of Isan folk who populate the entertainment industry. Encrusted in colorful narratives, the disco-lotus installation is a surreal hedonistic temple, mesmerizing in its disorienting seduction.
Blurring dream and reality, Lotus Disco is about defining oneself in adoptive environments. It is an aspirational exploration into selective cultural absorption and tribalistic preservation in the creation of sparkling hybrid personas.
About Maitree Siriboon
Based in Bangkok Maitree is a recipient the "The Bualuang Award" in 2006 by The Bangkok Bank Foundation. His work has been shown around South East Asia as well as in Brazil, United States, Japan, France, China, Italy, UK, and the Netherlands. Exhibitions include the Guangzhou Triennial 2011, Young Artist Project South Korea 2011, the 3rd Biennial of World Images in Paris 2011, and Art Stage Singapore 2012 and 2013 (Project Stage).