Climbing Man Wall Sculptures (resin or brass)
Wall Sculptures – Climbers Description
Our unique climber sculptures are the perfect example of the creativity and originality of thai art and metal wall art.
One of our most popular items, the Climbing Man by Nop is beloved for its simple yet eye-catching art design. Moreover, the manageable sizes of our climbers mean that they work beautifully in any interior or exterior space.
The climbing men are made of resin covering a steel framework attached to a steel rope, and are also available in brass: green natural oxidate brass, or dark brown brass.
Climbing man wall sculpture meaning
They offer a tongue-in-cheek representation of humankind's desire to move up and forward into prosperity and success. The climbers not only provide us with an engaging, positive message but also are light-hearted and fill any space with a sense of fun.
The climbers are fascinating resin sculptures that act as a conversation starter and deliver joy to all ages.
Every order includes express worldwide shipping with insurance, free custom ropes and extra spare ropes (on demand). You'll get everything you need to easily install your climbing man wall sculpture at home or in your office.
Climbing man wall sculpture installation on indoor wall
Climbing Man Sculpture options: there is 2 sculpture positions
The climbers are available in two distinctive positions. One version is facing upwards, while the other looks downwards and over its right-hand shoulder. To distinguish each version, we call:
The sky-facing sculpture "A" (position A) and  the downward sculpture "B" (position B).
Look at photos just bellow to see the difference.
Climbing man sculpture – sky-facing position "A"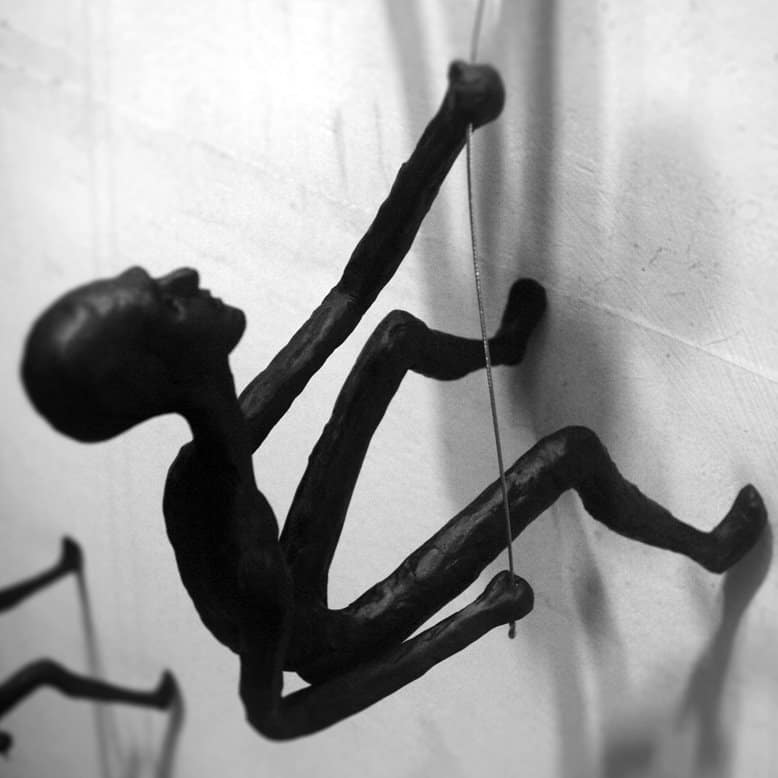 Climbing man sculpture – downward position "B"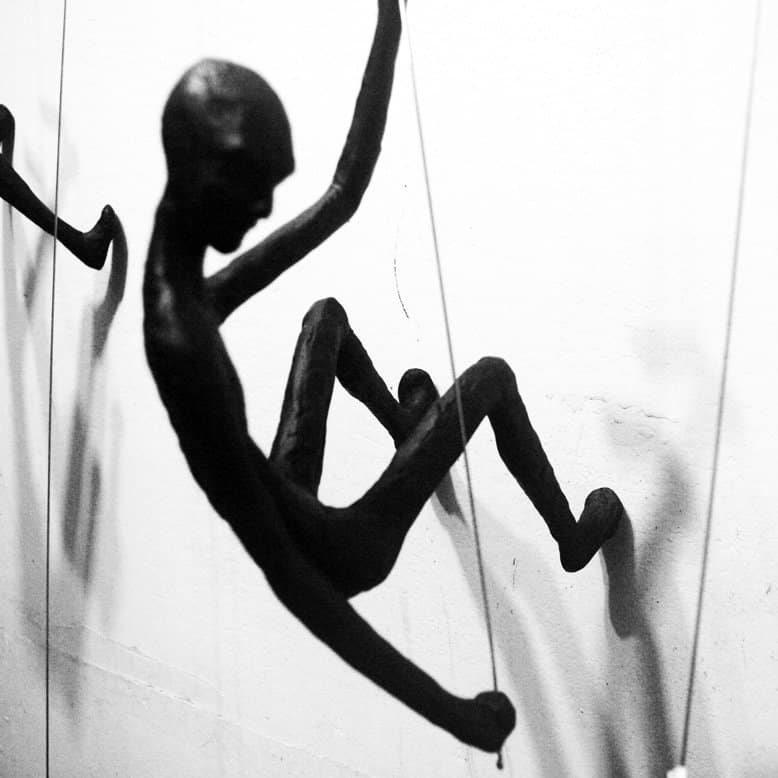 Sculpture Dimensions
The Climbing Man Wall Sculptures are approximately 20.5 centimeters (7.8 inches) in height.
For the width of the Climbing Man, we measure the distance between its widest points, which are the splayed stances of the feet. The space from foot to foot is approximately 20 centimeters (7.8 inches).
Finally, for the depth, we measure as the distance from the feet to the top of the sculpture – or the head of the man. The depth of the climbing men wall sculptures averages at around 26 centimeters (10 inches).
Each individual resin climbing man weighs about 700 grams or 1.5 pounds.
Each climbing man in brass weighs about 1200 grams.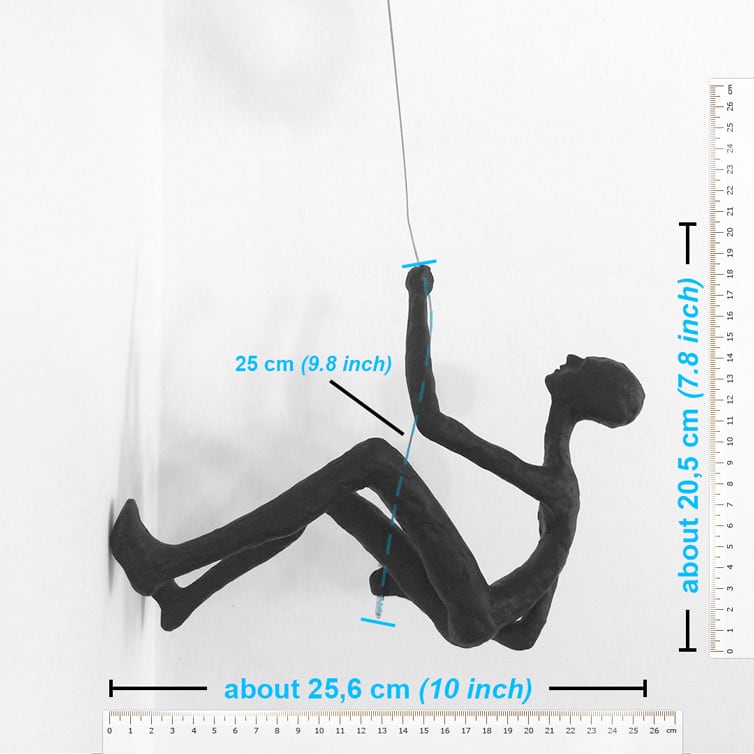 Why makes the Climbers an ideal gift?
The Climbing Man Wall Sculptures are the ideal combination of Thai style, affordable art, and easy-to-love art.
Not only are they suitable for friends, colleagues, and loved ones, but they are extremely easy to integrate into any interior or outdoor space. Our resin climbers look great with just about any other item of artwork you may already own.
Sculptures are often the most noticeable items in a home, and the Climbing sculptures are a wonderfully abstract yet universally loved item that adds a touch of culture to any space.
The Climbers act as a highly positive symbol, making us think of teamwork, reaching your full potential and vertical movement.
The Climbers are particularly suitable items to hang in a lobby or an office/workspace – especially for its connotations of excellence.
According to many scientific studies, there is a huge correlation between artwork in public spaces such as offices, hospital rooms, and hotels, and its effect on a positive mood. The Climbers are an example of artwork that can give any establishment a positive image while providing a good cultural investment and individuality.
Moreover, wall art is an unbelievably easy type of artwork to install in your home. Unlike paintings, which require surroundings that share a similar color palette to look suitable, wall sculptures look good in any space. They don't take up too much valuable wall real estate and provide a huge impact for a fraction of the cost.
In our experience, a large important wall (office, restaurant or hotel) can feature a minimum of 25 sculptures and provides an incredible impression on visitors and dwellers.
Bigger houses, on the other hand, can comfortable display 10 – 15 sculptures without giving a sense of crowding.
Wall sculptures – FAQs
Frequently Asked Questions our support receive on pre-sales and after-sales. Do not hesitate if you have different ones.
All you need to know to choose my climbers
Sculptures, wall and ropes lengths
Each climber comes attached to a steel rope that allows for easy assembling. The durability of the provided steel ropes is very high, being able to withstand sun and rain. They can also be used on any type of wall material, as they are stable and light in weight.
The steel ropes of the climbers come in standard length of 200cm (78 inches).
It is pretty easy to cut the rope and attach the them by yourself.
If you want, we can also provide customized rope lengths ranging from 80 to 200 centimeters upon request (31 to 79 inches).
Thanks to the variety of available lengths, you can decide how to hang your sculptures anyway you desire.
Popular options are either vertically and closely grouped together or widely spaced out, and at the same level.
For more information about the recommended positioning of your sculptures, see our section: Composition.
Can the Climbers be installed outdoors?
Yes, but in the case of rain we recommend that you apply, at the minimum, one coat of transparent acrylic "outdoor" varnish spray. A varnish is a thin protective layer of transparent, colorless acrylic that can make an artwork resistant to the elements, including high temperatures, humidity, and dust particles.
An example of this is "Krylon", a clear sealer that protects items with a decorative finish while adding outdoor durability and a tough satin finish. Ideal for plastic, paper mache, ceramic, and more, this item is easy to find at any hardware/appliance or specialty art store. (cost around 3USD)
Climbers sculptures on a wall, outdoor – see the photos just bellow.
Can you recommend how to compose the Climber sculptures?
We'd be more than happy to give you advice on how to install your Climbers based on your unique wall dimensions.
Just send us an email with photos and measurements of the walls you'd like to display the climbers on and we'll get back to you within 24 hours.
Our international team can answer you in Thai, English and French.
Contact us now for more information.
How to choose Climbing Man Wall Sculpture versions?
In order to specify which Climbing Man version you want (either facing up or facing down), please state how many of each style you would like in the comment field of your order.
You can also email us your order and tell us how many of each style you'd like. Don't forget to copy and paste your order reference number (e.g. #8899) in the email, so we can be sure it's you.
Even if you do forget to specify this information in your order or email, our team will contact you to double check on your preference.
For a set of three or four Climbers, we usually recommend two or three upward facing versions (A) and one downward facing sculpture (B).
For a set of 5, we advise one or two downward facing positions and three upward facing Climbers.
You can also order a bigger set of climbers, and choose either all facing up or downwards. The possibilities are endless!
How to choose the rope size of the Climbing Man Sculptures?
You can specify the desired rope length the same way you specify the Climbers version, at no additional cost. Just drop us a quick line by email or in the comments section.
You can choose from any of our standard sizes, ranging from 80, 100, 120, 140 and 160 centimeters (31, 39, 47, 55 and 63 inches).
Can I get spare ropes for my wall sculptures?
We also deliver extra customized rope lengths ranging from 80 to 200 centimeters, upon request (31 to 79 inches). Free of charge.
Let us know by email or in comment field which size you would like, and we'll include it your box.
We suggest you to look at this video to see how easy it is to change your rope.
Which shipping company does Onarto use?
We work primarily with our favorite shipping companies, Fedex and TNT. However, sometimes we also use DHL or UPS depending on the country of destination and customer preference.
As we are also an art shipping company – focused on custom art documentation and art packaging – we have experience shipping art to overseas artists and art fairs in Asia, for almost 10 years.
Install my Climbing men wall sculptures
What will I find inside the package?
Upon opening your package, you'll notice that each climber has been specially packed with its own bubble-wrap protection. This ensures your sculptures will remain intact and undamaged during shipment.
This tightly packed protection guarantees an enhanced and reinforced packaging well suited to the resin material of the sculptures.
Next, you'll see that there will be a steel rope directly attached to each climber. Before deciding on where to place your sculpture, you'll see that each rope is labeled with a sticker stating the length of the rope.
There will also be either an "A" or "B" on the sticker label. This will signify the direction the climber is facing – either upward or downward. This makes installation a piece of cake!
Lastly, you can find a business card of Onarto Art included your package. We believe that we are a pioneering online art gallery in Asia, focused on Asian culture and contemporary art.
Our goal is to connect you with the hundreds of Thai artists and international and Asian artists living in Southeast Asia.
Installing your Climbing Man Wall Sculpture
Find out here about which tools you need to quickly and easily install the Climbers on your interior or exterior walls:
Required gear:
• Ruler
• Hammer
• Electric Drill & Drill Bit
• Nails
• Ladder
How to install the climbers on the wall ?
First off, we recommend you measure the selected wall to have a good idea of the dimensions of the space you are working with.
After completing this step, decide where the climbers will go by making dots on the wall with a pencil or marker. These will serve as markers for where you will be drilling or hammering the nails.
Next step? Make sure you have securely attacked the nails before hanging the wire rope. You can do this by gently tugging at the nail to make sure it doesn't move.
Finally, hang the ropes and take a step back and enjoy your brand new sculptures!
Secured payment, shipping, tracker, insurance
How do I make an order online? Will my online payment be secure?
Onarto accepts PayPal – the most secure online payment method in the world – for all of our artworks for sale.
PayPal offers supreme credit card security as it keeps your credit card information completely private – it also the leader in online purchasing flexibility and freedom. Last of all, it's completely free to use.
If you aren't a PayPal member, we also take other forms of payment.
You can pay online via Paypal with your debit or credit card, even if you don't have a PayPal account.
We accept Visa, Mastercard, American Express and Discover with our secured plateform provided by Omise.
We also accept direct bank transfers. For bank transfers, please make your payment directly into our Onarto bank account and use your Order ID as the payment reference. Please note your order will not be shipped until the funds have been confirmed in our account.
How does the insurance process work?
In the unlikely event of damaged goods, we'll need your help in gathering photos of the packaging, bubble wrap, and sculptures. Upon receiving this information, we'll be able to reship your replacement climber in a timely manner at no extra cost.
First things first, please take note of the exterior condition of your shipment box when you receive the item. If there is any damage, take detailed photos of the container's exterior condition and send them to us.
After opening the box, check to make sure the bubble wrap and packaging is intact. If you believe the packaging is poor, take photos for our reference.
Lastly, send us detailed photos of each damaged climber.
With all this information, we can then move on to reporting the damage and claiming the exchange.
Does the shipping insurance work for every country?
Yes, our insurance covers countries across the globe.
Just this month we have shipped items to Denmark, Kuwait, Turkey, and all across the United States, in a record time of 3 days – door to door.
How long does international shipping take?
The speed of your delivery will depend on the transporter and each country's particular customs and import rules.
Nevertheless, we guarantee to accelerate the process to the best of our ability by providing clear and detailed documents.
Generally, we say delivery time is between 4 to 7 days maximum.
Some destinations will be much quicker to ship to than others. For example, Bangkok to Los Angeles or New York requires a much shorter shipping time than Bangkok to Paris.
Do you provide a tracking number for the package?
Yes. You can easily follow the status of your shipment with the automatically generated link to your tracking number.
Need more help?
If you still have more questions or comments for us, please don't hesitate to get in touch through email or leaving a comment below.
Our multi-nationality team of Thai, English and French speakers can get back to you in 24 hours.
Order now and receive your sculptures within 1 week
Climbing Man Wall Sculpture
Delivered Worldwide by Fedex or TNT