Toineinbangkok # Porporrina Art Exhibition
November 20, 2014 @ 7:00 pm
December 20, 2014 @ 7:00 pm
ICT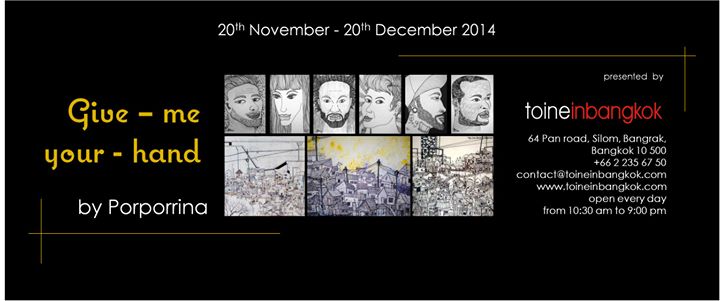 Toineinbangkok presents the exhibition « Give-me-your-hand » by the artist Porporrina at Pan road gallery
from Thursday 20th November to Saturday 20th December 2014.
On Thursday, 20th November, from 7pm onwards, we would be happy to welcome you to the Grand Opening of the exhibition.
Details of the exhibition and the artist:
The Thai artist is nicknamed Porporrina. She finds her own style into her everyday life and the nature and tries to share her vision of a hidden beauty into our surroundings… .
In April 2014, she exhibits for the first time. During this event called « City-Lives-Stories », hundreds of little houses have been drawn with black ink on a combination of 13 canvases. This majestic size art piece will be presented to the public during the exhibition for the last time before entering its final home.
toineinbangkok gallery will also expose the artist's current work. She focused on sketching the people from her immediate environment including friends, family or people that crossed her path… The result is 82 black ink drawings that melt cultures, attitudes and personalities. Always looking for a strong link with her public, the artist is willing to add new portraits at its request. Sketched from photographs these new faces will enlarge the art piece little by little.
During the Grand-Opening, Porporrina will take profit of the presence of an audience to invite people to take part in her new artwork: « Give-me-your-hand ». By placing his or her hand on the canvas and by drawing the outline of it with the help of Porporrina, the spectator "physically" integrates the art piece. The artist will display the final work after adding colors and texturing the following week at toineinbangkok gallery.
The concept of sharing, amusement, and entertainment is an essential point of Porporrina work. She wants to communicate her enthusiasm of life and passion for Art. As it is also in toineinbangkok's DNA as well the gallery is excited to be the host of this exhibition and performance.
Art Gallery: toineinbangkok
64 Pan Road, Bangkok
https://www.toineinbangkok.com
02. 235.67. 50
Art Curator : Chrisophe Nocher
Mobile +66830792101