The Jam Factory – Unknown Asia Art Exchange Osaka 2018
May 16, 2018 @ 6:00 pm9:00 pm BMT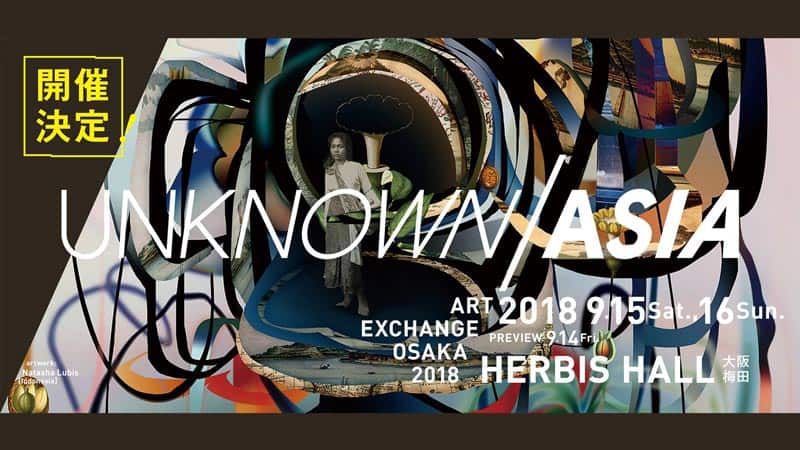 UNKNOWN ASIA ART EXCHANGE OSAKA 2018
Briefing Session & Portfolio Review in Bangkok
We will hold an information session for UNKNOWN ASIA 2018, an art event that gathers and facilitates exchange between creators and reviewers from various countries in Asia and opens opportunities for Japan and Asia.
Producers from Japan will go to Bangkok to give an overview of UNKNOWN ASIA 2017 and describe its appeal. They will also review the visitors' portfolios and give advice on how to flourish in Japan and Asia. Additionally, one visitor will be selected as the guest artist to be awarded a participation support fee.
Date: May 16th 2018
Venue: The Jam Factory
Schedule:
6.00 – 7.00pm : Portfolio Review
7.00 – 8.00pm : Briefing of UNKNOWN ASIA 2018
8.00 – 9.30pm : Portfolio Review
Portfolio Review by Yoshihiro Taniguchi and Hiroaki Shono
Presentator:
Yoshihiro Taniguchi・Producer (digmeout / DMO ARTS producer)
Hiroaki Shono・Producer (vision track / ubies producer)
About Unknown Asia art exchance Osaka 2018
https://unknownasia.net/
From Osaka to Asia, from Asia to Osaka.
A new sense of art fair that the next generation creators gather
Since established in 2015 with the theme of "from Osaka to Asia, from Asia to Osaka", this annual art fair has been receiving remarkable attentions and feedbacks from home and abroad beyond an art exhibition to show but brings a unique opportunity in gathering creators, judges, reviewers and public audiences from Asia at one place to discover chances in unknown Asia. 180 creators participated and over 5,000 audiences came in 3 days including the preview day in 2017.
The UNKNOWN ASIA ART EXCHANGE 2018 presents unique and exclusive programs to support artists participated. The UNKNOWN ASIA invites famous art directors and gallerists in Asian countries including Japan as judges. Artists won the grand prix and other awards will be granted opportunities such as exhibitions at omnibus art events inside / outside Japan to introduce their artistic talents. Business matchings opportunities by sponsors and participation organizations are one of supportive program by the UNKNOWN ASIA.
Time of business matching review by more than 100 of editors, art directors and gallerists is also planned on the preview day September 14th 2018.
We start to call for artists to participate the UNKNOWN ASIA ART EXCHANGE 2017. Participation opens regardless artistic category in art, design, photograph, illustration, fashion, film, installation and others. THE UNKNOWN ASIA looks for talented artists with infinite potential for growth in Asia. Please read following guidelines to applicants and apply to open a door to Asia with your creativity.
Schedule
・September, Friday 14th at 3pm – 8:30pm VIP Preview & Reception Party (by invitation only)
・September, Saturday 15th 10am – 8pm (Public preview)
・September, Sunday 16th 10am – 5pm (Public preview)
Venue
HERBIS HALL
B2F, Herbis Osaka, 2-5-25 Umeda, Kita-Ku, Osaka
Entry: https://unknownasia.net/entry/
ABOUT UNKNOWN ASIA ART EXCHANGE OSAKA 2018
http://unknownasia.net/
From Osaka to Asia, from Asia to Osaka.
A new sense of art fair that the next generation creators gather.
………………………………………………………………………………………………
UNKNOWN ASIA ART EXCHANGE OSAKA 2018
Briefing Session & Portfolio Review in Bangkok
โอกาสดีๆ สำหรับนักสร้างสรรค์ชาวไทยกลับมาอีกครั้ง โดยผู้จัด UNKNOWN ASIA ได้จัดเซสชั่นเพื่อให้ข้อมูลสำหรับ UNKNOWN ASIA 2018 เทศกาลจัดแสดงผลงานทางศิลปะและการออกแบบ ซึ่งส่งเสริมการแลกเปลี่ยนความรู้และประสบการณ์ระหว่างผู้สร้างสรรค์จากประเทศต่างๆ ในเอเชีย โดยโปรดิวเซอร์จากญี่ปุ่นจะเดินทางมาเพื่อบรรยายถึงความน่าสนใจและบรรยากาศของงาน UNKNOWN ASIA พร้อมทั้งวิจารณ์และให้คำแนะนำเกี่ยวกับ Portfolio ของผู้ที่เข้าร่วมกิจกรรม เพื่อโอกาสในการประสบความสำเร็จที่ญี่ปุ่นและเอเชียในอนาคต และที่พิเศษสุด ผู้เข้าร่วมที่ได้รับเลือก 1 ท่านจะได้รับเชิญให้เข้าร่วม UNKNOWN ASIA 2018 พร้อมกับเงินสนับสนุน
วันพุธที่ 16 พฤษภาคม 2561
สถานที่ The Jam Factory
กำหนดการ
6.00 – 7.00pm : Portfolio Review
7.00 – 8.00pm : Briefing of UNKNOWN ASIA 2018
8.00 – 9.30pm : Portfolio Review
Portfolio Review โดย Yoshihiro Taniguchi and Hiroaki Shono
ผู้นำเสนอ
Yoshihiro Taniguchi・Producer (digmeout / DMO ARTS producer)
Hiroaki Shono・Producer (vision track / ubies producer)
สอบถามข้อมูลเพิ่มเติมสำหรับวันPortfolio Review ได้ที่ โทร. 02-861-0950
ในปี 2015 ที่ก่อตั้งโครงการขึ้นด้วยแนวคิด "จากโอซาก้าสู่เอเชีย และจากเอเชียสู่โอซาก้า" เทศกาลศิลปะประจำปีแห่งนี้ก็ได้รับความสนใจและการตอบรับอย่างต่อเนื่องจากนักสร้างสรรค์ ผู้ตัดสิน นักวิจารณ์ และผู้เข้ามาร่วมงาน จากทั้งญี่ปุ่นและทั่วทั้งเอเชีย เพราะที่นี่ได้เปิดโอกาสให้ทุกคนมาค้นหาและแลกเปลี่ยนประสบการณ์กัน
จากปี 2017 ซึ่งมีนักสร้างสรรค์เข้าร่วมกว่า 180 คน และผู้เข้าชมกว่า 5,000 คน ภายในระยะเวลาสามวัน มาจนถึงปีนี้ UNKNOWN ASIA ART EXCHANGE 2018 ได้นำเสนอโปรแกรมพิเศษเพื่อสนับสนุนศิลปินที่เข้าร่วม ได้แก่ การเชิญ Art Director และ Gallerist ที่มีชื่อเสียงในญี่ปุ่นและเอเชียเพื่อเป็นคณะตัดสิน นักสร้างสรรค์ที่ได้รับรางวัล Grand Prix และรางวัลอื่นๆ จะได้รับโอกาส ในการแสดงงานอย่างต่อเนื่องทั้งในและนอกประเทศญี่ปุ่น โอกาสในการจับคู่ทางธุรกิจจากผู้สนับสนุนและองค์กรที่เข้าร่วมกับ UNKNOWN ASIA ซึ่งในปีนี้ช่วงของการจับคู่ทางธุรกิจนั้นจะได้รับการรีวิวโดย Editor, Art Director และ Gallerist กว่า 100 คน ในวัน Preview วันที่ 14 กันยายน 2561
UNKNOWN ASIA ART EXCHANGE 2018 เริ่มรับสมัครนักสร้างสรรค์เพื่อเข้าร่วมแล้ว โดยเปิดรับนักสร้างสรรค์ในทุกแขนงเพื่อมองหานักสร้างสรรค์ผู้มีพรสวรรค์และมีศักยภาพในการเติบโตต่อไป
กำหนดการUNKNOWN ASIA ART EXCHANGE 2018
วันศุกร์ที่ 14 กันยายน 2561
เวลา 6pm – 8.30pm VIP Preview & Reception Party (by invitation only)
วันเสาร์ที่ 15 กันยายน 2561 เวลา 10am – 8pm (Public preview)
วันอาทิตย์ที่ 16 กันยายน 2561 เวลา 10am – 5pm (Public preview)
สถานที่
HERBIS HALL
B2F, Herbis Osaka, 2-5-25 Umeda, Kita-Ku, Osaka
รับสมัครและอ่านรายละเอียดเพิ่มเติมได้ที่
Facebook: www.facebook.com/unknownasia
Twitter: https://twitter.com/Unknown_Asia
Website: http://unknownasia.net/