Tentacles Gallery – Watching sound, Listening to moving image
November 12, 2017 @ 4:00 pm
8:00 pm
UTC+7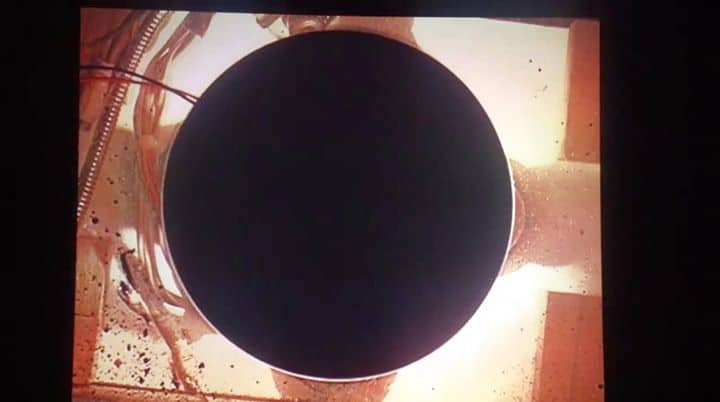 watching sound, listening to moving image
Screening of five selected artists' moving images and discussion with Arnont Nongyao
Saturday 12, Nov 2017, 4pm.
Tentacles Gallery
Part of Arnont Nongyao's exhibition, Next… Nation, 'watching sound, listening to moving image' tries to explore and expand his very notion of the image of sound, the structure/construction of visual sound that is fundamentally inscribed in his bodies of work. Intermixing the experience of decoding language, urban sound and analogue communication materials, five artists' moving images investigate cognitive configuration of sound and haptic rhythm of moving image, inviting its spectator of the post-mechanical age to a contemplation of incorporative forms and shapes generated by the two unique elements.
watching sound, listening to moving image is curated by Pathompong Manakitsomboon. The screening will be followed by Arnont Nongyao and the curator.
Programme:
Mr. Weirdo and Anomalous space
2003, 9:31 min, colour, sound, DV to SD
All the chapter of the song you ate me
2006, 10:14 min, colour, sound, DV to SD
Drink Sky On Rabbit's Field (Lost Control)
2014, 6:55 min, colour, sound, HD
Ghost Rabbit & The Casket Sales
2015, 7.07 min, colour, sound, HD
The Light of Happisadness
2016, 15.10 min, colour, sound, HD
——————————–
About Artist
Arnont Nongyao
Born 1979, Bangkok, works and lives in Chiangmai. Arnont is working with various and different media includes sound, video, installation, site-specific, public art etc. Arnont's work is engaging with his interest in vibration; he works on diverse art experimental projects, vibration-related.
Arnont Nongyao has been interested and research into sound with the concentration on vibration, so most of his works are differently experimental and relative to vibration in order to search for the value of vibration derived from connected things, such as human beings, objects and society. His works are involved in a specific space and audience's participation. They are also connected with the mode of listening/hearing in a social situation, and with how people interact with and participate in sound. Moreover, also he is Co-Director of CMC ( Chiang Mai Collective) with Thatchatham Silsupan, that is a group of sound artists & musician working on sound art & experimental music in Chiangmai.
About Curator
Pathompong Manakitsomboon
Pathompong Manakitsomboon is an independent curator and researcher based in Bangkok and Chiang Mai. He works primarily in the areas of artists' moving image, experimental film, and media art, with experiences across the fields of curatorial practice and filmmaking. He was previously a programmer/curator at Bangkok World Film Festival, Bangkok Experimental Film Festival, and Alliance Francaise Bangkok. He also produces and distributes several renowned Thai artists' moving images. Pathompong holds a Master's in Film Curating from Birkbeck, the University of London where he graduated with Distinction. His research area concerns the emerging discipline of material culture, technology and consciousness and their influences on image-making and spectacles in relation to curatorial knowledge. Pathompong is currently forming 'Latent Images,' a moving image collective that aims to bridge the interstices between the curating world and the academy.
——————————————————————-
watching sound, listening to moving image
โปรแกรมภาพเคลื่อนไหวของศิลปินและร่วมเสวนากับ อานนท์ นงค์เยาว์
วันเสาร์ ที่ 12 พฤศจิกายน 2560 เวลา 6 โมงเย็น
Tentacles Gallery
watching sound, listening to moving image โปรแกรมซึ่งคลี่คลายและแตกหน่อจากนิทรรศการศิลปะ 'ชาติ…หน้า (Next… Nation)' โดยศิลปินอานนท์ นงค์เยาว์ ผลงานภาพเคลื่อนไหวของศิลปินที่ถูกคัดสรรมุ่งหวังในการขยายขอบเขตของแนวคิดโครงสร้างและความสัมพันธ์ของเสียงและภาพเคลื่อนไหว รวมถึงความเป็นไปได้ของเสียงต่อการก่อสร้างรูปแบบของภาพ อานนท์ตรวจสอบและขณะเดียวกันตั้งคำถามต่อตนเองและผู้ชม ถึงกระบวนการความเข้าใจของประสาทสัมผัสของมนุษย์ต่อสององค์ประกอบสำคัญในโลกยุคหลังเครื่องจักรกล ผ่านการทดลองผสมผสานของประสบการณ์การรับรู้ต่อรหัสของภาษาและข้อมูล, เสียงชุมชน(Urban Sound) และเครื่องมือสื่อสารระบบอะนาล๊อค
เราสามารถได้ยินจังหวะของภาพเคลื่อน และมองเห็นโครงสร้างภาพของเสียง?
watching sound, listening to moving-image คัดสรรโดย ปฐมพงศ์ มานะกิจสมบูรณ์ โดยการพูดคุยกับ อานนท์ นงค์เยาว์ หลังการฉายผลงานทั้งหมด
โปรแกรม:
Mr. Weirdo and Anomalous space
2003, 9:31 min, colour, sound, DV to SD
All the chapter of the song you ate me
2006, 10:14 min, colour, sound, DV to SD
Drink Sky On Rabbit's Field (Lost Control)
2014, 6:55 min, colour, sound, HD
Ghost Rabbit & The Casket Sales
2015, 7.07 min, colour, sound, HD
The Light of Happisadness
2016, 15.10 min, colour, sound, HD
—————————————–
เกี่ยวกับศิลปิน
อานนท์ นงค์เยาว์
จบการศึกษาทางด้านจิตรกรรม สนใจด้านในงานภาพเคลื่อนไหวของศิลปิน, หนังทดลอง และวีดีโออาร์ต ต้ังแต่ปี 2003 ควบคู่ไปกับการทำงานศิลปะทางด้านเสียง งานภาพเคลื่อนไหวของเขาได้รับการฉายในหลายเทศกาลภาพยนตร์และ Media Art ทั่วโลก ปี 2017 "Papay Gyro Nights", Bergen, Norway. "KLEX Cologne Kurzfilmabend" Colongene, Germany. ปี 2016 "As Long As It Takes" IFFR, Rotterdam, Netherlands. "IVAHM" Madrid, Spain. ปี 2015 "HAXAN" Oakland, USA. "The 19th Thai short film festival, Bangkok, Thai และอื่นๆ
เกี่ยวกับภัณฑารักษ์
ปฐมพงศ์ มานะกิจสมบูรณ์
เป็นภัณฑารักษ์อิสระและนักวิจัยทางด้านภาพเคลื่อนไหว ทำงานในพื้นที่ของภาพเคลื่อนไหวของศิลปิน, ภาพยนตร์ทดลอง และงาน Media Art มีความสนใจในประเด็นของการก่อร่างของอิทธิพลวัฒนธรรมวัตถุ (Material Culture)ที่มีต่อมนุษย์ รวมถึงเทคโนโลยีและความรับรู้ ปฐมพงศ์จบการศึกษาปริญญาโท ด้านการคัดสรรภาพยนตร์ (Film Curating) จาก Birkbeck, University of London (Distinction) ปัจจุบันกำลังจัดตั้งกลุ่ม Latent Images ซึ่งทำงานในพื้นที่ของภาพเคลื่อนไหวที่เกี่ยวเนื่องระหว่างงานภัณฑารักษ์และวิชาการ
———————————————————————–
***For more information, please contact***
[email protected]