ArtistTree – The World of Tintin
November 16, 2017 @ 12:00 am
December 26, 2017 @ 8:00 pm
UTC+8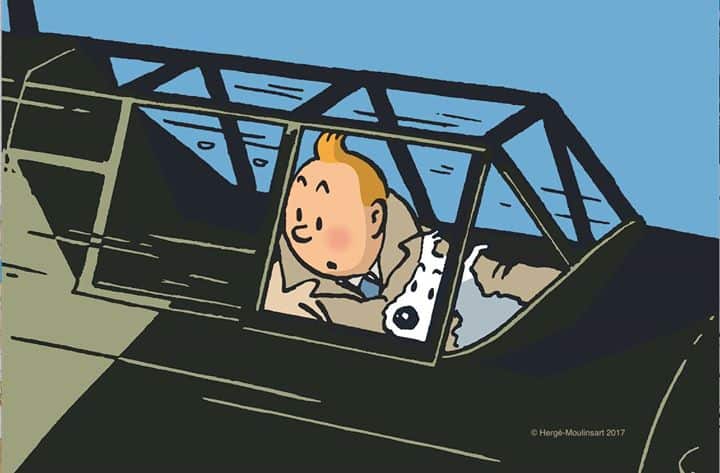 HOCA Foundation is proud to announce a landmark exhibition exploring the adventures of global icon Tintin. The largest presentation in Hong Kong to date, it showcases 8 albums from the renowned "The Adventures of Tintin" series. The immersive experience, featuring vivid scenography, celebrates the imaginative world created by the Belgian illustrator and creator of Tintin, Hergé. Presented in collaboration with the Hergé Museum, "THE WORLD OF TINTIN," will run from November 17 – December 26, 2017, at the new ArtisTree, a venue sponsored by Swire Properties. A public two-day conference, as well as a series of educational comic art workshops, will run in parallel, tailored for students in collaboration with local schools.
Created in 1929, the Tintin adventures have been translated into over 100 languages and sold more than 230 million copies worldwide. Each thematic section of the exhibition has been designed by HOCA Foundation to bring the intrepid boy reporter to life. "THE WORLD OF TINTIN" traces Hergé's path from his first stories to his mature works, following Tintin as he crosses continents between North America, Africa, Asia, Europe and beyond.
A cultural touchstone of the 20th century, the canonical series of Tintin albums featured include Tintin in America; Cigars of the Pharaoh; The Blue Lotus; The Broken Ear; King Ottokar's Sceptre; The Shooting Star; The Red Sea Sharks and Tintin in Tibet. Packed with gripping adventures, action and page-turning humor, the show highlights Tintin beyond the fictional narrative, offering a lens into the social and political contexts of its time. Visual art has played an important role in documenting historical events, and the series serve as vehicles to express Herge's views on the conflicts and topics of his time. Ushering a new dimension in comic strips, the Tintin series has since been recognized as an important work of art that reflects the changing perspectives of its audience throughout the 1900s.
The welcoming exhibition also includes three specially created models of Tintin scenes, including a model of Tintin's apartment; a large diorama of the ticker tape parade in Chicago from Tintin in America, highlighting Hergé's sophisticated use of perspective; and a collector's model of a street scene populated by signature Tintin cars, accurately rendered from the automobiles of the time. Flanked by colorful scenes set in vinyl throughout the space and reconstituted as the show's wallpaper, the exhibition design transforms Hergé's motifs into a compelling environment that befits his trademark characters and evokes the illustrator's magical world and limitless imagination.
Committed to art education and enabling access to art for the wider public, HOCA Foundation also presents a 2-day public conference exploring the importance of comic art in contemporary society. The free event will feature panels exploring Tintin's legacy, as well as a keynote lecture by Michael Farr, the world's foremost 'Tintinologist'. In collaboration with local schools, a series of comic art workshops, led by local illustrators will also activate families and students to engage with and be inspired by Tintin stories. All educational events are generously sponsored by blueprint and Semeiotics, with additional support from the ticket sales of Freespace at Taikoo Place, co-presented by Swire Properties and West Kowloon Cultural District Authority. (Please refer to Appendix I for full details of Educational Program)
To celebrate the first full-scale exhibition of Tintin in Hong Kong, 3 pop-up shops will also be presented around Hong Kong, at ArtisTree, CityPlaza and Central, presenting a wide range of Tintin gifts, books and memorabilia.
– END –
Exhibition Details:
"THE WORLD OF TINTIN"
Date: November 17 – December 26, 2017
Media Preview: 4pm, November 16 (Thursday), 2017
Opening Hours: Wednesday to Sunday from 12-8PM
Venue: ArtisTree, 1/F, Cambridge House, Quarry Bay, Hong Kong
Presented by HOCA Foundation in collaboration with the Hergé Museum
https://www.hoca.org ; https://www.museeherge.com
[email protected] ; [email protected]
Sponsors:
Venue Sponsor: ArtisTree, Taikoo Place, Swire Properties
Exhibition Sponsors: Ageas, BNP Paribas
Institutional Sponsor: Consulate of Belgium in Hong Kong
Educational Program Sponsor: blueprint, Semeiotics, Swire Properties, West Kowloon Cultural District Authority
Opening Reception Partners: Perrier-Jouët
Pop-up Shops:
The Tintin Shop ArtisTree
1/F Cambridge House, Taikoo Place, 979 King's Road, Quarry Bay
November 16 – December 26, 2017
Wednesday – Sunday from 12-8pm
The Tintin Shop CityPlaza
4/F, Cityplaza, Taikoo Shing, Taikoo
In front of the escalator
November 7 – December 27, 2017
Sunday – Sunday from 12-9pm
The Tintin Shop Central
1 Lyndhurst Terrace, Central
November 25 – December 22, 2017
Sunday – Sunday from 12-9pm
MEDIA ENQUIRIES:
Stephanie Poon: [email protected] | +852 6209 7957
Johanna Lou: [email protected] | +852 5421 1361
Lauren Every-Wortman, Curator of HOCA Foundation is available for interviews by request.
About Hong Kong Contemporary Art (HOCA) Foundation
HOCA Foundation is a non-profit organization established in 2014, aimed at promoting public awareness and developing access to contemporary art in Hong Kong. With a curated series of programs across the city, HOCA will focus its attention on the younger generation of established international artists who are conceptually engaged with contemporary life and society. The curatorial strategy draws inspiration from popular culture, reappropriating or reinterpreting a wide range of mediums from animation, illustration, graffiti, and graphic design, and seeks to enhance the dialogue of "high art" within the city.
HOCA Foundation hosted landmark exhibitions of JR, Invader, Vhils and Shepard Fairey to critical acclaim, as well as a parallel education program, all accessible to the public. To further HOCA's community outreach, the Foundation will oversee the publication of contemporary art books and the subsequent donation of these to schools, libraries and charitable institutions. https://www.hoca.org
About The Hergé Museum
The Hergé Museum in Louvain-la-Neuve opens in 2009, offering a comprehensive perspective of the life and work of Hergé, father of Tintin and Milou, via thousands of sources from and related to his work.
More than 80 original plates, and 800 photographs, documents and objects have been brought together. The building itself was designed and built within the picturesque green setting of Walloon Brabant, by the architect Christian de Portzamparc.
https://www.museeherge.com