Sub-Sukhumvit art exhibiton @ BrownStone Studios
November 7, 2014 @ 7:00 pm
December 7, 2014 @ 7:00 pm
ICT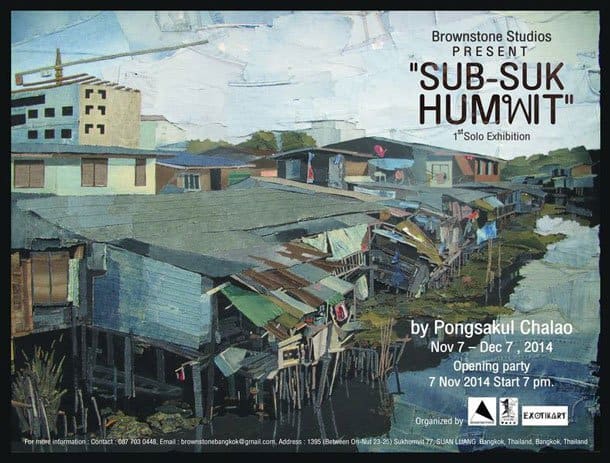 BrownStone Studios Present
The 1st Solo Exhibition of Pongsakul Chalao "SUB-SUKHUMWIT"
Using a palette composed of various weights and tones of denim in a non-materialistic manner, an artist questions and reinvents the nature of the material itself, of which the presence both lends and borrows new meanings.
Pongsakul Chalao explores the boundaries between abstraction and the strict representation of what he sees around him. Puzzling thoughts provoked by the socio-cultural scene of Sub-Sukhumvit. In his words: "Sukhumvit area is very unique to me and different from what I am used to seeing. 'Jeans' are a universal tradition, accepted unquestioningly."
Opening Party on Friday November 7th, 2014
Starting from 7 pm onwards..
The exhibition will be held from November 7 – December 7, 2014
For more information
Contact : 087 703 0448
Email : [email protected]
Address : 1395 Sukhumvit 77, SUAN LUANG .Bangkok, Thailand, Bangkok, Thailand
(Between OnNut 23-25) Opposite Siam Commercial Bank
—————–
About Artist
Name: Pongsakul Chalao
Born: 7 Nov. 1988
Nationality: Thai
Education: College of Fine Arts / Bunditpatanasilpa Institute
Solo Exhibition
2014 : "SUB-SUKHUNWIT" BrownStone Studios
Group Exhibition
2014 : "Oasis of Freedom" V64 Art Studio's 2nd Anniversary, Bangkok, Thailand.
: "Under the Radar" 25 April – 14 June the Art Center, Office of Academic Resources (Central Library), Chulalongkorn University Bangkok, Thailand.
2013 : "Simple>>Tomorrow" V64 Art Studio's 1st Anniversary, Bangkok, Thailand.
: "64 Distinct Harmony" at V64 Art Studio, Bangkok, Thailand.
2012 : "The Final Round" V64 Art Studio Bangkok Thailand