Skateboard Art Exhibition @ Goja Bangkok
November 14, 2014 @ 7:00 pm
November 23, 2014 @ 12:00 am
ICT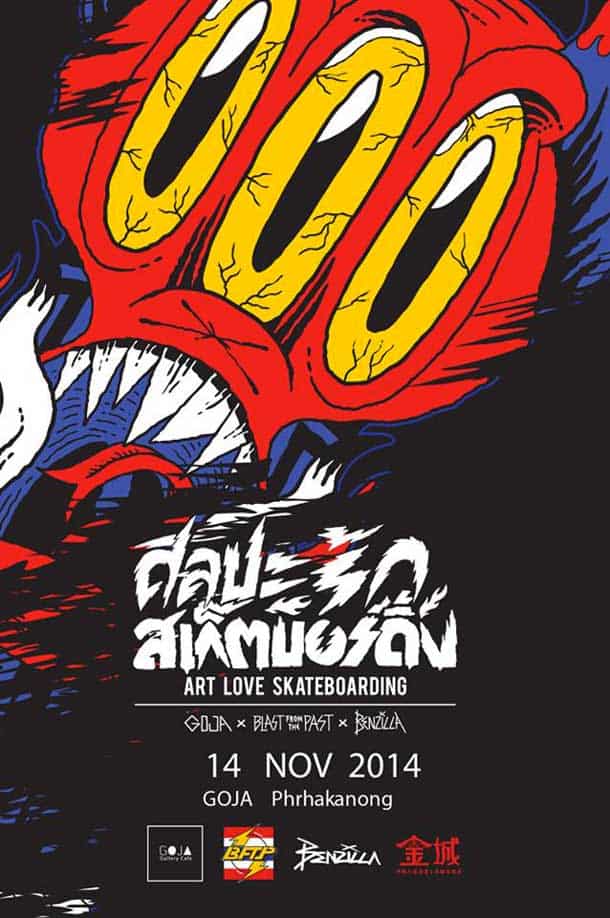 Blast from the Past….
"Skateboarding is not a Crime"… the phrase that defines our culture and our time.
Blast from the Past (BFTP) took on the world when three childhood friends (now in their 40's) got together at a local skate park in the heart of Bangkok for a quick run and few tricks. Following the usual grinding, sliding, but mostly slamming on their aging bones… Nutt, Dui, and Pong sat together to shared their memories and passion of their restless journey into the world of skateboarding. Growing up in the 80's and its time of skateboarding culture became an influential part of their views to the world of art, fashion, style, design, and music. "Wouldn't it be gnarly to re-live few of those moments once more???"
Blast from the Past was a phrase that represents their lives, and is now a bridge to transport back the art form, senses and style of the skateboarding culture from the 80's to share them with the new generations and the world. BFTP will be thrashin the world starting from Bangkok to other major cities with its merchandises ranging from old school decks with amazing graphics done by local artists, t shirts, caps, shoes and just about everything that make you stylish.
Blast from the Past is not just about skateboarding …. But it is an Art Form; it is a Culture; it is a Scene, it is a Lifestyle, and most importantly… it is about You!
Are you ready to Blast???
Artist : BENZILLA
Artist / Graphic Designer
Bangkok, Thailand
Official Website : https://www.benzillabkk.com
History
Solo Exhibition
2014 – ยังYoung / Sneaka Villa
2013 – Survivor / Carnival Company
2013 – DesTOYer mini exhibition / BENZILLA x CE x SuperrZaaap
2012 – ลูกอมปีศาจ (Evil Candy) / Art Gorillas
———————————————-
Group Exhibition
2014 – Brands We-Like / Live Painting / Siam Square 1
2014 – Quality Secondhand Art : Re-creation / Gallery VER
2010 – Hope / Central World
2009 – d33p / Art Gorillas
2009 – Underground Figure Exhibition / Art Gorillas
2009 – Ride a Life Exhibition / Art Gorillas
2007 – อักขรศิลป์ "ทรงพระเจริญ" / Siam Discovery
2007 – 13 14 15 Art Exhibition / Art Gorillas
———————————————-
Event
2014 – adidas originals concept store CTW opening / Live Painting
2013 – Absolut.Kobored / Live Painting
2011 – Honda Scoopy-i / Live Painting / Parc Paragon
2011 – Adidas all24/ Judge / Siam Center
2010 – Computer Arts Projects / Guest Speaker / TCDC
2008 – คอนเสิร์ต อัสนี-วสันต์ / Motion Graphic / Impact Arena
2007 – Pechakucha Night / Guest Speaker / Playground
———————————————-
Press
Bangkok Post
Damn Magazine
Computer Arts : issue 08
Computer Arts Projects : issue 03
Marketeer : issue 121
is am are Mag : issue 1
Goplay Magazine : issue 11
BanBoredom Magazine : issue 06
Chic Happen Magazine
Channel [V] Thailand : Japan Bravo
5Live
———————————————-
Benzilla fb page
https://www.facebook.com/benzillabkk
Benzilla instagram
https://instagram.com/benzillabkk/
GOJA fb page
https://www.facebook.com/gojaphrakanong
GOJA instagram
https://instagram.com/gojaphrakanong