Sin Sin Fine Art – Jack Penny – A mental impression
February 23, 2019 @ 6:30 am
March 16, 2019 @ 8:00 pm
HKT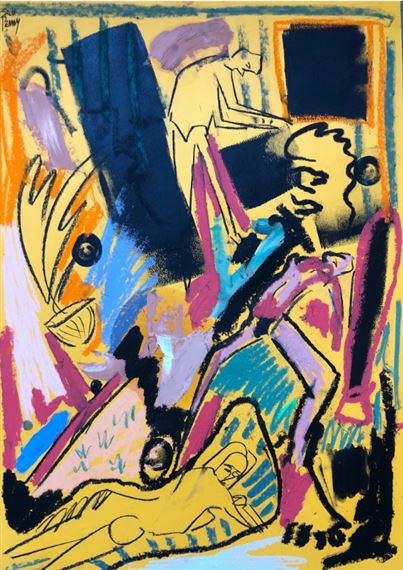 Opening Reception:
23 February 2019 | 6:30 – 8:30 pm
Artist is present
Venue: Sin Sin Fine Art,
Unit A, 4/f, Kin Teck Industrial Building,
26 Wong Chuk Hang Road, Hong Kong
Sin Fine Art is delighted to present the latest works by emerging British artist Jack Penny (b. 1988, Chichester, UK). Sin Sin Man, founder, and curator of Sin Sin Fine Art discovered Jack Penny in St. Moritz, Switzerland during the Allegra Projects artist residency they were both invited to in 2016.
"A Mental Impression", Jack Penny's second solo exhibition at Sin Sin Fine Art, is a carefully selected body of work from different series that the artist has been working on over the last few years, inspired by his traveling and new experiences. The eloquent artist describes himself as a spectator of life, who enjoys depicting how he feels about a place through his work, in order to make sense of it.
Jack Penny's work vibrates with a sense of immediacy, celebrating the unknown, which highly appeals to him. It reflects the way he works: he seldom paints while traveling; choosing instead to rely on a few sketches here and there, which serve as a reference to distant twisted memories of what he has seen and experienced. He prefers to concentrate less on the subject matter and more on the way he paints the work, which quite often has an underlining universal sense of anxiety mixed with a playful color pallet, never knowing where each painting will take him. In this way, he maintains the authenticity of the mental impression he developed during his traveling.
Over the past three years, Jack has enjoyed four successful exhibitions including three as part of the artistic collective Hexen Studio and one held independently on the South Coast. In 2017 Jack has had his first exhibitions in Berlin and Hong Kong, as well as an exhibition in London with India Dickinson. As Jack's style continues to evolve, and he both challenges and embraces his broad spectrum of influences, his work continues to intrigue us – allowing us to relate and to wonder.
About the artist
Jack Penny
(United Kingdom)
In his evocative figurative paintings, British artist Jack Penny depicts contemporary urban life from the perspective of a rural-dwelling outsider. Penny's largely improvised and haphazard compositions question the sustainability of modern society, established systems, and the nine-to-five hustle of the blue-collar and white-collar workers as they go about their daily lives. Penny's creative practice is motivated by a search for authenticity. He is driven by capturing a real sense of humanity within his work.
Viewing himself as a 21st-century documentarian of city life, as George Grosz did before him, Penny paints uniform and seemingly anonymous figures clustered together, as if they were searching for validation in numbers. Rather than relying on manipulative techniques to develop a painting, Jack is conscious of trying to spark his audience's sensory awareness as they experience his work. As he paints, Penny attempts to act before making choices. Without hesitation, he responds spontaneously to the work developing before him, relying only upon his initial instincts when making decisions regarding the colors, textures or lines. Penny's influences include the instinctive spontaneity of de Kooning, the palette of Diebenkorn, the vulnerability of Baselitz, and the vitality of Nick Cave.
Over the past two years, Jack has shown four solo exhibitions in London, Berlin, and Hong Kong.
About Sin Sin Fine Art
Sin Sin Fine Art is the first and main force in Hong Kong to bring Indonesian artworks to this city and open new windows for them to the international art scene. Sin Sin Fine Art focuses on contemporary art from all over the world that is spiritual and inspiring. The gallery cultivates a collection of works by selected international artists. Sin Sin Man considers herself a risk taker, in a sense that her selection of artists is based not on their market value but on their genuine visions and talents – no matter where they come from. This approach proved to be fruitful with many of the artists that later received recognition abroad.