ShanghART Shanghai – Li Shan – Decoding
May 28, 2019 @ 8:00 am
June 21, 2019 @ 5:00 pm
CST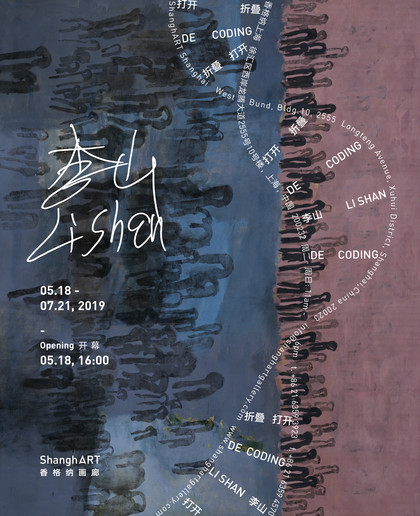 Opening: 2019/05/28, 16:00
Duration: 2019/05/18 – 07/21 (Tue.-Sun. 11:00-18:00, Mon. Closed)
Location: ShanghART Shanghai, West Bund, Bldg.10, 2555 Longteng Avenue, Xuhui District, Shanghai, China 200232
ShanghART Gallery is pleased to present Li Shan's solo exhibition "Decoding" on 28 May 2019, exhibiting the avant-garde pioneer's continued explorations into BioArt. This is Li Shan's first solo exhibition after "The Pumpkin Project" and "Reading of Li Shan" in 2007. The exhibition continues until 21 July.
"Decoding" alludes to the unfolding of double helix structure in the genome, which biological information could be humanly interfered by reading, writing, and editing. This is an artistic presentation of Li Shan's research into genetic editing at the molecular level since his solo exhibition at Power Station of Art Shanghai, 2017. In 1993, Li Shan participated in the 45th Venice Biennale as one of the first contemporary Chinese artists and started contemplating topics of life science. He completed his first BioArt project "Reading" in 1998. From his early integrated, harmonious grand consciousness of life, to replace, recombine genetic traits across species, to genetic editing, the supremacy of Biologism determines that in Li Shan's art, life always remains free and diverse.
Works in this exhibition include painting, photography and video art, trigging a conversation between information and life on an essential level of species. Out of the pictorial presentation of imagined life objects, Li Shan depicts the scientific form of the genome in an artistic way in nine different sized paintings. Meanwhile, two video works about genetic editing are displayed on the second floor. "Writing" demonstrates the processes of gene transcription and translation: by changing the information carried by the DNA, the protein structure is mutated during synthesis and forms a new species. In "The Possibility of Random Expression", recording of the growth process of frog embryonic cells, Li Shan eliminated the mechanism controlling gene development and deconstructed the growth pattern of frog in a non-controlled manner. Moreover, two photography works "Smear" depict images of corns, recording Li Shan's diversified operations by expanding his genetic editing practices to plants: through releasing the inhibiting mechanism of genetic expressions, the artist demonstrates corns' original traits. By intuitively building the process of genetic transcription, translation, and mutation, Li Shan raises the grandness and freedom of the essence of life.
Having participated in the legendary 1989 "China/Avant-Garde Exhibition" at the National Art Museum of China, Li Shan witnessed the evolution of contemporary Chinese art and remains energetic and vibrant in his practices. As a pioneer of BioArt, he continues to ponder the rules of life and human destiny.
About the artist
Li Shan was born in Lanxi, Heilongjiang in 1942. He graduated from the Shanghai Academy of Drama in 1968. Li Shan's works have been exhibited in many significant exhibitions such as PSA Collection Series – Li Shan, Power Station of Art, Shanghai (2017); Extension Expansion, [email protected], Singapore (2014); Reading Li Shan, Museum of Contemporary Art, Taipei, Taiwan (2012); Painting the Chinese Dream: Thirty Years of Chinese Contemporary Art, Minsheng Art Museum, Shanghai (2010); The First Guangzhou Triennial – Reinterpretation: A Decade of Experimental Chinese Art (1990 – 2000), Guangdong Museum of Art, Guangzhou (2002); Inside/Out: New Chinese Art, MoMA PS1 / Asia Society Galleries, New York; SFMoMA, San Francisco; Hong Kong Museum of Art, Hong Kong etc. (1998-2000); 22nd International Biennial of Sao Paulo, Brazil (1994); China Avant/Garde Exhibition, Haus der Kulturen der Welt / Hildesheim Art Gallery, Germany; Kunsthall Rotterdam, The Netherlands etc. (1993); China's New Art, Post-1989, Hong Kong Arts Centre, Hong Kong etc. (1993) and the 45th Venice Biennale (1993) etc.
About the gallery
Founded in 1996, ShanghART Gallery is one of the first contemporary art galleries established in China now maintaining spaces in Shanghai, Beijing, and Singapore. For the past twenty years, ShanghART has kept devoting to the development of contemporary art in China and also kept close and long-term cooperation with more than 60 artists. Sustaining the highest-quality in presenting contemporary art exhibitions and projects, ShanghART regularly participates in the major international art fairs and collaborates with important art institutions in China and from all over the world.
ShangART Videotheque, which was established in 2008 and has been developing till now, has included near 600 contemporary video artworks and kept holding salons and screen-shows regularly. Located on Shanghai West Bund, ShanghART Library opens the collections of all the art books to the public for a long time which have been collected since the foundation of ShanghART Gallery, meanwhile, hundreds of catalogs and related products both of contemporary art are also exhibited for sale at the gallery.