ShanghART Beijing – Jiang Pengyi – Jiang Pengyi: Foresight
May 28, 2019 @ 8:00 am
July 6, 2019 @ 5:00 pm
CST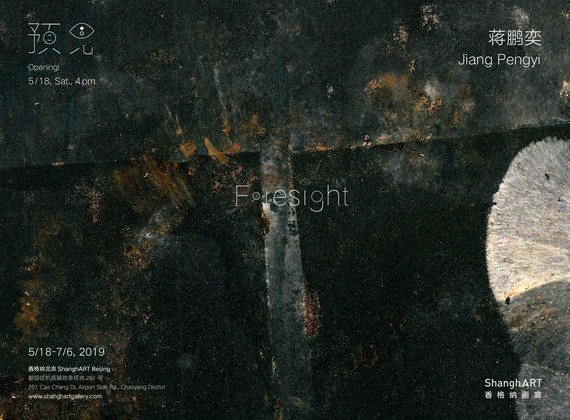 Opening: 4 PM, 28 May 2019
Duration: 28 May – 6 July 2019 (11:00-18:00, Monday Closed)
Location: ShanghART Beijing, 261 Cao Chang Di, Airport Side Rd., Chaoyang District, Beijing, China
Contact: [email protected] | + 86 10 6432 3202
ShanghART Beijing is delighted to present 'Foresight', a solo exhibition by Jiang Pengyi, marking the artist's inaugural show at the Beijing space and his fourth presentation with the gallery. It will also be the first display of Jiang's recent works in Beijing since the 2009 "Curated by…" exhibition at UCCA.
Foresight is a new series of works that Jiang has produced through repeated experiments, elaboration, destruction and replacement since 2014. During the time the artist has persistently questioned and explored materials, methods, and expressions in photography, with the significant concept "demeditation" driving his art. Trying to get rid of external limitations including cameras, lenses and shooting techniques, as well as subjective identity as an artist or photographer (producer), he retains only negatives, objects, time, and extremely limited, uncertain human intervention. That is also how the series such as Dark Addiction (2013), Intimacy (2014) and In Some Time (2015-2016) was created.
In traditional film photography, uncontrollability has always been a noticeable and fascinating feature: the final image remains a mystery until the end of printing. In order to refine and magnify this quality, the artist placed organic matter like fruits and vegetables on negatives, waiting for their changes in complete darkness. As time went by, the pictures were developed slowly, quietly into colors and compositions that Jiang never expected before. Besides, the painting style of photography has been another exploration done by the artist in recent years. In this body of works, the process of "painting" is unpredictable – he sets up natural dialogues so as to find the entrance into a new world.
Jiang Pengyi's work continues to address how to project life and emotions onto films, improve the acceptability of materials, conduct unconventional experiments, and constantly suspect individual experience. From Dark Addiction that uses the technique of direct impression to reflect fireflies' path of life and love, to Intimacy showing the interaction between fluorescent paper and photographic negative, and from Blooming (2018), in which light-sensitive films were processed in a violent way, to the new series Foresight – an unsuccessful attempt to foresee, all of them reveal the traces of time and push the boundaries of photography. Jiang is looking forward to the birth of a surprising image, instead of simply capturing, replicating or creating. However, his practice is not all about subjectivity, but a kind of grace that can't be foreseen, which the artist considers as humble and free.
About the Artist
Jiang Pengyi was born in Yuanjiang, Hunan Province in 1977 and graduated from the China Academy of Art. He currently lives and works in Beijing. Recent exhibitions include: 40 Years of Chinese Contemporary Photography, OCAT Shenzhen (2018); "Away from Disgrace" by Jiang Pengyi, Blindspot Gallery, Hong Kong (2017); Jiang Pengyi: Grace, ShanghART Main & H-Space, Shanghai (2016); JIANG Pengyi: Intimacy, ShanghART Singapore, Singapore (2015); Jiang Pengyi, ShanghART H-Space, Shanghai (2014); Glimpses. Jiang Pengyi Solo Exhibition, Klein Sun Gallery, New York, U.S.A. (2014); Three Shadows First Experimental Image Open Exhibition, Three Shadows, Beijing (2014); West Bund 2013: A Biennial of Architecture and Contemporary Art, Waterfront of Xuhui District, Shanghai (2013); ON|OFF: China's Young Artists in Concept & Practice, UCCA, Beijing (2013); No Exit – Urban Space, Helsinki Photography Biennial 2012, Helsinki City Museum, Helsinki, Finland (2012); Be Natural Be Yourself, Frac des Pays la Loire Fonds Regional d'Art Contemporain, Nante, France (2011); Gallery Artists Group Exhibition: Jiang Pengyi, Cui Xiuwen, Maleonn & Miao Xiaochun, Blindspot Gallery, Hong Kong (2010); Immersion and Distance: Cheng Ran & Jiang Pengyi, UCCA, Beijing (2009), etc.