ShanghART Beijing – Jiang Pengyi – Foresight
May 16, 2019 @ 8:00 am
July 6, 2019 @ 5:00 pm
CST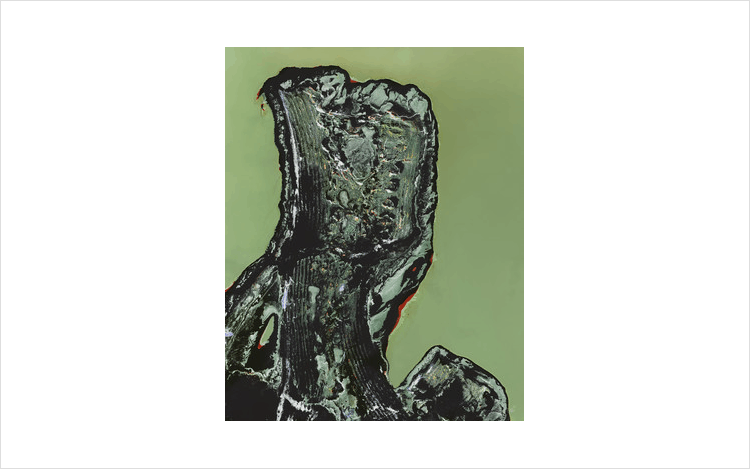 ShanghART Beijing is delighted to present Foresight, a solo exhibition by Jiang Pengyi, marking the artist's inaugural show at the Beijing space and his fourth presentation with the gallery. It will also be the first display of Jiang's recent works in Beijing since the 2009 'Curated by…' exhibition at UCCA.
Foresight is a new series of works that Jiang has produced through repeated experiments, elaboration, destruction and replacement since 2014. During the time the artist has persistently questioned and explored materials, methods, and expressions in photography, with the significant concept 'demeditation' driving his art.
Trying to get rid of external limitations including cameras, lenses and shooting techniques, as well as subjective identity as an artist or photographer (producer), he retains only negatives, objects, time, and extremely limited, uncertain human intervention. That is also how the series such as Dark Addiction (2013), Intimacy (2014) and In Some Time (2015-2016) was created.
In traditional film photography, uncontrollability has always been a noticeable and fascinating feature: the final image remains a mystery until the end of printing. In order to refine and magnify this quality, the artist placed organic matter like fruits and vegetables on negatives, waiting for their changes in complete darkness.
As time went by, the pictures were developed slowly, quietly into colors and compositions that Jiang never expected before. Besides, the painting style of photography has been another exploration done by the artist in recent years. In this body of works, the process of 'painting' is unpredictable—he sets up natural dialogues so as to find the entrance into a new world.
Jiang Pengyi's work continues to address how to project life and emotions onto films, improve the acceptability of materials, conduct unconventional experiments, and constantly suspect individual experience. From Dark Addiction that uses the technique of direct impression to reflect fireflies' path of life and love, to Intimacy showing the interaction between fluorescent paper and photographic negative, and from Blooming (2018), in which light-sensitive films were processed in a violent way, to the new series Foresight—an unsuccessful attempt to foresee, all of them reveal the traces of time and push the boundaries of photography. Jiang is looking forward to the birth of a surprising image, instead of simply capturing, replicating or creating. However, his practice is not all about subjectivity, but a kind of grace that can't be foreseen, which the artist considers as humble and free.
About the artist
JIANG Pengyi was born in Yuanjiang, Hunan Province in 1977, graduated from China Academy of Art, and currently lives and works in Beijing. He creates a kind of surreal spectacle and delicate narration of the scene, mostly, by photo and video, to reveal the barriers and confusions of the individuals.
He was awarded the Aletti ArtVerona Prize for Photography in 2011, the Jury Grand Prize from the Société Générale Chinese Art Awards in 2010 and the Tierney Fellowship Award from the First Annual Three Shadows Photography Award in 2009. Jiang was invited to participate in the Helsinki Photography Biennial 2012 and was nominated for the Prix Pictet 2012.
Jiang's work has been collected by a variety of private and public institutions worldwide, including Guy & Myriam Ullens Foundation Collection in Switzerland, the French Regional Contemporary Art Fund of the Loire Region (Frac des Pays de la Loire) in France, the Tierney Family Foundation and ArtNow Contemporary Art Collections in USA, the UniCredit Art Collections in Italy and Germany, the Bank Aletti Foundation (Fondazione Banca Aletti) in Italy, and CAFA Art Museum.
香格纳北京荣幸地宣布,将于2019年5月18日推出蒋鹏奕个展《预见》。这是艺术家在香格纳北京的首次个展(在香格纳画廊的第四次个展),也是自2009年在UCCA'由……策划'双个展之后,蒋鹏奕首次回到北京呈现全新力作。
此次展出的新作《预见》是蒋鹏奕自2014年起,反复实验、推敲、破坏和重置后呈现的全新作品。在材料、创作方法和表达方式上,艺术家对摄影进行了反复思考和探索,'去介质化'成为他在这段时期里重要的实验方向。蒋鹏奕尝试去掉相机、镜头、拍摄手法等外部法则,以及作为艺术家或拍摄(制作)主体的主观控制,只保留底片、对象(物体)、时间和极其有限且不确定的人为介入。作品《幽暗之爱》(2013)、《亲密》(2014)、《在某时》(2015-2016)等系列皆开始于此。
在传统胶片摄影的概念中,不可控性一直是如影随形、令人着迷的特性:不到冲印完成的最后一刻,结果无人可知。艺术家尝试提炼并放大这些特质,将瓜果蔬菜等有机物体静置于底片之上,回到幽暗之中,没有一丝光线,静待物体的自由变化。在时间的流逝中,形象缓慢幽暗地兀自生长,色彩和构图全然无法被控制,艺术家只能静待预见的结果。此外,摄影的绘画性也是艺术家近年的另一个思考方向:在这组作品中,'绘画'过程完全无法预见,他试图开展非目的性的沟通,以此寻找进入新世界的入口。
在蒋鹏奕的作品中,如何将生命和情感投射于感光材料之上,并加大材料的表现承受力,如何进行不合常规的无尽实验,并不断怀疑贬损已知的经验,一直是他最重要的创作初衷及探索手段。无论是将光芒微弱、但却绽放出生命与情爱的萤火虫直接刻印在底片上的《幽暗之爱》,还是通过让荧光纸亲密接触底片,试图呈现个体之间相互影响的《亲密》,或是对感光胶片进行暴力处理的《绽放》(2018),再到试图预见但却'无法预见'的此次新作,时间作用的痕迹和对摄影法则的僭越随处可见。蒋鹏奕的作品与其说是摄影,不如说是一场等待,即等待一个意料之外的图像诞生,而非捕捉、复制或创造。在他的创作实践中,图像并非完全退让于个人主观之后,而是不可预见的给予。对于艺术家来说,则是一种谦卑和自如的实践。