Perrotin Hong Kong – Eddie Martinez – Blockheads
May 17, 2019 @ 8:00 am
June 29, 2019 @ 5:00 pm
HKT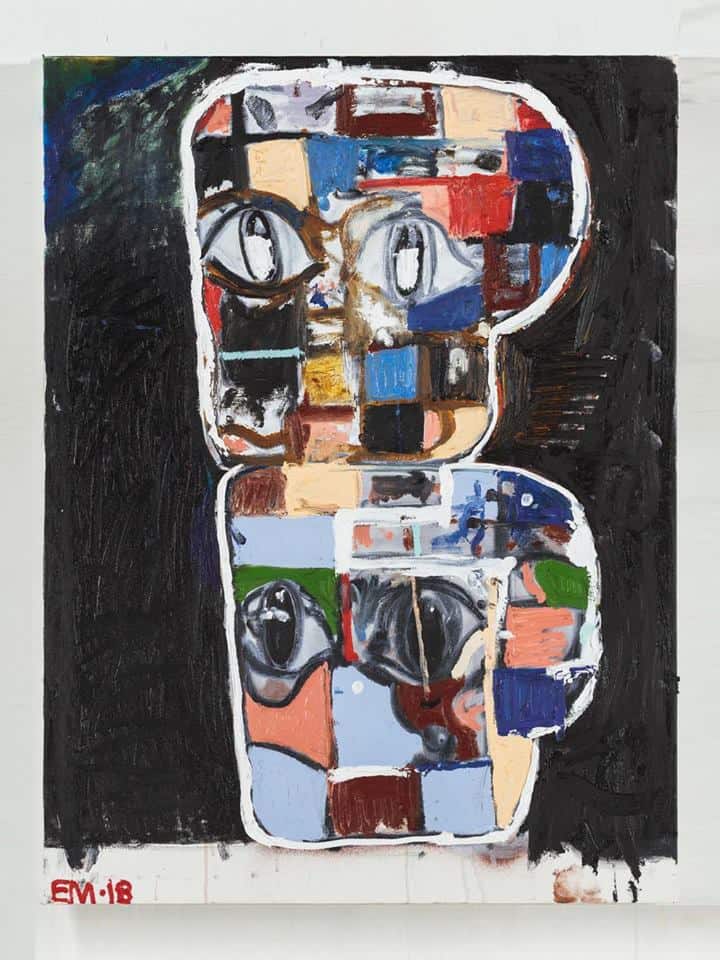 May 17 – June 29, 2019
Perrotin Hong Kong
50 Connaught road central, 17th floor – Hong Kong
I started drawing this blockhead form in 2005.
In retrospect, I can see they were a direct response to my obsession with Guston, particularly his masonry work.
I have a distinct memory of visualizing a face merging into a Picasso skull disappearing into a Humpty Dumpty brick wall.
__
Perrotin Hong Kong is pleased to present works by Brooklyn-based Eddie Martinez, marking the artist's first solo show in Hong Kong, as well as with the gallery. Born in 1977, Martinez is essentially a self-taught artist, having only very briefly attended art school. He had his first solo show in 2005. Alternating between traditional and unconventional modes of painting, Martinez often layers oil and enamel painting with silkscreen, spray paint, and on occasion pieces of gum wrappers and baby wipes. His somewhat arbitrary choice of material and subject could be seen to embody the ease and lightness of contemporary culture, although his practice also reflects elements of historical movements such as Abstract Expressionism, Neo-Expressionism and CoBrA.
Originally applauded for an iconic figurative style featuring his famous cast of bug-eyed characters, more recently the artist has focused on exploring abstraction, largely to escape from the notion of the "expected product".
Titled Blockhead Stacks, the Tokyo exhibition showcases a series of paintings and drawings exploring the skull motif, a recurring image in Martinez's practice. In his signature candid gestural style, he gives the paintings a playful sense of visual depth, purposely revealing traces of color and brushstrokes layered under the surface. Notable also in the show is the collection of small drawings made as studies for the paintings.
Martinez has had recent solo exhibitions at The Drawing Center, New York, and Davis Museum at Wellesley College, Massachusetts. His work has been included in group shows such as New York Painting, Kunstmuseum Bonn (2015); Body Language, The Saatchi Gallery, London (2013–2014); New York Minute, Garage Center For Contemporary Culture, Moscow (2011); Mail Orders and Monsters, Deitch Projects, New York (2007); and Panic Room: Works from the Dakis Joannou Collection, Deste Foundation Centre for Contemporary Art, Athens (2006).
The artist's works are notably included in The Saatchi Collection (London, UK), Hiscox Collection (London, UK), La Colección Júmex (Mexico City, Mexico), The Marciano Collection (Los Angeles, CA, USA), The Morgan Library (NY, USA), and Davis Museum at Wellesley College, Wellesley (MA, USA).
The Bronx Museum of the Arts, New York, is currently holding a solo show of the artist titled White Outs. Running through February 17, 2019, the exhibit showcases a new body of works focused on the theme of erasure.
About the artist
Eddie Martinez's artistic career arguably began during the house painting jobs of his youth, during which he preferred doodling to the task at hand. His mature style draws from classical traditions of still-life, portrait, and allegorical narrative painting, but filtered through coarse brushwork, bold contours, and semi-abstraction. The images and motifs that feature in his paintings often come from popular culture and have included cartoon-like ducks, skulls, and clowns. In addition to using oil paint, Martinez also incorporates a mix of media in his paintings, especially spray paint and markers. Martinez has gained recognition for his manipulation of color, which he applies aggressively