ShangArt Gallery – The avant-garde is not afraid of a long march
February 17, 2019 @ 8:00 am
April 18, 2019 @ 7:00 pm
SMT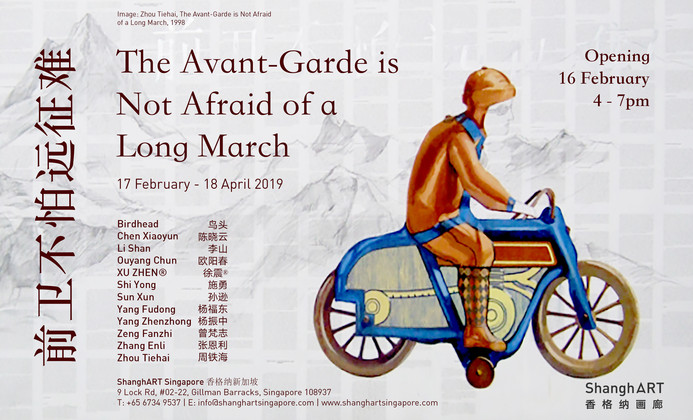 ShanghART Singapore is pleased to present a group exhibition The Avant-Garde is Not Afraid of a Long March from 17 February to 18 April 2019. Featuring works from Birdhead, Chen Xiaoyun, Li Shan, Ouyang Chun, XU ZHEN®, Shi Yong, Sun Xun, Yang Fudong, Yang Zhenzhong, Zeng Fanzhi, Zhang Enli, and Zhou Tiehai, the exhibition bring together twelve artists of different generations. While the seemingly disparate mixture of works by pioneer and younger generation artists defies linearity, their individual breakthroughs and progressions chart the evolution. The Avant-Garde is Not Afraid of a Long March from 17 February to 18 April 2019on of Chinese contemporary art through the years. Taking its name from the title of Zhou Tiehai's piece, the exhibition is a remark on the unwavering spirit of breaking norms and traditions in artmaking, while also highlighting perseverance as an integral part of the process.
One of the significant moments in the history of Chinese contemporary art occurred in 1989 when the China/Avant-Garde Exhibition survived for a mere two hours before being shut down.
As a participant of that exhibition and a leading figure in the Chinese avant-garde movement, Li Shan demonstrates his perceptiveness as an observer of his times through his political pop paintings and artistic approach to bioethics – a topic hardly discussed in art during its time. The work exhibited comes from his Rouge series, wherein the fuses political icons with abstract representations of a lotus flower; a symbolic reference to femininity and frivolousness.
Later artists such as Shi Yong, Zeng Fanzhi and Zhou Tiehai carved out new paths in the Chinese art scene despite the general cultural stagnation after the episode. One of the pioneers in installation and media art in China, Shi Yong took a decade-long hiatus in his artistic practice to engage with the art scene from the perspectives of various stakeholders, only returning to making art in recent years. Zeng Fanzhi's artistic practice has seen various changes over the years, while Zhou Tiehai has reinvented himself in taking on directorial roles in museum and art fair.
While Zhang Enli and Ouyang Chun depict their observations of the mundane and everyday life through paintings, Yang Fudong, Chen Xiaoyun, and Yang Zhenzhong rose to prominence in working with new media art and video works since the early 1990s. The works shown in the exhibition reveal the different sides of their practice and their persistent efforts in exploring different themes and mediums.
This exploration can also be seen in Xu Zhen, Birdhead, and Sun Xun's practices, as their works often strive to reconcile various subject matters across a wide spectrum, presented in different mediums ranging from installations, photography, painting, sculptures, woodblock printing, and conceptual art. As if taking on the mantle of their predecessors, they strive to achieve individual success through persistent rejection of the stable and comfortable for a critical, albeit playful, outlook of what is yet to be done.
About the artist
BIRDHEAD, established in 2004, lives and works in Shanghai. The artistic practice of Birdhead (Song Tao b.1979, Ji Weiyu b.1980) is based on photographs but also beyond the philosophy of photography. Capturing all the beings around them, Birdhead digests and applies the thinking mode of conceptual art into the context of their image interpretation. By combining the photographic matrix, collage, particular mounting technique and so on, Birdhead delivers a "Birdhead world" in various exhibition spaces and humanistic environment.
Birdhead has been internationally presented at Living Cities, Tate Modern, London (2017); The 7th edition Bi-City Biennale of Urbanism | Architecture, Shen Zhen (2017); How to gather? Acting in a city in the heart of the island of Eurasia, The 6th Moscow Biennale, Moscow, Russia (2015); Birdhead were also nominated for the inaugural Hugo Boss Asia Art Award in 2013; New Photography 2012, MoMA, New York, U.S.A. (2012); Reactivation, The 9th Shanghai Biennale, Power Station of Art, Shanghai(2012); Illuminations, The 54th Venice Biennale, Venice, Italy (2011); The World of Other's: A Contemporary Art Exhibition, Museum of Contemporary Art, Shanghai (2008); China Power Station II, Astrup Fearnley Museum of Modern Art, Oslo, Norway (2007); Birdhead: New Village, EX3 Centro per l'arte Contemporanea Firenze, Florence, Italy (2011); Artist File 2011 The NACT Annual Show of Contemporary Art, National Art Center, Tokyo, Japan (2011). Birdhead's works have been internationally collected by Tate, MoMA New York, Guy & Myriam Ullens Foundation, Wemhoner Collection, The Margulies Collection, Astrup Fearnley Museum and so on.