Royal Plaza on Scotts Singapore – Linda Preece – Summer Singapore
March 20, 2019 @ 8:00 am
June 12, 2019 @ 5:00 pm
SMT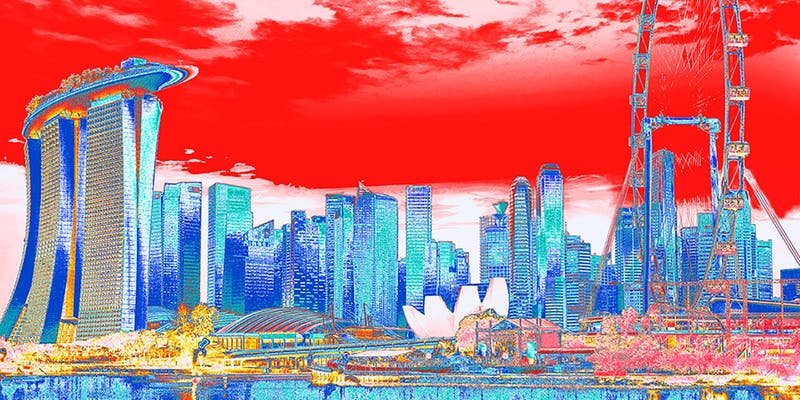 Pop Art & Bubbles Art Exhibition – Featuring New 'Summer Singapore' Collection
About this Event
Royal Plaza on Scotts Singapore partners with renowned photographer and artist, Linda Preece, to launch her new 'Summer Singapore' collection. Her latest collection showcases well-known iconic attractions of Singapore that pop with vibrant summer colors, reflecting Linda's unique artistic style. On display at the exhibition will be these brand-new designs as well as Linda's signature Peranakan-inspired artistic prints that feature traditional shophouses of Singapore's heritage.
Singapore's East meets West culture, the abundance of architectural icons, and heritage have consistently been an inspiration for Linda's unique and vibrant style of art and photography.
"We always talk about living in an endless summer in Singapore, and this is one of the things I love about living in this little red dot. I have created this new 'Summer Singapore' collection to capture this and reflect the colors, essence, and character of life in Singapore," expressed Linda.
The vibrant and colorful 'Summer Singapore' collection will be on display in the main lobby of Royal Plaza on Scotts from 19 March to 12 June 2019.
About Royal Plaza on Scotts Singapore
Royal Plaza on Scotts Singapore (RP), an award-winning business hotel located in Orchard area, unveils its new look after an extensive renovation. Watch out for the pops of colors and accents of local heritage around the hotel. Wall pieces of Singapore's old shophouses add a nostalgic yet contemporary graphic element to the scheme.
Spot Asian and local touches added by inspiring artists and soak in the culture as their works celebrate the rich heritage of the region. In addition to the brand's signature perks, complimentary in-room minibar, Nespresso coffee, and hotel WIFI, RP is the first hotel in Singapore to provide free pocket WIFI for guests who are on-the-move. Guests can pop into the Internet lounge and well-equipped gymnasium at any time of the day with 24-hour access.
The hotel was inducted into TTG Travel Awards Hall of Fame in 2018 after winning Asia Pacific's Best Independent Hotel for ten years in a row. RP is also recognized as the best hotel to work for by Great Place to Work® Singapore, which is a testament to the adage "Happy Staff makes Happy Guests". Talents of the hotel are also referred to as Chief Experience Officers (CEOs) as every CEO have a role to play in coloring guests' stays with authentic and delightful moments. RP is a member of the Preferred Hotels & Resorts Lifestyle Collection.
About Linda Preece
Linda is an Australian photographer and graphic artist based in Singapore. Following the birth of her second child in 2009, Linda was looking for something more creative and flexible than her career in corporate recruitment. Fortunately, she was encouraged by her husband to pursue her passion for photography and art. They relocated to Singapore in 2013, and Linda was inspired by her new home to create her first art prints collection. Her artwork is a reflection of her journey as a photographer and expresses her passion for living life in color.
www.lindapreecephotography.com