Power Station of Art – Luis Chan – PSA Collection Series
March 21, 2019 @ 8:00 am
June 23, 2019 @ 5:00 pm
CST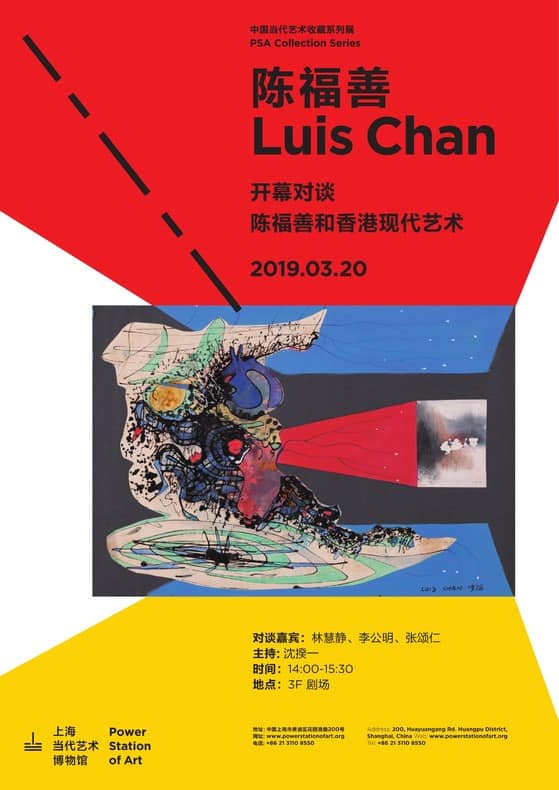 About the Exhibition
From March 21 to June 23, the Power Station of Art will present a major retrospective exhibition for Luis Chan, one of China's most important art figures, set to be his largest and richest retrospective over the recent years. The exhibition will follow a chronological order (Period of Early Realism, Period of Experimentation, Period of Mature style) to revisit Chan's different creative periods, putting on display more than 100 of his best works that cover genres such as watercolor, oils, spray, abstract and collage to reveal his diversified and unrestricted artistic creativity that is unclassifiable by nature.
Born to a Cantonese family in the Caribbean state of Panama in 1905, Luis Chan relocated to Hong Kong with his family at the age of 5 and showed a keen obsession with painting since childhood. Having never received any formal art training, he grew his skills and developed a unique creative path by means such as taking overseas correspondence courses, subscribing to foreign art magazines, joining artist associations and cultural events, and writing art critics. This time, the PSA exhibition will divide Chan's artistic career into three periods:
Period of Early Realism (Early career to 1950s)
Luis Chan's early paintings were mainly watercolor and oil landscapes and figures in a realistic style. He often went out to paint local scenery, taking nature as his mentor. He captured Hong Kong's natural landscape of the time vividly. Chan's outstanding skills and unparalleled productivity of such nature-based works won nickname "Watercolor King", and together with Li Bing (Lee Byng) and Yu Ben (Yee Bon), both of whom had studied abroad, they were known as the "Three Musketeers" of Hong Kong's Western art world. In 1947, the trio staged a joint exhibition, further advancing the prevalence of Western art trends in the "Pearl of the Orient."
Period of Experimentation (the 1940s to 1970s)
In the mid-1950s, Hong Kong witnessed aggressive urbanization and modernization, and the development of information technologies, as well as the rise of international exchanges, brought more Western modern art into Hong Kong's art circle. With the "Modern Art Movement" and the "New Ink Painting Movement" that soon followed, a number of art organizations were launched, while professional art education courses and schools took turns to found themselves.
Confronted with dramatic changes of both the time and the society, Chan also sought to "change" himself. He believed that "the ever-changing time will also need proper artistic transformations to go with it", and that "really creative artists are always looking for new means of expression to change or transform their works." So he resolutely abandoned from realism, with efforts to explore styles such as Cubism, Surrealism, Structuralism, experiment various methods including collage, spray painting, and splatter.
Period of Mature style (the 1960s to 1980s)
From the 1970s to the 1980s, Luis Chan finally found his own artistic vocabulary and style. No longer confined to established thoughts, techniques and materials, he subconsciously expressed his own comprehensions of the surrounding world and life circumstances. He was skillful at using ink, a material of lightness, to create an imaginary world that is self-defining, fantastical and rhythmically vital. The Shanghai retrospective will showcase nearly 90 works from this period when Chan's style matured, and, by topic, categorized them under three themes, namely "Fantasy Homeland", "Hong Kong Kaleidoscope", and "Abstract Illusionism".
"Home of Fantasy" represents Chan's colorful imaginaries created with his subconscious-guided painting method, and reflects his desire to escape from the complicated, dysphonic reality and seek a land of serenity within his fantasies. The "Hong Kong Kaleidoscope" collection, in comparison, serves as a direct psychological expression of Chan's response to the myriad people of Hong Kong, which was transforming from a peripheral urban backwater into a major international metropolis and seeing its way of life change from one steeped in local culture and tradition to one more characteristic of a Western industrialized society. They yield both the most obscure and most compelling qualities of Luis Chan's art.
Last but not least, the "Abstract Illusionism"-themed works are abstract paintings in acrylic from the last decade of his career. This group of paintings, with bright color, fluent lines, and varied forms, reflect Chan's escape from his previous fantastic figurative paintings, expressing his creative imagination towards art and psychological longings for life. Such works from his late years seem to be able to respond to the definition of art he first talked about at the beginning of his career – how to express consciousness or mood.
As the latest addition to the PSA Collection Series, the exhibition presenting the new trends of PSA marks the contemporary art museum's expanded art vision that now includes Hong Kong. By revisiting and researching individual cases, the series looks back at key components and major milestones in China's art history that should never be forgotten and offers new inspirational thinking threads to the present-day art world.
About the Artist
Luis Chan (Chen Fushan; 1905 – 1995) was one of China's most prominent and influential modern art figures with a uniquely eccentric talent. Born in 1905 in Panama, Chan moved with his Cantonese family to Hong Kong five years later. He spent the rest of his life in the city, watching it change and devoting his life to making art that reflected those transformations. He began as a realist painter in the English style, capturing day-to-day scenes around Hong Kong with such verve and skill until his 40s that he earned him a reputation as the 'Watercolor King' and was considered one of the "Three Musketeers" of Hong Kong painting alongside with Li Bing and Yu Ben. After the 1950s, Chan devoted himself to experimenting with different emerging painting techniques, including Abstraction and Illusionism.
During the late 1960s, the fantasy landscape he eventually embraced later became his signature, showcasing strange creatures and imaginative scenes that span from heaven to seafloor. Such paintings revealed Chan's free and brave surreal world, especially with bright colors and fluent lines, and brought back his childhood innocence. Led by his subconscious, they created a direct psychological state of Chan's response to the myriad people of Hong Kong as it was metamorphosed from a colonial city to a global metropolis, and the sophisticated collective mind they had to confront. A painter as well as an art critic, Chen had been active in Hong Kong's cultural circle and significantly contributed to the development of local art.
From his first solo in 1933 to his last in 1993, he hosted a total of 47 solo exhibitions throughout his more-than-50-year-long career and published a large number of literature that helped introduce contemporary art. With Chan's creative mentality that always focused on both the landscapes and the mindscapes of Hong Kong, his paintings became strong psychological [spiritual] and artistic witnesses to not just China's modernization process, but also his rise as a first-generation artist in the country's modern art movement.