RMA Institute # Time Travelers by Jacopo Gianninoto
June 14, 2015 @ 8:00 pm
11:55 pm
ICT
THB400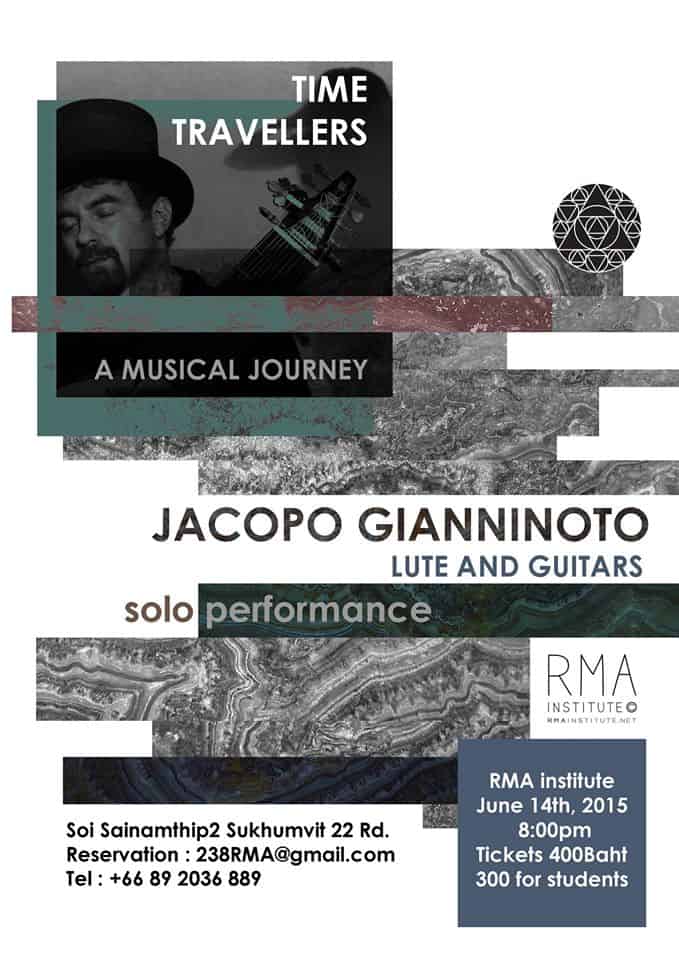 Time Travelers // solo performance by Jacopo Gianninoto // Lute and Guitars
RMA Institute Art Gallery, June 14th 2015 at 8:00pm
Tickets 400thb (300 for students)
"What if I told you that the first Hard Rock riff was published in a Lute book in Rome in the year 1640?"
Time travelers it's a musical journey inspired by the idea that music is a way to transcend the ordinary concept of time.
The instruments used for the performance will be a quite unique feature in Thailand: a Baroque Lute, a Baroque Guitar and a Renaissance Guitar, all replicas of original ancient instruments from the European Tradition.
The performance will present several rare pieces from the Lute and Guitar repertoire, mainly from the Renaissance and Baroque periods, together with newly composed contemporary works and improvisations.
The selection from the ancient repertoire will bring to the audience a set of pieces that even being written 400 or even 500 years ago appear to be somehow very "contemporary" and ahead of their time, imagining those composers could have been time travelers – or in a more philosophical approach they transcended time – and the contemporary repertoire is somehow composed with the ancient spirit and approach to music in mind.
Selected repertoire from
J.H. Kapsperger
A. Piccinini
F. Corbetta
S. De Murcia
J. Gianninoto