Popkapi – Exhibition – Pullman G Bangkok
November 11, 2015 @ 6:00 pm
January 28, 2016 @ 9:00 pm
UTC+7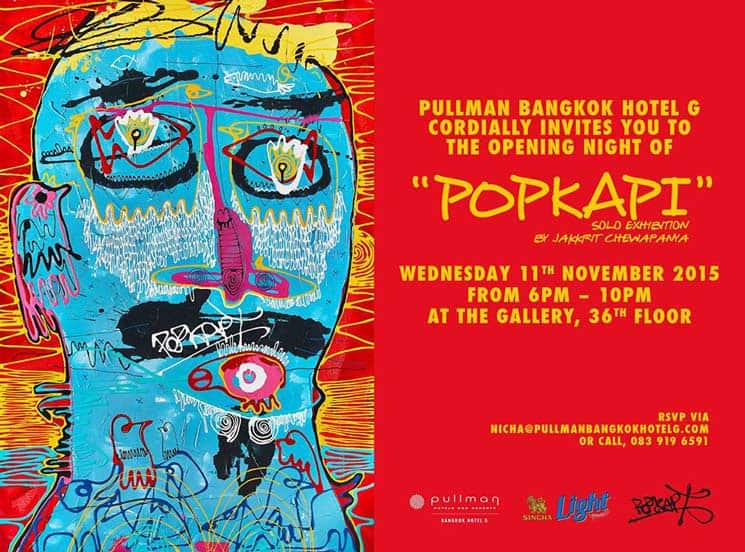 Jakkrit Chewapanya "Popkapi" is a Thai Bangkok-based Artist known for his eccentric paintings, and with titles like "Weird Dog", "Weird Crocodile" and "Crazy Buffalo" it's easy to see his fascination with the strange and wonderful.
His paintings feature a winning combination of bright, bold colors with lots of scribbles, stains, cartoonish figures and splashes of pigment – undoubtedly he's fan of mixed media and you can spot the use of markers, acrylics, ink and oils in all of his works.
A passionately multi-talented artist, Popkapi's love and appreciation for graphic design, sculpture and abstract images are reflected in many of his works. Though his paintings do not showcase the distinctly Thai imagery and color schemes that set apart so many traditional Thai artists, he has worked with some traditionally Thai subjects in the past, namely in "Weird Elephant" and "Weird Buffalo". Nevertheless, by his own admission, Popkapi stated that his artwork is definitely more about the feeling and expression behind the piece rather than any underlying meaning. Indeed, Popkapi's cool and current large canvas pieces give out a wild and playful energy to whoever happens to lay eyes on them, and they tell a story that you are free to interpret for yourself.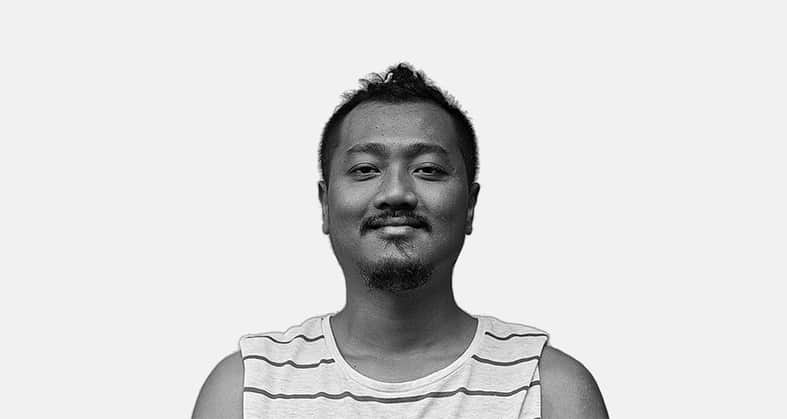 Without a doubt, Popkapi doesn't seem to take himself too seriously as an artist and there's an obvious celebration of fun in his depiction of rainbow hues, bug-eyed creatures and cartoonish phalluses.
Born in 1980 in Bangkok, Popkapi started out his professional career as a "salary man", later quitting to start freelancing and follow his dream of becoming a full-fledged artist. Popkapi studied Print-making at King Mongkut's University of Technology and then gained a diploma in Thai and Fine Arts at Bangkok's College of Fine Arts.
Following his studies and brief stints at various creative offices, he opened a shop showcasing all of his works at Bangkok's Chatuchak Weekend Market and now has had the pleasure of having three solo shows in Cambodia and Bangkok under his belt. His latest upcoming solo exhibition on 11th November at Pullman G Hotel's Gallery will be his fourth overall, and his third in Bangkok.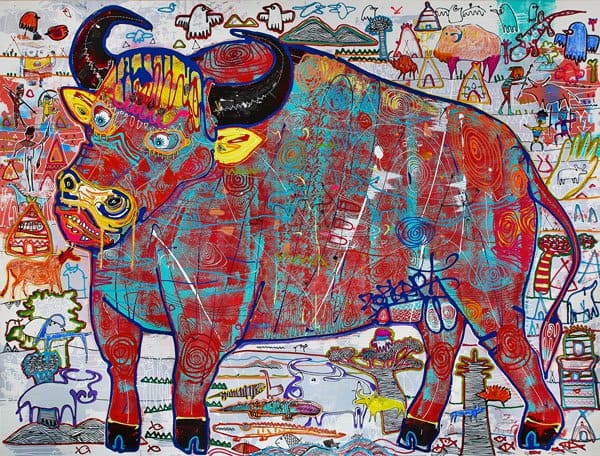 The opening night for the solo exhibition "Popkapi" by Jakkrit Chewapanya will be held on Wednesday 11th November 2015 at the Gallery on the 36th floor of Pullman G Hotel from 6pm to 10 pm.
RSVP at [email protected] or call 083-919-6591.
You also can buy Popkapi art online @ studio price, on Onarto.