Our ArtProjects – Rethinking Editions
January 6, 2019 @ 11:00 am
January 15, 2019 @ 7:00 pm
BMT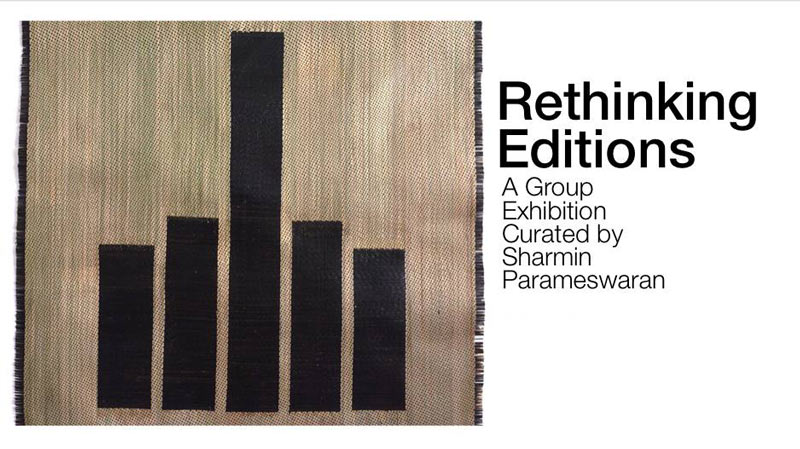 Rethinking Editions is a group exhibition featuring 15 visual artists from various artistic backgrounds and practices, who have revisited and questioned the notion of art 'editions' from ways of looking, making, and presenting.
Editions in the visual arts refer to the reproduction of copies or replicas of artworks made from an original (master) work; a series of impressions or prints, photographs, cast sculptures, videos, and audio recordings. The valuation of editioned artworks is subject to the number of original works; from the artist's owned proof (AP), to limited versus open editions, and the potential future reproduction of prints (if any).
"Juxtaposing the idea of editions to the seemingly dynamic and responsive flow of visual arts seems akin to rule-making on creative expressions," offers independent curator Sharmin Parameswaran, who, in collaboration with OUR ArtProjects, is looking to introduce more contemporary visual art projects into the Malaysian art ecosystem. "Especially in today's hyper-digital context, where reproduced Instagram posts, memes, and GIFs are imitated, mashed, and shared into the instantaneity of digital, social, and cultural networks. It's an invitation for us to re-idea editions," she further elaborates.
Rethinking Editions brings together 15 artists who have looked, questioned, and turned the idea of editions in a visual arts context onto its head. Artists include: Gan Siong King, a multi-disciplinary visual artist who is currently in a state of creative crisis; NOWORNEVER Design, a creative and experimental design hub; Syahnan Anuar of Bogus Merchandise, a socially minded and community-oriented screen printing and sewing collective; a partnership of Talha KK and Tsa Meera of Imaginary 23, who recently directed Kyoto Protocol's latest music video, Delta Wing; and Yee I-Lann, an artist who works primarily in photo media but is currently experimenting with traditional weaving.
Rethinking Editions brings together 15 artists who have looked, questioned, and turned the idea of editions in a visual arts context onto its head.
The exhibiting artists are:
Ajim Juxta
Dhavinder Singh
Gan Siong King
Haris Abadi
Haslin Bin Ismail
Mark Tan
Noor Mahnun Mohamed
Nowornever Design
Ong Cai Bin
Rico Leong
Shiela Samsuri
Syahnan Anuar
Tsa Meera + Talha Kk
Yee I-lann
Artist Profile
Ajim Juxta
(b. 1983, Kuala Lumpur)
graduated with a Bachelor of Science in Architecture from MARA University of Technology, but found his calling in the visual arts. His repertoire of works is deeply grounded in his academic training in architecture and spans several mediums, including pen and ink, found objects, sculptures, and paintings on canvas. In recent years, Ajim has: been awarded the Young Art Award, Young Art Taipei 2016; selected for the inaugural Khazanah Nasional Associate Artist Residency Programme (KAAR) at Acme Studios, London in 2017; held his solo exhibition Tugu|Ugut at Pertubuhan Arkitek Malaysia (PAM), Kuala Lumpur in 2018; and received the year-long Southeast Asian Arts Residencies at Rimbun Dahan for 2019.
Dhavinder Singh
(b. 1983, Kuala Lumpur)
graduated with a Bachelor's in Fine Art from Cardiff School of Art & Design in 2010. As a child, he was fascinated by his seamstress mother's tailoring techniques in which she would meticulously visualize, measure, draw, cut, and stitch her creations. With the onslaught of modern day development (and destruction) of the areas he grew up in, he seeks to express his thoughts and feelings on the changes through his art. He has had several successful joint and solo exhibitions over the years and has recently shown at Art Central 2018, Hong Kong; India Art Fair 2018, New Delhi; and Art Stage 2018, Singapore.
Gan Siong King
(b. 1975, Johor)
is currently in a state of creative crisis; he is bored, again. A state which he welcomes, believing a constant need for renewal is a prerequisite to any creative work, and that his best work is always ahead of him because the opposite would be disastrous. Gan's practice is multi-disciplinary and evolving, as he has a constant curiosity about new possibilities in art; the unpacking of orthodoxies and structures as a way to question, reflect and imagine different ways of seeing and being. Recent solo projects include Meeting People Is Easy, Kuala Lumpur (2017), and his first online video exhibition Yarimoriya, Japan (2016), made as part of his residency at ARCUS Project, Moriya.
Haris Abadi
(b. 1982, Kelantan)
holds a Masters in Fine Art & Technology from MARA University of Technology. He hails from the East Coast state of Kelantan, where cultural heritage and traditional activities are still preserved in their own unique ways. Despite this, his interest has leaned towards new media art, with a current focus on animation and motion graphics. Bridging background and interest, Haris has studied the elements of traditional shadow puppetry which he incorporates into his new media works. In 2011, Haris emerged as one of the winners at the Asea Korean Multimedia Competition in Seoul, and his works have been exhibited in several galleries in Kuala Lumpur, Singapore, Indonesia, and Japan. He is currently completing a Doctorate at the School of the Arts, Universiti Sains Malaysia while teaching at the Faculty of Creative Technology and Heritage, Universiti Malaysia Kelantan.
Haslin Bin Ismail
(b. 1984, Johor)
received his Bachelor of Fine Arts (Hons) from MARA University of Technology. His body of work includes dark explorations of contemporary issues such as the technology-human relationship, man-machine hybridity, and ecological catastrophes. The themes are often depicted through a surrealist vision, forming a nightmarish dreamscape of our dystopias. Haslin has participated in numerous solo and group shows in Malaysia and Singapore. Additionally, he was awarded the Grand Prize for In-Print: Contemporary British Art from the Paragon Press held at the National Art Gallery in 2006 and received the Grand Prize for Bakat Muda Sezaman from the National Art Gallery in 2011.
Mark Tan
(b. 1991, Kuala Lumpur)
obtained his Bachelor of Arts degree in Drawing and Applied Arts from the University of the West of England. Working through photography, drawing, and printmaking, his various configurations become sensory fragments that investigate the methodologies of mark-making. The psychological spaces of memory as a site of constant flux are then used as a trigger for Tan's practice. Tan has exhibited both locally and internationally in Singapore, Indonesia, France, and the UK. His most recent exhibitions include Bi Lateral Bonds, TAKSU Singapore & Malaysia (2016); TP II by Cetak Kolektif, HOM Art Trans, Malaysia (2015); 17e Biennale Internationale de la gravure de Sarcelles, France (2015); Presence, The Gallery @ Starhill, Malaysia (2015); and Synecdoche, Embassy Tea Gallery, United Kingdom (2014).
Noor Mahnun Mohamed
(b. 1964, Kelantan)
is regarded as one of the leading contemporary artists in Malaysia. She received her Master's in Fine Art from Hochschule für Bildende Künste, Braunschweig, Germany in 1996. Noor Mahnun, or Anum as she is popularly known, has exhibited widely locally and internationally, and now lives and works in Kuala Lumpur. Her most recent solo exhibition Disco Lombok Still Life, apart from being a sell-out show, included a live DJ set and a shiny disco ball, a testament to an artist who continues to live and grow with her art practice. Apart from being a sought-after artist, she is currently working on a long-term project, an online 'Digital Archive for Printmaking' initiated under the Asian Public Intellectual fellowship, and funded by the Nippon Foundation Grant.
NOWORNEVER
is a contemporary art & design collective. Founded in 2014 by Leo So (b. 1990), it is now a collaboration with Nascent Choy (b.1990) in 2018. Recent exhibitions include, Commemorating the launch of Colorplan in Malaysia: 8640-Bit, Pertubuhan Arkitek Malaysia (PAM) Centre in Kuala Lumpur, Malaysia (2017); Remembrance as Resistance: Human Rights Art Exhibition, Let's Art Sawit Centre, Kulai, Malaysia (2016); OFFART: An Experiment with Flies and Farts by Leo So and Tan Zi Hao, PORT commune, Petaling Jaya, Malaysia (2017); REMIXMAGINATIONISM: REimagine Us, Urbanscapes House, Malaysia (2018).
Ong Cai Bin
(b. 1989, Pahang)
graduated from Dasein Academy of Art in 2015, and has already chalked up a number of awards to her works including Second Prize in the 2014 Tanjung Heritage (Mix Media Category), Consolation Prize in the 2017 Nando's Art Initiative (Fine Art Category), and the 2017 UOB Painting of The Year, (Emerging Artist Category), Gold Award. Through her artwork, Cai Bin questions and expresses the self in spaces, environments, and relationships. Not one to be confined, Cai Bin has developed her visual language through various mediums including drawing on paper, silkscreen on paper, ceramic, and clay.
Rico Leong
(b. 1990, Sabah)
is a self-taught illustrator and musician, now specializing in the traditional art of woodcut printmaking. He is active as an artist, and also runs workshops on wood carving and woodcut printing across Malaysia. Coming from a family of artists, Rico appreciates the process of creating things by hand and enjoying techniques from a bygone era. Many of his illustrations can be found as cover art for local musicians in the underground scene. Rico is currently based in Berlin, Germany, bringing his art and East Malaysian visual language to the EU.
Shiela Samsuri
(b. 1989, Klang)
The architect: received her architectural training locally prior to obtaining her masters in London's University of Westminster in 2014. Upon graduating, she has worked as an architect while intuitively exploring her interest in visual language through art. Shiela is currently based at GDP Architects, and leading R+, the research arm of the company where she and colleagues produce narrations and documentation on architecture through a different lens. // The artist: habitually and heavily resorting to the pain(t)ed world, where the careless live in gridded logic; where the left and right halves meet.
Syahnan Anuar
(b. 1992, Kelantan)
is one-half of the founding members of Bogus Merchandise, a home-grown silkscreen printing brand involved in experimenting with different techniques of silkscreen printing, as well as running creative workshops for DIY enthusiasts and the likes. Syahnan on his own exudes a punk-culture honest view of contemporary Malaysia, using his convictions to question and create artworks, ensuring we do not get too comfortable.
Tsa Meera
(b. 1989, Penang)
has a Masters in Fine Arts and Technology from MARA University of Technology. Viewing herself as a multimedia artist, she experiments with the visual artistry of analog and digital elements. Her works extend to paintings, illustrations, wall art, video, and even prop/set making. With a contemporary and stylistic visual language, she has collaborated with current music artists including Pastel Lite, Liyana Fizi, and Ferns as well as being involved in projects with We are Kix, Converse Jamboree, DA+C Festival, and Georgetown Festival. Tsa Meera just returned from an Artist Residency with Waley Art, Taiwan where she held OCCUR, a solo showcase on the discoveries of being in a new town and the sense of play which awakens.
Talha KK
(b. 1991, Pakistan)
is a filmmaker based in Malaysia, born in Pakistan and raised in the Middle East. He completed his Bachelors in Digital Film and Television from Limkokwing University. Drawing from conflicted racial experiences, Talha currently explores themes of isolation and detachment through filmmaking as a visual language; contrasting narratives with visual aesthetics. Apart from directing and being a director of photography for several independent short films in Malaysia, Talha is also known in the music scene as having directed music videos for both Malaysian and international artists including Kyoto Protocol, Juno and Hana, Aina Abdul, and QSound.
Yee I-Lann
(b. 1971, Sabah)
graduated with a Bachelor of Arts with a major in Photography and a minor in Cinematography from the University of South Australia in 1993. Her primarily photo-media-based practice speculates on issues of culture, power, and the role of historical memory in our social experience, often referencing issues related to her homeland of Sabah. She has an extensive and multilayered visual vocabulary drawn from historical references, popular culture, archives, and everyday objects.