Flagstaff House Museum of Tea Ware – Tea ware by Hong Kong potters
December 5, 2018 @ 8:00 am
July 9, 2019 @ 5:00 pm
HKT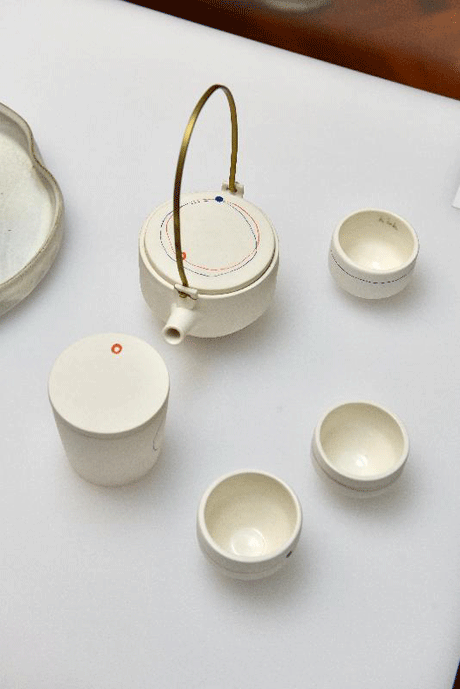 The "2018 Tea Ware by Hong Kong Potters" exhibition is being held from 5th December 2018 to 2nd December 2019 at the Flagstaff House Museum of Tea Ware. The exhibition shows the unlimited creativity of local potters, with more than 100 works from this year's tea ware competition on display.
This year's competition received an enthusiastic response, with a record number of 451 entries submitted by 332 potters.
In the Open Category, the first prize was awarded to Chan Cheuk-yan's "Encounter", while the second and the third prizes went to Enders Wong's "Joint Call" and Kwok Ka-Fei's "Grand Canyon" respectively. The six winning entries for the prize of excellence were Hui Chun-kit's "Eclipse"; Enders Wong's "Your Charm, Your Way"; Monica Lin's "Gentle Thoughts"; Yung Yuk-ming's "Reverie"; Tung Wing-yin's "Encounter"; and Kwan Sau-Man's "Paper Cup".
First Prize winner in the Open Category, Chan Cheuk-yan's "Encounter"
In the School Category, the winner of the first prize was Lau Hui-Yau's "Tip of Dawn at Sixteen", while the winners of the second and the third prizes were Nicholas Leung's "The Price of Peace" and Leung Ching-tung's "Tea Time" respectively.
The "Tea Ware by Hong Kong Potters" competition was first held by the Flagstaff House Museum of Tea Ware in 1986 with the aim of promoting ceramic art in Hong Kong. This year's competition, the 11th edition, features 101 items of selected tea ware made by 88 local potters.
Flagstaff House Museum of Tea Ware is located at 10 Cotton Tree Drive, Central, (inside Hong Kong Park). It is open from 10 am to 6 pm but closes at 5 pm on Christmas Eve and Chinese New Year's Eve. Closed every Tuesday (except public holidays) and the first two days of Chinese New Year. Admission is free.
About the museum
Established in 1962, the Hong Kong Museum of Art was first housed in the City Hall, moving to its present purpose-built premises in Tsim Sha Tsui in 1991. The museum also incorporates the Flagstaff House Museum of Tea Ware, located in Hong Kong Park.
It is the mission of the Hong Kong Museum of Art to preserve the cultural heritage of China and promote Hong Kong art. The museum holds a notable collection in excess of 16,000 art objects, including Chinese painting and calligraphy, Chinese antiquities and China trade art as well as works by Hong Kong artists. As a platform for international artistic exchange, the museum also presents a great variety of thematic exhibitions drawn from major overseas museums and institutions.
To tie in with a new phase of its development, the museum has been closed since August 2015 for a major renovation and expansion project. The expansion will provide a new annex block with a double-height gallery of 9 meters to accommodate monumental contemporary artworks. Two other high-ceiling galleries will be provided on the extended roof floor of the building, increasing the total exhibition area from about 7,000 m² to around 10,000 m².
The Hong Kong Museum of Art featuring a brand new look will re-open in 2019, proffering high-quality programmes and exhibitions to the public. Promoting art among the general public being one of the museum's main objectives, there will be a continuation of a wide range of educational programmes to enhance visitors' understanding and interest in artistic creation.
Vision
We are a leading art museum of excellence in the region. We connect and share with everyone using the language of art to foster creativity.
Mission
Embody the mission of cultural legacy research
Make our collections accessible and in so doing provide a major platform for promoting artistic talent locally and globally.
Deliver emotive, inspiring and enjoyable experiences in artistic appreciation and lifelong learning
Strive for a close partnership with the art community and all social sectors to achieve the objective of vitalizing the cultural lives of people through means of innovation and creativity
Values
Professionalism
Whole-person learning
Passion
Openness
Sharing
Connectivity