NTU Centre for Contemporary Art Singapore – The Current Convening 3
January 25, 2018 @ 10:00 am
January 27, 2018 @ 5:00 pm
UTC+8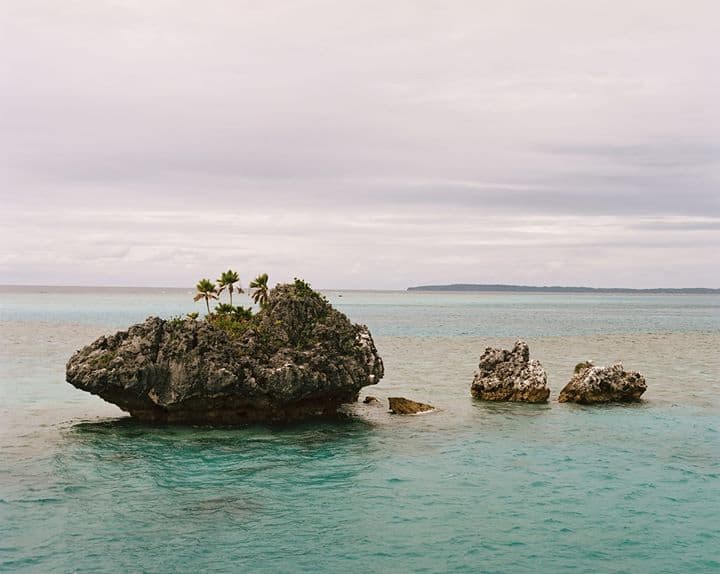 The Current Convening #3 Tabu/Tapu – Who Owns the Ocean?
A collaboration between Thyssen-Bornemisza Art Contemporary–Academy and NTU CCA Singapore
Part of Singapore Art Week 2018
Welcome Addresses:
Friday, 26 January 2018
6.30pm
Guest-of-Honour: Masagos Zulkifli, Minister of the Environment and Water Resources of Singapore
With Professor Alan Chan, Dean, College of Humanities, Arts, & Social Sciences, Nanyang Technological University, Singapore; Markus Reymann, Director, Thyssen-Bornemisza Art Contemporary (TBA21)–Academy
===
The Current Convening #3 Tabu/Tapu brings together a diverse range of thought-leaders—including artists, musicians, environmental researchers, conservationists, anthropologists, and government officials—with Fijian collaborators and community groups in a three-day program featuring discursive events including roundtable discussions, workshops, and performances.
Marking the culmination of TBA21–Academy The Current's first cycle of expeditions to Papua New Guinea, French Polynesia, and Fiji between 2015 and 2017, Convening #3 shares with a wider public the research and collective body of knowledge from the three research trips to the Pacific archipelagos.
TBA21–Academy The Current Fellows at Convening #3:
• Atif Akin (Turkey/United States), artist and designer
• Laura Anderson Barbata (Mexico/United States), artist
• Dr Guigone Camus (France), anthropologist
• Newell Harry (Australia), artist
• Dr Kristy H. A. Kang (United States/Singapore), media artist, and Assistant Professor, School of Art, Design and Media, Nanyang Technological University, Singapore
• Dr PerMagnus Lindborg (Sweden/Singapore), composer, sound artist, and researcher
• Armin Linke (Italy/Germany), photographer and filmmaker
• Filipa Ramos (Portugal/United Kingdom), art writer, curator, and Editor-in-Chief, art-agenda
• Lisa Rave (United Kingdom/Germany), artist
• Jegan Vincent de Paul (Sri Lanka/Canada), architect, artist, and NTU ADM/CCA Singapore PhD candidate
Other invited participants:
• Tarek Atoui (Lebanon/France), musician, composer, and sound artist
• Barney Broomfield (United States), filmmaker
• Dr Cynthia Chou (Singapore/United States), Professor, Department of Anthropology, College of Liberal Arts & Sciences, University of Iowa, United States
• Jakob Fenger and Rasmus Nielsen, SUPERFLEX (Denmark)
• Andrew Foran (Australia/Fiji), Head, Pacific Centre for Environmental Governance, International Union for Conservation of Nature (IUCN), Suva, Fiji
• Taholo Kami (Tonga/Fiji), Special Advisor, Pacific Partnerships and International Civil Society, COP23 Presidency Secretariat of the Fijian government
• Dr Cresantia (Frances) Koya Vaka'uta (Fiji), Director, Oceania Centre for Arts, Culture and Pacific Studies & Pacific Heritage Hub, UNESCO Faculty of Arts, Law and Education, The University of the South Pacific, Fiji
• Dr Hervé Raimana Lallemant-Moe (French Polynesia), Law Department, University of French Polynesia, Tahiti
• Tuan Andrew Nguyen (Vietnam), artist
• Lucy + Jorge Orta, Studio Orta (United Kingdom, Argentina/France), artists
• Maureen Penjueli (Fiji), Coordinator, Pacific Network on Globalisation (PANG)
• Valérie Portefaix (France/Hong Kong), Director, MAP Office
• Roko Josefa Cinavilkeba (Fiji), Paramount Chief of Totoya Islands
• Joey Tau (Fiji), media and campaign officer, Pacific Network on Globalisation (PANG)
Highlights include I/E – the solo sessions | Performance by Tarek Atoui, a sound performance by sound artist and musician Tarek Atoui consisting of harbour and underwater recordings, as well as a Discursive Brunch by Lucy + Jorge Orta with the theme of the ocean as food source. These programmes have been made possible with the support of Gillman Barracks Events Seed Fund.
For programme schedule, please visit: https://ntu.ccasingapore.org/events/convening-3/
===
Convening #3 has been conceived by Markus Reymann, Director of TBA21–Academy; Stefanie Hessler, Curator of TBA21–Academy; and Professor Ute Meta Bauer, Founding Director of NTU CCA Singapore, and Expedition Leader of The Current's first cycle.
Coordination for NTU CCA Singapore: Samantha Leong, Executive, Conference, Workshops and Archive; and Magdalena Magiera, Curator, Outreach and Education.
Coordination for TBA21–Academy: Kat Davis, Assistant Director; Paul Feigelfeld, Data & Research Architect; and James White, Coordinator.