National Gallery Singapore – Minimalism – Space.Light.Object
November 16, 2018 @ 8:00 am
January 14, 2019 @ 5:00 pm
BMT

Minimalism: Space. Light. Object
16 November 2018 – 14 April 2019
National Gallery Singapore and ArtScience Museum
NATIONAL GALLERY SINGAPORE PRESENTS FIRST MINIMALISM EXHIBITION IN SOUTHEAST ASIA IN COLLABORATION WITH ARTSCIENCE MUSEUM
This November, National Gallery Singapore and ArtScience Museum are collaborating for the first time to present the region's first exhibition focusing on Minimalism. Led by the Gallery and set across these two sites, over 150 works will explore the history and legacy of this groundbreaking art movement, which continues to influence a wide range of art forms and practitioners across the world today.
Minimalism was a turning point in the history of art. Through the use of simple, geometric forms and non-traditional materials, Minimalism shifted the way that we experience art: it made the physical encounter with the artwork, and space it occupies, increasingly important. This movement has had a profound influence not only on the visual arts but also on music, performance, fashion, architecture, and design.
National Gallery Singapore's exhibition explores the development of Minimal art and ideas from the 1950s to the present day, tracing its shift from painting to sculpture and then to spatial installations and immersive environments. It will feature works by some of the most significant artists of the past 70 years, including Mark Rothko (USA, 1903–1970), Donald Judd (USA, 1928–1994); Yayoi Kusama (Japan, 1929– ); Charlotte Posenenske (Germany, 1930–1985); Lee Ufan (Korea/Japan 1936– ); Olafur Eliasson (Denmark/Iceland, 1967– ); Anish Kapoor (India/UK 1954– ); Ai Weiwei (China, 1957– ); Po Po (Myanmar, 1957– ) as well as Singaporean artists Kim Lim (1936–1997) and Tang Da Wu (1943– ).
ArtScience Museum's exhibition will present a thematic exhibition exploring form, colour, and spirituality, including the work of influential artists such as Carmen Herrera (Cuba–USA, 1952– ); Mona Hatoum (Lebanon/UK, 1952– ) and Richard Long (UK, 1945– ) as well as contemporary artists Song Dong (China, 1966– ); Tan Ping (China, 1960– ); Charwei Tsai (Vietnam/France/Taiwan, 1980– ) and teamLab (Japan, 2001– ). Singaporean artist Jeremy Sharma (Singapore, 1977– ) will also be showcasing his new commission at the exhibition. ArtScience Museum will also explore the impact and legacies of minimalist sound and experimental composition within a dedicated Sound Room.
Throughout the duration of the exhibition, special programmes at both venues will feature music, film, dance and interactive installation, showing the close engagement of other art forms with Minimalism.
WHAT IS MINIMALISM?
Minimalism commonly refers to an artistic tendency that came to prominence in 1960s New York. It is characterised by geometric forms which are often repeated in series, as well as by its use of industrial processes and materials.
DISTILLING ART
By paring artworks down to their most essential elements, Minimalist artists intended to strip away individual expression and artistic decision-making and create a direct, unmediated encounter between the viewer and the art object in a specific space and time.
BEYOND THE FRAME
This new approach to art opened a wide range of possibilities for the art that followed, which extended the experience of art beyond the work itself to include its environmental, social and political contexts. This has left a profound legacy which still resonates throughout contemporary art.
A RADICAL TURNING POINT
Minimalism is also hailed for its significant impact on music, performance, design, fashion and lifestyle. Its influence continued to grow, reinforced by major exhibitions in New York and elsewhere. Similar tendencies arose concurrently around the world too, independently or in dialogue with American artists, such as Mono-ha in Japan. These have received increasing attention in recent years, spurred by the wider appreciation of global modern art, extending the established narrative of Minimalism beyond the United States.
EXPERIENCE MINIMALISM
In presenting the first Minimalism-focused exhibition in Southeast Asia across two leading cultural institutions, visitors can expect a wide range of historical and contemporary works, immersive and site-specific installations, as well as interdisciplinary programmes from artists such as Mark Rothko, Carmen Herrera, Tatsuo Miyajima, Donald Judd, Anish Kapoor, Mary Miss, Olafur Eliasson, Margaret Leng Tan, Ai Weiwei, Mona Hatoum, Kim Lim, Charwei Tsai, Tang Da Wu, Jeremy Sharma and Lee Ufan.
NATIONAL GALLERY SINGAPORE
Minimalism: Space. Light. Object. at National Gallery Singapore looks at the development and legacies of Minimalism from the 1950s to the present day.
Covering the American centres of New York and Los Angeles, to Asia, Europe and Australia, the exhibition features over 100 works by leading artists such as Robert Morris, Mona Hatoum, Ai Weiwei, Anish Kapoor, Kim Lim and many more, who explore the ideas of presence and absence, often informed by Asian philosophies such as Zen Buddhism.
Experience the seismic impact that Minimalism has left on the world today as you explore the relationship between object, space, and the viewer at National Gallery Singapore.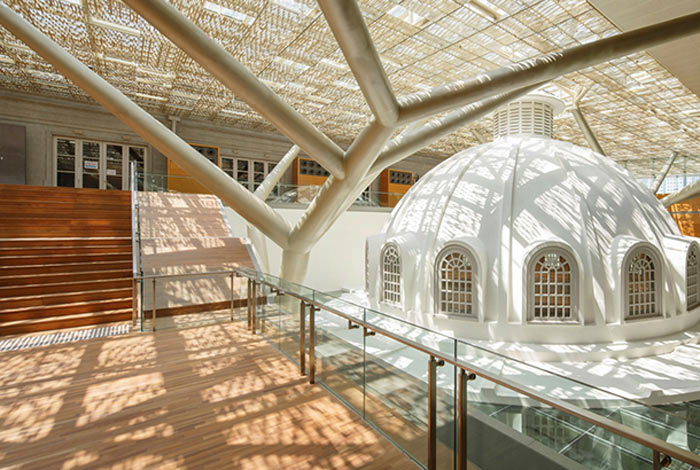 HIGHLIGHTS
ROOM FOR ONE COLOUR
OLAFUR ELIASSON
Olafur Eliasson's work explores the scientific effects of light and colour on our vision. This room is illuminated by monofrequency lamps that suppress all colours except yellow and black, causing us to see in shades of grey. The experience demonstrates that our perception is not fixed but changes with our environment, suggesting we can see the world from multiple perspectives.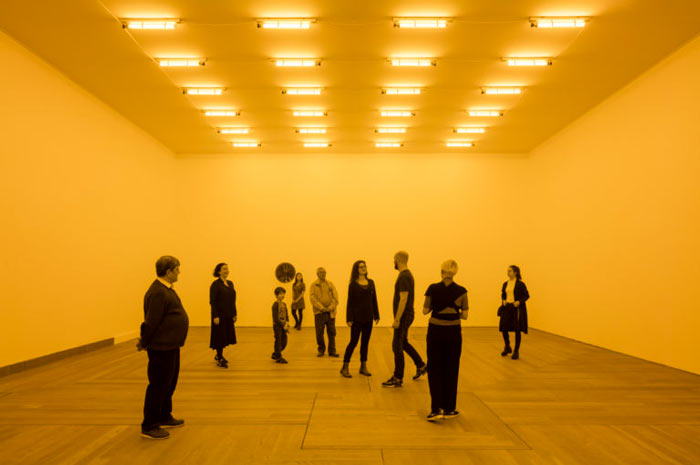 MEGA DEATH
TATSUO MIYAJIMA
The title of this work refers to the huge scale of lives lost during the 20th century due to war and conflict. The LED numbers on the panels count down from nine to one, skipping zero before repeating the cycle again. This parallels the Buddhist cycle of life, death and rebirth, with zero being the void.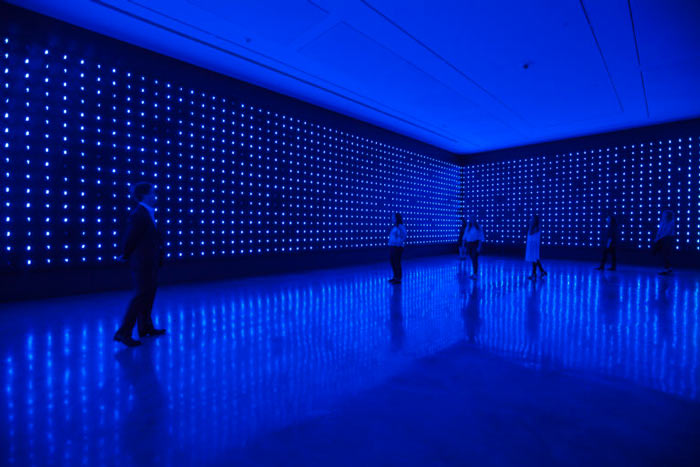 IMPENETRABLE
MONA HATOUM
This installation appears almost inviting from a distance. However, when approached, the barbed-wire cube repels instead. Such contradictions are central to Hatoum's work, which takes the form of grids and cubes. These transform into traps, barriers and containers, revealing the potential for division and violence embedded in the structures of everyday life.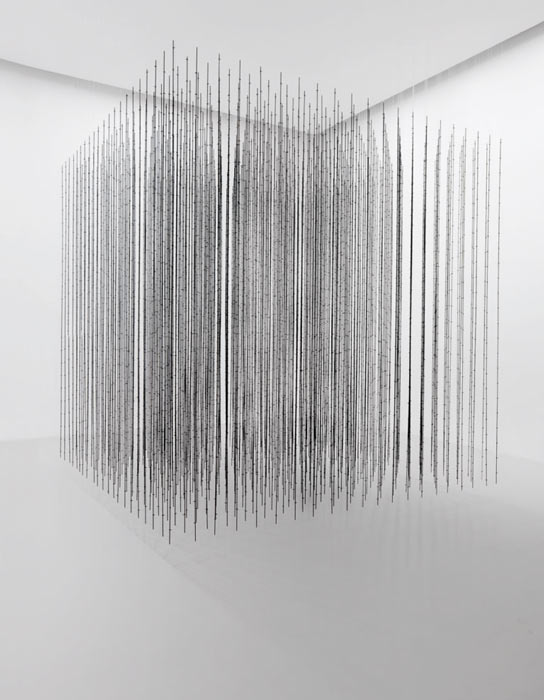 ARTSCIENCE MUSEUM
Minimalism: Space. Light. Object at ArtScience Museum delves deeper into Asian philosophy, focusing on the impact these ideas may have had on Minimalism in the West.
The exhibition investigates minimalism as seen in Zen, Chinese Maximalism and contemporary abstraction with works including Tan Ping, Song Dong, CharWai Tsai and Morgan Wong.
Notions of the void, emptiness and nothingness, foundational to Minimalism, resonate with science as well as Eastern philosophies. The all-encompassing blackness of our universe is elegantly explored in a new work by contemporary artist-scientist, Frederik de Wilde, while the intangible experience of colour and space is articulated in a commissioned sound work by Singaporean artist Jeremy Sharma.
Minimalism has had a profound influence on many other art forms but particularly music. ArtScience Museum's dedicated Sound Room explores the impact and legacies of minimalist sound and experimental composition, through the presentation of over 35 works presented in an immersive sound environment.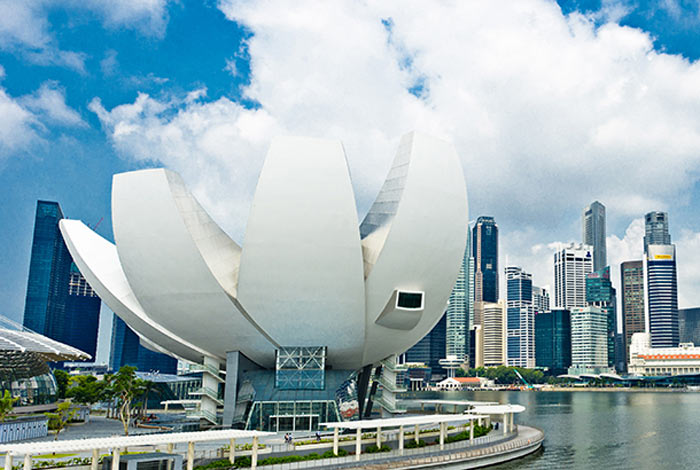 HIGHLIGHTS
RING OF STONES
RICHARD LONG
Richard Long's sculptures are not intended to be seen as representations of nature but rather as documents of the artist's engagement with the land and the beauty and grandeur of the earth. His intention is to "make simple, personal things", reflected here in the form of 258 stones arranged in almost four concentric circles, echoing ArtScience Museum's architecture and reflects on the motif of the circle, be it ink circle or woodblock print, seen in other areas of this exhibition.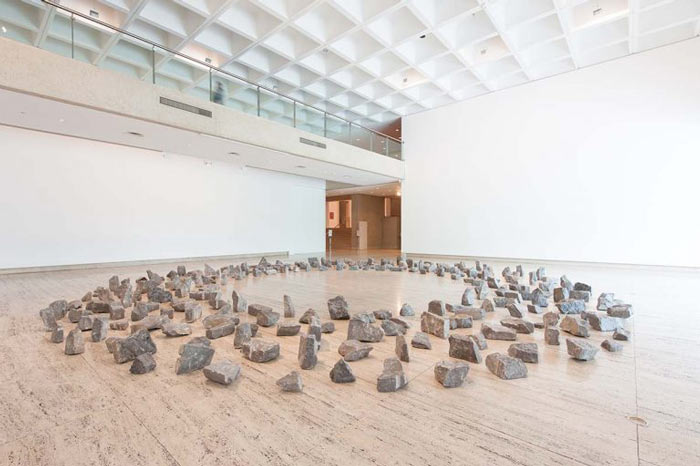 +40M
TAN PING
This work by Tan Ping epitomises Minimalist aesthetics and also carries with it an incredible power and as such, is strongly linked to Chinese Maximalism. This 40-meter long print is taken from a single line that was carved into a block of wood in one continuous gesture by the artist over a period of six hours. While one end of the line can be seen, the other cannot, suggesting both endlessness and formlessness.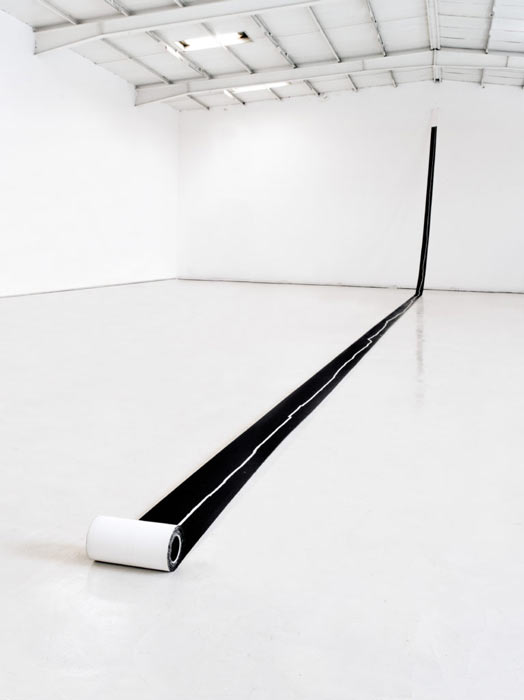 + AND –
MONA HATOUM
In 1979, Hatoum produced Self-Erasing Drawing–a small sculpture with a rotating arm that created and then erased, grooves in a bed of sand. The version on display at ArtScience Museum holds over 750 kilograms of sand and, at a rate of five rotations per minute, it is a visual echo of the meditative practices linked with the raking of sand in Japanese Zen gardens. The sculpture's hypnotic sound and repeated, sweeping movements evoke both existence and non-existence, absence and presence.