ShangArt Singapore – Robert Zhao Renhui – Trying to remember a tree
September 21, 2018 @ 8:00 am
June 23, 2019 @ 5:00 pm
SMT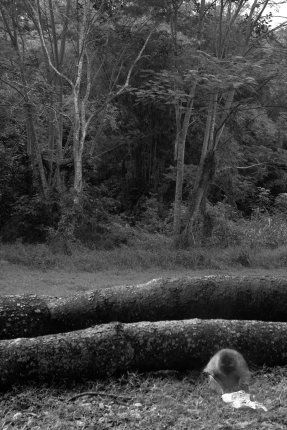 Opening: 21 September 2018
Duration: 22 September 2018 – 23 June 2019
Hours: All day, all week
Address: 10 Lock Road, Gillman Barracks, Carpark B, Singapore 108938
Contact: +65 6734 9537 | [email protected]
W: shanghartsingapore.com | FB & IG: @shanghart.singapore
ShanghART Singapore is pleased to show Trying to Remember a Tree (iii) – The world will surely collapse, a special outdoor light box installation by Singaporean artist Robert Zhao Renhui, presented in conjunction with Gillman Barracks' 6th Anniversary x Art After Dark. The work is a series of 14 near life-size photographs, featuring a very old and large tree that collapsed near the artist's home. In Singapore, trees are cut in sections to make their removal easier. The physical cuts by which the tree is sectioned echo but do not exactly correspond to how Zhao has edited and sequenced the images, suggesting that there might be different ways of "managing" nature, whether via park authorities or art. Placed in a natural environment with the forest serving as its backdrop, the lush greenery of Gillman Barrack's forest and the bleakness of the monochrome artwork form a stark contrast, provoking viewers to reflect on the state of the natural environment in the present day.
About the artist
Singaporean visual artist Robert Zhao Renhui (b. 1983) works chiefly with photography but often adopts a multi-disciplinary approach, presenting images together with documents and objects in the form of textual and media analysis, video and photography projects. His artistic practice investigates man's relationship with nature, utilizing convincing narratives to invoke doubts in its audience towards the concept of truth and its portrayal. His works have been exhibited globally, having held solo exhibitions in Singapore, China, Japan, Australia, and Italy, as well as participating in various biennales and photo festivals.
Recent exhibitions include The Institute of Critical Zoologists Final Report of the Christmas Island Expert Working Group, NTU Centre for Contemporary Art, Singapore (2018); The 9th Asia Pacific Triennial of Contemporary Art (APT9), Queensland Art Gallery, Gallery of Modern Art (QAGOMA), Australia (2018); JIWA: Jakarta Biennale 2017, Indonesia (2017); Hugo Boss Asia Art 2017, Rockbund Art Museum, Shanghai (2017); 7th Moscow Biennale, Moscow, Russia (2017); Robert Zhao Renhui: Christmas Island, Naturally, ShanghART M50, Shanghai (2017); The Nature Museum, By Institute of Critical Zoologists (ICZ) General, Singapore International Festival of Art (SIFA), Singapore (2017); Zhao Renhui: Christmas Island, Naturally, ShanghART Singapore, Singapore (2017); Singapore, Very Old Tree, National Museum of Singapore, Singapore (2017); 20th Biennale of Sydney, Sydney, Australia (2016); A Guide to the Flora and Fauna of the World, Centre of Contemporary Photography, Australia (2015); APB Signature Art Prize, Singapore Art Museum, Singapore (2014); A Guide to the Flora and Fauna of the World, Primo Maralla Gallery, Italy (2014); Singapore Biennale: If the World Changed, The Peranakan Museum, Singapore (2013).
His works have been awarded The United Overseas Bank Painting of the Year Award (Singapore) in 2009 and The Deutsche Bank Award in Photography by the University of the Arts London in 2011. In 2010, he was awarded The Young Artist Award by the Singapore National Arts Council. Most recently, he is named as a finalist for the Hugo Boss Asia Art Award 2017. His work has also been featured prominently in Artforum International, ArtAsiaPacific, European Photography, Pipeline, Archivo, Fotografia, and Punctum.
About the gallery
Founded in 1996, ShanghART Gallery is one of the first contemporary art galleries established in China now maintaining spaces in Shanghai, Beijing, and Singapore. For the past twenty years, ShanghART has kept devoting to the development of contemporary art in China and also kept close and long-term cooperation with more than 60 artists. Sustaining the highest-quality in presenting contemporary art exhibitions and projects, ShanghART regularly participates in the major international art fairs and collaborates with important art institutions in China and from all over the world.
ShangART Videotheque, which was established in 2008 and has been developing till now, has included near 600 contemporary video artworks and kept holding salons and screen-shows regularly. Located on Shanghai West Bund, ShanghART Library opens the collections of all the art books to the public for a long time which have been collected since the foundation of ShanghART Gallery, meanwhile, hundreds of catalogs and related products both of contemporary art are also exhibited for sale at the gallery.