100 Tonson Gallery – Prateep Suthathongthai – A Little Rich Country
November 22, 2018 @ 8:00 am
April 10, 2019 @ 7:00 pm
BMT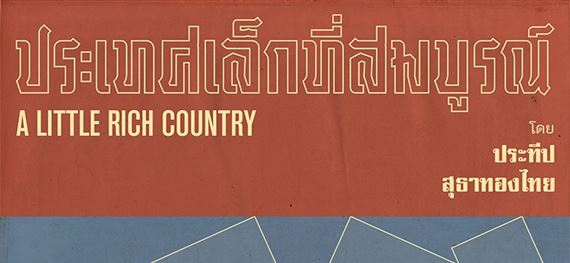 In 1947 there have been rumors saying that Isan (Northeastern region of Thailand) is starving to death and the land itself is turning into a desert. A journalist from Siamrath immediately boards the train to see what was there with his own eyes. His report of the region is compiled into a book titled "There's no laughter from Isan" published with a pen name 'Nai Rum'. In the time where communication comes in a form of whispers that drifted from train to train, the book is published to inform people about the far away situation as well as to criticize the government at the time of their abandonment of the region.
But the most striking aspect might be the cover art itself. In which it depicted an image of a crying woman holding a baby. The image comes from a famous low-relief sculpture that is decorated on a bridge in Bangkok, the sculpture was created to express the grief of the country after the passing of King Chulalongkorn in 1910.
A Little Rich Country, Prateep Suthathongthai's third exhibition with 100 Tonson Gallery. In these new series of work featuring paintings and video works, Prateep continues to investigate the deep-rooted problems of Isan region through its historiography and circulation of printed matters which influenced and cast the image of Isan since the Cold War era. The paintings in this exhibition depicted worn-out and faded cover of books that were once carried a heavy agenda to influence and promote a certain message, the deed is now done and the books have already fulfilled its duties, therefore, it has become obsolete in its purpose. By revisiting these books the viewer will discern the once importance objective of why these books were created whether it'll be to promote regionalism and nationalism or to inform people of the world's matters at the time.
About the gallery
100 Tonson Gallery is dedicated to the profiling of contemporary art. Working across regional and international boundaries, the gallery has proven a preeminent, global force for the showcasing and reconsideration of global art practices.
The first gallery from Thailand and the only one from Southeast Asia exhibited in the prestigious art event, Art Basel in Switzerland in 2011. Cited in 2007 by Contemporary Art magazine (London) as ranking among the top 50 emerging galleries from around the world, the gallery has been the pioneer in various fields including showcasing installation art, video installation and conceptual context when it was rarely practiced among galleries and has set the direction since..
Named after its street address, 100 Tonson Gallery occupies a pristine minimalist space conceived by the noted French designer Christian Liaigre. The gallery's roster as well as its scholarly and educational programs, include renowned artists Yayoi Kusama, Damien Hirst, Louise Bourgeois, Araya Rasdjarmrearnsook, Chatchai Puipia, Phaptawan Suwanakudt, Pinaree Sanpitak, Sakarin Krue-On, and Rirkrit Tiravanija, among numerous others.
100 Tonson Gallery proactively features its artists in local and international venues and supports their dynamic development and participation in a global contemporary context. Its current selection of emerging Thai artists is another testimony of the gallery's widespread success, with Yuree Kensaku, Porntaweesak Rimsakul, Prateep Suthathongthai and Wit Pimkanchanapong rounding out an ever-widening circle whose works have entered distinguished international museums' collections. In bringing Thai and regional artists to international grounds, the gallery has participated in various art fairs in Basel (Volta, ArtBasel), Hong Kong (ArtHK, ArtBasel HK), Art Dubai, Singapore (Singapore Artfair, Showcase Singapore, ArtStage) Shanghai (SHContemporary) and Beijing (CIGE).
About MutualArt
MutualArt  is the leading provider of art market data, analysis, and advanced decision support tools.
Our platform is designed to be a one-stop resource for anyone who loves art — from seasoned collectors and professionals to those thinking of buying their first artwork. Our membership plans are just as varied and start from $24 per month. Visit our plans page to find out more.
Our Auction Price Database is the most comprehensive resource of its kind, comprising extensive past and upcoming sale prices, accompanied by information on related exhibitions and press coverage. We cover a growing selection of over 300,000 artists and 17,000 art venues and manually screen all of our data to ensure its accuracy and integrity.
Our focus on market transparency is matched by a mission to provide members with information tailored to their interests in real-time. Art Market Alerts, delivered via email, provide members with the very latest information on their preferred artists, venues and artworks, ensuring they're the first to know about relevant sales, exhibitions, events and related news.
Our MA Intelligence Tools enrich this data, providing a visual overview of the global art market which enables members to engage with the database in an analytical way. Find trends, anticipate changes in performance and refine results according to your own criteria.
Discover what your art is worth in a few clicks. The MutualArt Online Art Appraisals Service is offered for anyone wishing to ascertain the value of an artwork they own and is carried out by IFAA accredited professionals in 72 hours or less.
Founded in 2008, MutualArt now has over 500,000 members — a number that is continuously growing – and continues to develop state-of-the-art analytics software to help you see the art world clearly.
Have a question?
Visit our FAQs page to get a deeper insight into our work — from the breadth of our archives to the human moderation process that ensures our data is timely and accurate.