Muzak and Murderers Poetry night @ toot yung gallery
October 30, 2014 @ 7:30 pm
11:30 pm
ICT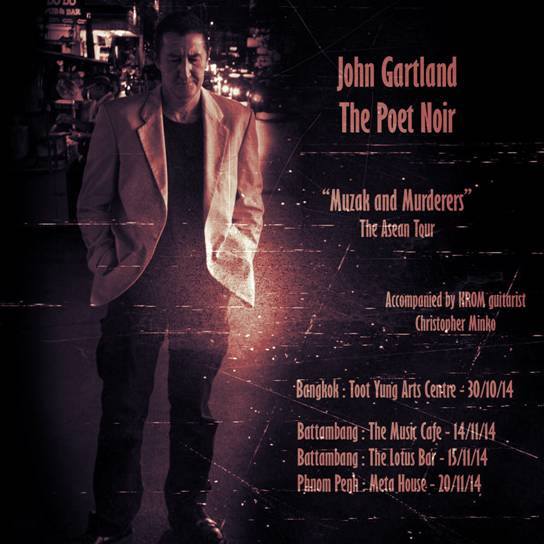 "MUZAK AND MURDERERS" @ toot yung gallery
Poet Noir, John Gartland's Asean Tour
Special reading by Gabriella Moriarty
Musical performance by guitarist Ted Lewand
Photo screening by Eric Nelson
Tickets 200 thb with one drink
Special dinner proposed by Jano Ha
About the artists:
John Gartland, an English poet, resident in Bangkok was the founder of the still flourishing Poetry ID writers' group in the UK. He reads regularly on the Bangkok poetry scene, where he became known as "the Poet Noir" after his collaborations with painter Chris Coles, the celebrated expressionist painter of the Bangkok Night. John Gartland. has been a lecturer in English at Universities in Thailand, Oman and Korea, where he was Visiting Professor of English Writing at Korea National University of Education.
Two books of his poetry have been published by Assumption University Press, 'Gravity's Fool" in 2006) Fourth edition 2009, and a joint collection with an Irish poet, Tom Hodgins, "Poetry without Frontiers", published in September 2008, launched in Ireland in October of that year. JG is also a published novelist, and i is currently working on a new novel, which he hopes to finish this year.
Poetry Universe on Facebook features his poetry.
https://www.facebook.com/pages/Poetry-Universe/168195569406
Ted Lewand, an American musician, is, by day, a dedicated teacher of music at the Bangkok University where JG also taught for five years. Ted's guitar work is phenomenal, and he is surely among the luminaries of the live music scene in Bangkok. Be amazed, by this man's playing; be very amazed!
Gabriella Moriarty, the talented young Bangkok poetess, is one of the organising duo for "Bangkok Lyrical Lunacy", a highly successful live performance gig in Bangkok. JG believes her fine work deserves a wider audience.
Eric Nelson, is a Bangkok photographer who hails from Chicago. JG met him at a night of Noir writers in Bangkok, at the legendary CheckInn 99 club and has admired his work, and creatively collaborated with him, since then.
Start time 7 30 pm at toot yung gallery
The evening will consist of two 45 minute slots, with a half hour bar break / intermission.
John Gartland will introduce the evening, and the artists.
He will read first, accompanied by Ted Lewand on guitar. The material will include such noir favourites as, "Chillin" and Bangkok De Profundis", from the Second Book of Inundations, "Fugue on Freeway IX" and "Circumstantial Evidence". Love poetry and poetry of travel and paranoia will also feature, as will the title poem, "Muzak and Murderers", and new material from the Third Book of Inundations.
Guest poet, Gabriella Moriarty, will be performing her passionate and singular poetry midway through each half.
The photography of American lensman and Bangkok observer, Eric Nelson, will be projected as a remarkable backdrop to the evening.