M97 Shanghai Gallery- Hiroshi Maeda – Fireflies
October 20, 2018 @ 8:00 am
April 30, 2019 @ 5:00 pm
CST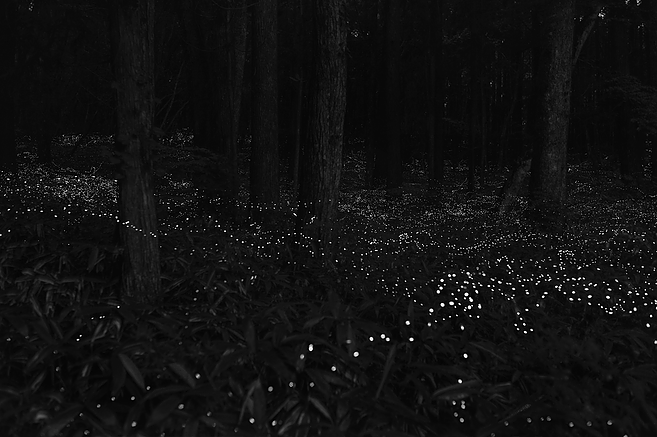 Hiroshi Maeda "Fireflies"
Hiroshi Maeda has been hunting his memories of fireflies since his childhood. In Japan, fireflies are considered to be a national treasure and detecting them requires great precision both in the choice of remote places and the time of the shooting. Hiroshi Maeda has worked with local farmers to find the best locations. Pure water is very important for these magic moments to happen. For many years, due to pollution, the fireflies disappeared, and it's only lately that they have come back. This series is a highly poetic examination of the possibility of reversing the harmful effects of humans and industry on the environment.
Hiroshi Maeda works with long exposure times, superimposed images. His black and white prints are made with charcoal pigments (Piezography) with incomparable halftone rendering, giving a unique depth and materiality to the picture and rich shades of black.
Born in 1956 in Fukui, Japan, in a family of architects. Since childhood, Hiroshi Maeda has been passionate about drawing and photography. He studied painting in Tokyo and later in Paris at the National School of Decorative Arts (EnsAD) in the studio of Zao Wou-ki. In addition to his artistic activities, he is also a professor in the Photography department at EnsAD. Maeda's photographs have been collected by the Pompidou Center as well as private collections in Europe and Asia. This is Hiroshi Maeda's first solo exhibition in China.
About the gallery
M97 GALLERY & M97 PROJECT SPACE
One of the largest of its kind in China, M97 was established in 2006 in Shanghai, China's financial capital and global city. Consistently exhibiting contemporary and fine art photography that spans all genres of the medium, M97 represents an eclectic range of important emerging and established artists working with photography. After 10 years on Moganshan Road, in 2016 the gallery relocated closer to the city center in Shanghai's Jingan District in a converted 1940's factory complex developed by the Anken Group and is located at 363 Changping Road near North Shaanxi Road. On the first floor, M97 operates the gallery space and studio. Located on the second floor is the M97 Project Space and bookstore. In the over 10 years since it's founding, M97 is dedicated to promoting and developing the appreciation of photography as a modern and contemporary art form in China.
COLLECTING PHOTOGRAPHY
M97 helps individual collectors, corporations and institutions collect photographic works and we are experienced in helping everyone from the first-time collector to museum and institutional collectors. With works from over 30 different Chinese and international artists in the gallery, M97 is one of Shanghai and China's largest platforms specializing in the photographic arts.
FINE ART FRAMING STUDIO
Adjacent to the gallery is M97's custom fine art mounting and framing studio. With more than 10 years of service and experience framing both contemporary and traditional artworks, the Studio specializes in custom bespoke framing solutions for both private and corporate clients using museum conservation standards and materials. For any studio related inquiries please contact us via the website or by email: [email protected]