National University of Singapore – Shifting undergrounds in east and southeast asia
October 25, 2018 @ 9:00 am
October 27, 2018 @ 7:00 pm
SMT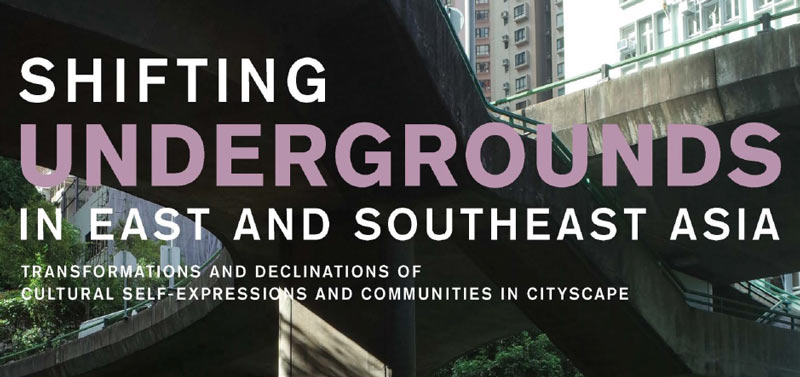 Shifting Undergrounds in East and Southeast Asia:
Transformations and Declinations of Cultural Self-Expressions and Communities in Cityscape
Organized by Asia Research Institute, National University of Singapore, in collaboration with National Gallery Singapore.
Cities are fertile ground for experimental cultures and communities. From Gutai group to hip hop and from punk to Dada, disparate forms of self-expression have organically emerged from the cultural and ideological ruptures of the urban fabric. While the enhanced notion of freedom, anonymity and greater diversity of population are traditionally perceived as facilitating circumstances to a more liberal and democratic urban atmosphere (Jacobs 1961; Young 1990; Sennett 1994), these empowering possibilities have become increasingly contested under growing surveillance, gentrification, privatization and social inequality.
Existing scholarship on subcultures and countercultures provides insightful studies especially on youth cultures and their subversiveness towards establishment and consumerism. Yet their attention is often limited to a specific contemporary form (e.g. zines, punk, fashion) while the otherwise insightful contextualization neglects the possible historical connections and parallels with other cultural forms, such as modern and contemporary art. By taking undergrounds as the conceptual lens, this conference seeks a more holistic understanding of experimental cultures, their interrelations, past traditions and current, even apolitical, positions and (non-)spatial adjustments in the urban environment. Building on the perceptions that challenge the existing paradigms of alternative cultures' ability to resist neoliberal market economy and the empowering forces of anonymity and diversity in cities, the aim is to critically analyse the intricate sociopolitical and cultural dynamics that continuously reposition undergrounds in East and Southeast Asian cities today. Given that the geopolitical and sociocultural circumstances are continuously changing, the questions of whether undergrounds can survive in conditions of strengthening censorship, or whether they are needed after a change of regime are ever more timely. Besides spatial and ideological strategies, attention is also given to the formal and stylistic dedications of undergrounds. Further studies on the processes of conceptual situating across temporal and spatial scales can illuminate whether undergrounds today are to be understood as alternative tangible spaces with limited access, as vernacular radicalism (Duncombe 1997), as a cultural philosophy to exist outside of the mainstream (Graham 2010), and/or as a form of cosmopolitanism urbanism (Martin-Iverson 2014).
The conference is organized in collaboration with National Gallery Singapore, who will host a one-day film seminar of curated screenings, academic presentations, and panel discussions centred around experimental film practice on Saturday (27 October 2018) at the gallery.
Easily reproducible and disseminated, the medium of the moving image was adapted by artists working with readily available video or digital recording equipment to make experimental or subversive work in response to shifts in cultural and political climates. The term 'underground' in film (Vanderbeek 1961) has been consciously adapted by those seeking to express aspects of countercultures, the marginal, and transgressive in the face of hegemonic value systems represented by mainstream cultures. Meanwhile, the notion of the avant-garde focuses on self-conscious use of the film medium, drawing upon radically dissenting techniques that include fragmentation, multiple interpretive possibilities, non-linear narratives, and esoteric approaches.
Moving image works primarily related to Southeast Asia and wider Asia will be shown and discussed. Possible issues include the following:
What are productive ways to investigate relationships between the globalized form of expression that is the film medium, the international tendencies of the avant-garde, and the strategic roles that cinema has played in fostering group, national and regional identities?
What are the limits and possibilities of representation and experimentation in the medium of the moving image, and how do these innovations in form relate to the lived experience of subversion? How did artists employ the materiality of this reproducible medium in the context of highly mediatized cultures to engage with narrative norms and established histories?
How has experimental film practice evolved as the 'poor image' (Steyerl 2009) is dematerialized and dispersed into alternative economies of images against a backdrop of changing technologies and distribution possibilities over time, including various film and digital formats, as well as VHS, DVD, and the internet?
Conference
At National University Of Singapore
9am-7pm (25 Oct)  9.30am – 5.30pm (26 Oct)
As8 Level 4, Seminar Room 04-04
Taking undergrounds as a conceptual lens, this conference seeks a more holistic understanding of the regional and global interrelations of experimental cultures and their current positions in the urban environment. Over two days, through a rich series of talks, panels, an art lab and artists' insights, we will examine the spatial, ideological and aesthetic strategies of varied cultural practices, including music, literature, theatre, art, and film.
Film Seminar
Sat 27 Oct
At National Gallery Singapore
10am-7pm  Supreme Court Wing, Level 5,
UOB Southeast Asia Gallery, Theatrette
Experience curated screenings, academic presentations, and panel discussions centered around experimental film practice, in the presence of prominent regional moving image practitioners. Topics include the film in the Asian Cold War context, and how avant–garde artists self reflexively use the medium to create dissenting histories.
An expanded cinema performance at Gallery's rooftop installation, commencing at 7pm, concludes the sessions.