Kathmandu Photo Gallery – Pabhawin Disthajorn – Sleepers
March 2, 2019 @ 8:00 am
April 27, 2019 @ 5:00 pm
BMT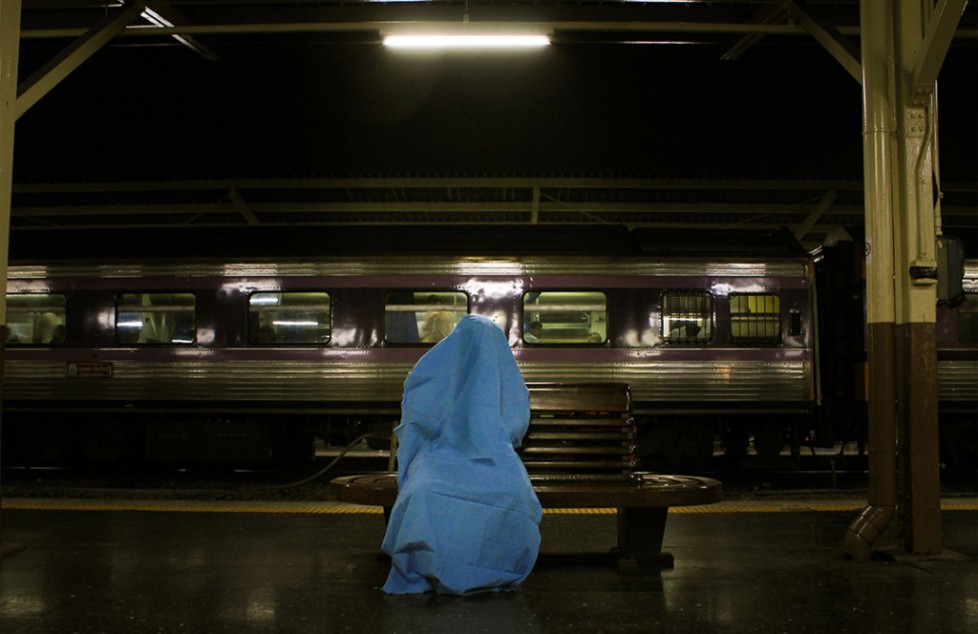 SLEEPERS
An exhibition of photographs by Pabhawin Disthajorn
2 March -27 April 2019
(Opening party Saturday 2 March, 6:30 – 9 pm)
It seems easy to photograph the sleeping—the subject is not going to dash off or even move; you wouldn't need to be an expert cameraman. Because of this, many may overlook or dismiss after a casual glance Pabhawin Disthajorn's series of sleepers at airports and train stations. A longer gaze is rewarded by a revelation of the inspiration behind these simple but haunting images: we soon discover that these shrouded sleepers are traveling to a different dimension. They're able to cut themselves off from environmental disturbances as if that public space were, in fact, their safe haven, their private bedroom.
Cut to a corner of IKEA, a middle-class family is spending its day off selecting bedroom furniture. They fall asleep on the soft mattress and sofas, out of exhaustion from working so hard to pay for their 'dream bedroom'. Pabhawin captures this series of photos with sympathetic humor.
Curator Manit Sriwanichpoom: "The series 'Sleepers' reveals Pabhawin as a sensitive observer of something as simple as sleep, which every human need. She's able to view these sleepers both in the context of public versus private space and as beautiful sculptural forms, as well as reflect the middle-class aspiration for a modern, convenient, tasteful private bedroom at low cost."
Pabhawin Disthajorn (24) is a recent graduate in visual arts from the School of Architecture, King Mongkut Institute of Technology Lard Krabang. She is working as a graphic designer for a well-known Thai fashion designer. 'Sleepers' is her first solo show.
2 มีนาคม – 27 เมษายน 2562
[เปิดนิทรรศการ เสาร์ที่ 2 มี.ค. เวลา 18.30 – 21.00 น.]
การถ่ายภาพคนนอนดูจะเป็นการสิ่งที่ทำได้ง่ายและไม่ต้องอาศัยความชำนาญในการควบคุมกล้องเท่าไหร่ เพราะคนที่ถูกถ่ายไม่ขยับเขยื้อนหนีไปไหน ด้วยเหตุนี้หลายคนอาจมองข้ามผลงานชุดคนนอนหลับตามสนามบินและสถานีรถไฟของ ปภาวิน ดิษฐจร ไปอย่างง่ายดายโดยไม่ยอมสละเวลาเพียงน้อยนิด เพื่อเพ่งพินิจพิจารณาความคิดที่อยู่เบื้องหลังภาพถ่ายอันเรียบง่ายแต่เต็มไปด้วยความรู้สึกหลอกหลอน เพราะคนที่นอนหลับคลุมโปงเหล่านั้นกำลังเดินทางไปอยู่อีกมิติหนึ่งของโลก พวกเขาสามารถตัดขาดตัวเองจากสิ่งรบกวนรอบข้าง ทำราวกับว่าพื้นที่สาธารณะคือห้องนอนส่วนตัวอันไร้ภยันตราย
ตัดไปสู่อีกมุมหนึ่งของห้างขายเฟอร์นิเจอร์ยักษ์จากนอก ครอบครัวคนชั้นกลางกำลังใช้วันหยุดเพื่อไปเลือกชมเฟอร์นิเจอร์ห้องนอนของตน พวกเขาเผลอตัวนอนหลับไปบนฟูกนอนและเบาะโซฟานิ่มๆ ด้วยความอ่อนล้าจากการหาเงินมาเพื่อจ่ายค่าเฟอร์นิเจอร์ "ห้องนอนในฝัน" ปภาวินจับภาพชุดนี้ได้อย่างมีอารมณ์ขันและชวนให้เห็นอกเห็นใจบรรดาลูกค้าเหล่านี้
มานิต ศรีวานิชภูมิ ภัณฑารักษ์ของ คัดมันดู โฟโต้ แกลเลอรี่ กล่าวว่า "ผลงานชุดนอนนี้สะท้อนให้เห็นว่าปภาวินเป็นคนช่างสังเกตกับเรื่องง่ายๆ ที่มนุษย์ทุกคนต้องทำคือ 'นอน' เธอมองการนอนทั้งในมิติของพื้นที่ส่วนตัวกับสาธารณะ และมองเห็นความงามในแบบประติมากรรมวัตถุ ทั้งยังสะท้อนให้เห็นความฝันของคนชั้นกลางที่อยากมีห้องนอนส่วนตัวที่สวยทันสมัย สะดวกสบาย มีรสนิยม ในราคาไม่แพง"
ปภาวิน ดิษฐจร (24 ปี) จบการศึกษาจาก สถาบันเทคโนโลยีพระจอมเกล้าเจ้าคุณทหารลาดกระบัง คณะสถาปัตยกรรมศาสตร์ ภาควิชาวิจิตรศิลป์ ปี 2560 ปัจจุบันทำงานออกแบบกราฟิกให้กับบริษัทแฟชั่นเสื้อผ้าไทยชื่อดังแห่งหนึ่ง "นอน" คือนิทรรศการเดี่ยวครั้งแรกของเธอ
About Kathmandu Photo Gallery
The magic-drenched name of 'Kathmandu', invokes the idea of adventure, above all; physical, spiritual and psychedelic adventures that serve to open one's third eye and one's life.
Since September 2006, Kathmandu Photo Gallery has endeavored to inspire such eye-opening and mind-blowing.
Aptly located in the heart of Pan Road's 'mini-India' around the Sri Mariamman Temple in Silom, Bangkok's financial and gem district, in a lovingly-restored pre-war shophouse, Kathmandu Photo Gallery was modeled on photographers' shops of old, where one could walk in and sift through folders of signed prints for sale.
This is no idle pose, since its owner, Manit Sriwanichpoom, is Thailand's best-known photo-artist in the international art world. Downstairs, the antique green walls display framed prints of Manit's own work, while the airy upstairs gallery plays host to the current exhibition by established and emerging photo-artists, as well as our ongoing 'Seeking Forgotten Masters of Photography' project. A book corner offers art and photography books and spiritually adventurous titles on Hinduism and Buddhism, Tantra, Shamanism and mountain literature.
Kathmandu Photo Gallery is at 87 Pan road (near Indian Temple), off Silom road,
Bangrak, Bangkok 10500 THAILAND.
Five minutes walk from either Surasak or Chong Nonsi BTS Skytrain stations.
For further information,
call 02-234-6700 or email [email protected]