JAM – Photography Exhibition of Adam Birkan – Hope Land
September 2, 2017 @ 7:00 pm
September 24, 2017 @ 12:00 am
UTC+7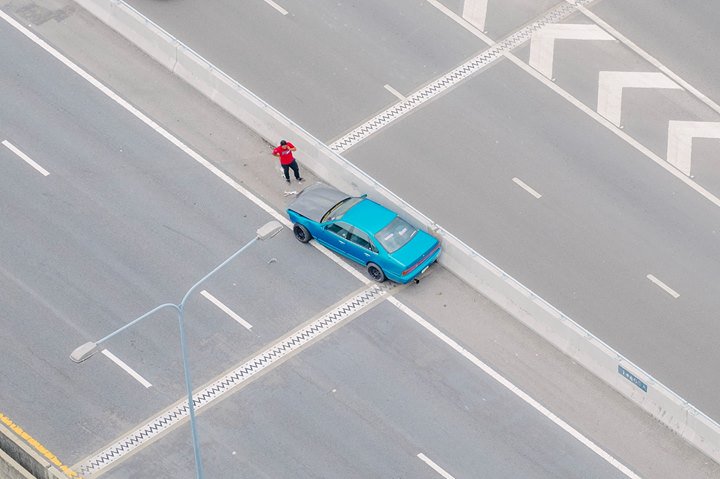 Photography exhibition of Adam Birkan, 2-24 September 2017
Hope Land is both an exercise in creativity, and in patience. For the last year and a half, Adam Birkan stared out his window, at the same scape, sometimes for hours, photographing anything and everything. One might think this a lazy project, they'd be right. He was often in his underwear while working on it.
OPENING PARTY DETAILS
7pm – Midnight, Saturday, 2 September.
Music TBA.
HOPE LAND: ARTIST STATEMENT
The name of the project was born from a glowing pink marquee far off in the cityscape. Hope Land. It seemed not to be referring to the establishment below it, but to all that I could see before me. From my apartment, a great expanse is laid bare before my eyes. I am too high to see sorrow and despair, and too low to see happiness. But I am just the right height to see their hopes and dreams. As the dogs race from alley to alley. As the people walk, and run, and wait. As the boats and cars slowly putter along, one things become clear. There is an order to all of their actions, all different, but all energized by the same thing. Hope. And as Aristotle once said, "Hope is a waking dream."
ADAM BIRKAN
Adam Birkan is a freelance photographer and visual storyteller. He has been named one of Magnum's 30 Under 30 and PDN 30, as well as a winner in the 2014 National Geographic competition. He has a Bachelors of Science in Visual Communication from Ohio University and is currently based in Bangkok, focusing on long term, and short term projects. His personal work often takes a macro view of social and economic issues. His focus is on literal and metaphorical juxtapositions and finding subtle moments that, collected together, reveal a broad depiction of accelerated industries and economic disparity.
This is his third solo exhibition in Bangkok.
https://www.adambirkanphoto.com