JAM Bangkok # Monton
June 14, 2015 @ 8:00 pm
11:50 pm
ICT
Free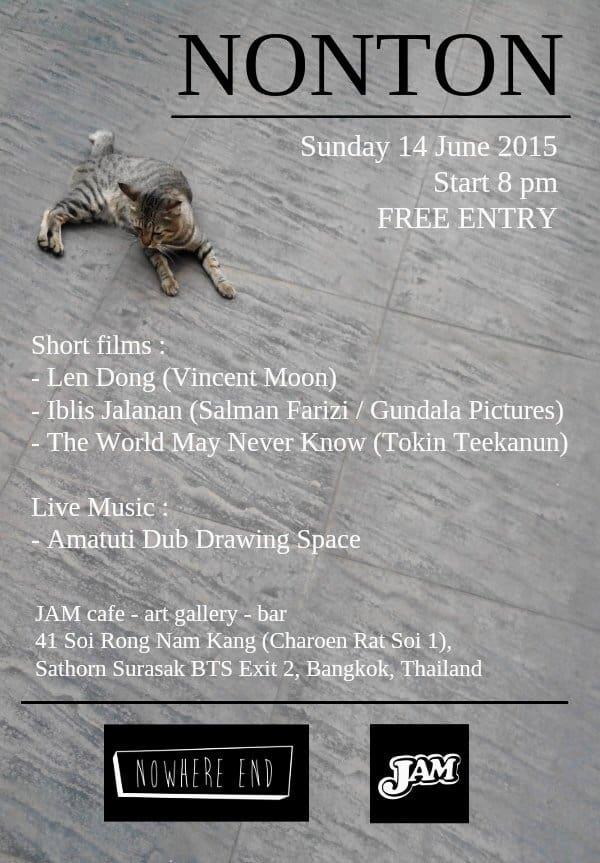 We present you a night of selected short films taken around South East Asia (Vietnam, Indonesia, Thailand). A rare trance ritual, carnival wall of death motorcyclists, video installation work on re-examination of a turning point. Each films will have English subtitle.
In addition after films screening, we will have free improvisation loop live music.
***Len Dong by Vincent Moon***
Short film on a rare trance ritual from the suburbs of Hanoï, a mediumship experience where participants ask for advices to the spirits, incarnated by the master of ceremony, who will in return bless the people and distribute money around.
Vincent Moon is an independent French filmmaker and sound explorer, he has been making films in the past ten years traveling around the world in quest of sounds from stadium rock music to rare shamanic rituals, from experimentation in electronics to accapella village songs.
www.vincentmoon.com
***Iblis Jalanan by Salman Farizi / Gundala Pictures***
A documentary film on a life portrait of carnival wall of death motorcyclists, inspired by song from a band called Bangkutaman, just won 2015 Europe On Screen Short Film Competition and XXI Short Film Festival 2015 in Jakarta, Indonesia.
Salman Farizi / Gundala Pictures
Visual content provider, ranging from film, commercial, to documentary. Founded in July 2008.
www.gundalapictures.com
***The World May Never Know by Tokin Teekanun***
Video Installation. A re-examination of a turning point in his past that has led to his current collaboration with non-mainstream artists. His work used to be commercial. Commercial works often use stars, famous actors and celebrities in branding. He wants to present his art in a commercial way, but with people who are not famous or well-known among a wide audience, those who are inspiration for the non-mainstream musicians and listeners of today.
Tokin Teekanun is a Thai filmmaker and artist based in Bangkok, who has worked with numerous local & international musicians and bands, as well as many records companies and brands as his clients. Tokin also found Stone Free Music Festival and Keep On The Grass Folk Music Festival.
www.tokinteekanun.com
***Free improvisation loop live music by Amatuti Dub Drawing Space***
Kota Amatuti Taki. Japanese electric guitarist (musical improvisation) /Composer/song writer. Born in 1969. Learnt classic piano since 1974 for 10 years. Composed since 1984 and started original song writing since then. Major debut from VICTOR ENTERTAINMENT (JAPAN) signed an exclusive artist contract in 1998. Solo career from 2003 and performed "Dub drawing space musical improvisation" about 1,500 times all over Japan. Immigrated to Thailand in 2011 and started musical activities from 2013.
Amatuti dub drawing space – KOTA TAKI
Door opens: 8 pm
Short films : 9 pm
Live music: 10 pm
***** FREE ENTRY *****
คืนวันอาทิตย์ที่ 14 มิถุนายนนี้ ขอชวนทุกคนมาร่วมงาน NONTON
เราขอนำเสนอหนังสั้นที่ถ่ายทำในประเทศแถบเอเชีย นั่นคือ ประเทศเวียดนาม อินโดนีเซีย และประเทศไทย
งานนี้เข้าฟรี !!
งานเริ่มตั้งแต่เวลา 20.00 น.
หนังสั้นเริ่มฉายเวลา 21.00 น.
และดนตรีสดเริ่มแสดงเวลา 22.00 น.
// รายชื่อหนังสั้นที่จะมีการฉาย //
– Len Dong by Vincent Moon
www.vincentmoon.com
– Iblis Jalanan by Salman Farizi / Gundala Pictures
www.gundalapictures.com
– The World May Never Know by Tokin Teekanun
www.tokinteekanun.com
// ดนตรีสดโดย //
Amatuti Dub Drawing Space (Kota Amatuti Taki)
มือกีต้าร์จากญี่ปุ่น
https://www.facebook.com/kota.amatuti.taki