Ipreciation – Chen Xinmao – Peony pavilion
April 12, 2019 @ 8:00 am
April 27, 2019 @ 5:00 pm
SMT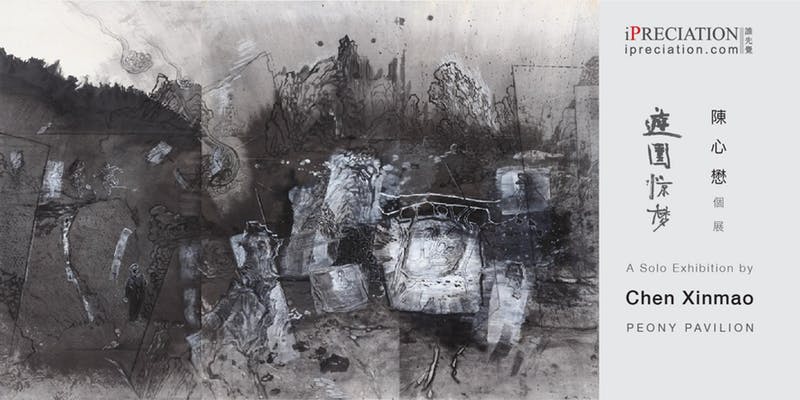 iPRECIATION is delighted to debut a solo exhibition by Chinese artist Chen Xinmao 陳心懋 (b. 1954, China), entitled Peony Pavilion「遊園驚夢」in Singapore. Over the last 38 years, Chen has exhibited in numerous countries, including China, Austria, Italy, Germany, France, U.K., U.S., Russia, Poland, Hungary, Japan, Ireland, and Indonesia.
This exhibition showcases Chen's recent body of works entitled "Peony Pavilion" inspired by China's famous kunqu opera of the same name. Chen sought to create artworks based on the story to capture the essence of the "Chinese aesthetic," which he believes is best represented by landscape painting, with the people in his depicted gardens symbolizing humankind.
Chen Xinmao 陳心懋 was born in Shanghai, China. Chen studied at the Art Department of Shanghai Theatre Academy for his bachelor's degree and graduated in 1982. He later obtained his master's degree from Nanjing University of the Arts in 1987. On top of practicing his artistic career, Chen is presently a Professor at East China Normal University, College of the Arts.
For more information on Peony Pavilion and Chen's works, please contact us at (65) 6339 0678 or email us at [email protected]
About iPRECIATION
Established in 1999, iPRECIATION is a fine art company that showcases the best of modern and contemporary Asian Art. As a herald of the visual arts, iPRECIATION is committed to putting forth platforms and propel significant and promising artists to the forefront through the successful staging of large-scale exhibitions.
Since its inception, iPRECIATION has given prominence to contemporary Asian art through the installation of quality artworks in public and commercial spaces not only in Singapore but also globally. iPRECIATION, with its proficiency in Chinese, South East Asian, and Singapore art, has complemented its gallery business with professional art consultancy services to both individuals and corporations.
Artists currently represented include: Nobel Laureate in Literature Gao Xingjian, Taiwanese Master Sculptor Ju Ming, innovative Hong Kong ink artist Irene Chou, Singapore pioneer contemporary ink artist Zhuang Shengtao, acclaimed Chinese calligrapher and ink artist Wang Dongling, pioneer of Singapore contemporary art Tang Da Wu, foremost abstract painter and Cultural Medallion Milenko Prvacki, and groundbreaking Singaporean performance artist Lee Wen. Over the years, iPRECIATION has been promoting promising talents such as the meticulous China-based painter Zhang Jian Jun and Jin Jie, the daring commentator of Hong Kong's contemporary culture, Tse Yim On, and Singaporean artists Oh Chai Hoo, Baet Yeok Kuan and Tay Bak Chiang.
The Living World Series by Ju Ming has become a permanent feature at two new modern office buildings, CapitaGreen building at 138 Market Street and The Metropolis business center at 9 North Buona Vista Drive. At CapitaGreen, a series of ten painted bronze sculptures depict the everyday man in their daily urban lives. At The Metropolis, the corporate environment is livened up with a cluster of twelve Gentlemen bronze sculptures. The Living World Series portrays a spectrum of social phenomenon departing from his iconic Taichi Series since the 1980s. In 2017, Lining Up, a set of ten life-sized sculptures from the Living World Series by Ju Ming has been permanently installed at the main entrance of the Hong Kong Cultural Centre portraying the lively spirit of people waiting eagerly to enter the center.
In 2015, Ju Ming's Taichi Series enjoyed a four-month-long outdoor exhibition at the Singapore Botanic Gardens; and his Living World Series completed a traveling exhibition to four major Chinese cities of Chengdu, Chongqing, Dalian, and Shanghai. In 2016, iPRECIATION presented the inaugural outdoor exhibition Envision: Sculptures @ the Garden City 2016, featuring fourteen sets of monumental sculptures by eleven Asian artists from China, Indonesia, Singapore and Taiwan, namely Baet Yeok Kuan, Chen Sai Hua Kuan, Gu Wenda, Ju Ming, Kumari Nahappan, Lim Soo Ngee, Shen Lieyi, Sri Astari Rasjid, Yuyu Yang, Zhan Wang and Zhang Huan. The exhibition was held in the heart of Singapore's historical and cultural center in the Civic District, Fullerton Hotel and Marina Bay precinct.
Ms. Helina Chan, the Managing Director of iPRECIATION, is the recipient of the coveted New Tourism Entrepreneur Award 2005 by Singapore Tourism Board, which recognizes the entrepreneur whose company has made major contributions to Singapore's tourism industry. iPRECIATION aims to build an artistic foundation through its presentation of a diversity of small to large-scale exhibitions that meets the visual inclinations of its patrons; forming and nurturing a creative focal point in Asia, where individuals can convene and express their artistic sensibilities through art.