I said to you was true or deception @ Chamchuri Art Gallery
July 19, 2014 @ 12:00 pmAugust 5, 2014 @ 6:00 pm ICT
FREE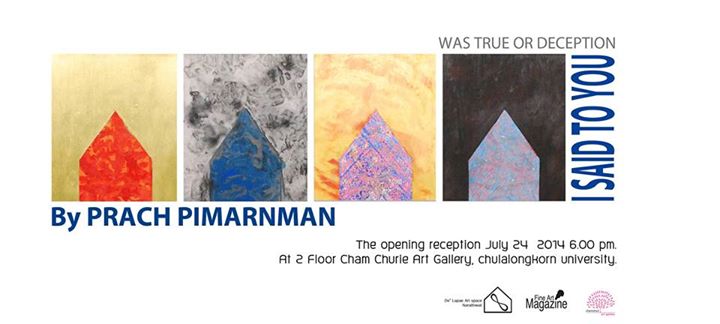 De' Lapae Art Space Present. Art Exhibition "I said to you was true or deception".
By Prach Pimarnman
At Chamchuri Art Gallery floor 2. July 19 – August 5, 2014 :
Opening reception July, 24 2014 : 06.00 Pm.
"I said to him was true or deception"
The exhibition of mixed media art "I said to him was true or deception" the first one piece of "Prach Pimarnman" the artist who create art works in painting, sculpture, print and drawing for 2 work sets. By presenting the story through the idea to content and symbolism of shapes in order to convey an emotional sense to be a motivation responding for the creator looking for the inspiration from close experience by applying true story of situations that the creator has faced and questioned between the actor and the hex who affected by events in provinces of Pattani, Yala and Narathiwat. To convey the meaning of violence in situations that people are affected by media and news through the telling of truth that may distort via the story of the people called "Protector" but everything turned out to be "Lure" of influence that no one can recognize.
เดอลาแปร์ อาร์ตสเปซ นำเสนอนิทรรศการศิลปะ "ฉันพูดถึงเขา เป็นความจริงหรือการหลอกลวง" โดย ปรัชญ์ พิมานแมน ณ หอศิลป์ จามจุรี จุฬาลงกรณ์มหาวิทยาลัย ห้องนิทรรศการชั้น 2 จัดแสดงระหว่างวันที่ 19 กรกฎาคม – 5 สิงหาคม 2557 พิธีเปิดนิทรรศการวันที่ 24 กรกฎาคม 2557 เวลา 18.00 น.
นิทรรศการผลงานศิลปะสื่อผสม " ฉันพูดถึงเขา เป็นความจริงหรือการหลอกลวง" การแสดงนิทรรศการเดี่ยวครั้งแรกของศิลปิน ปรัชญ์ พิมานแมน ผู้สร้างสรรค์ผลงานศิลปะในรูป แบบผลงานจิตรกรรม ประติมากรรม ภาพพิมพ์ และ วาดเส้น จำนวน 2 ชุดผลงาน โดยนำเสนอ เรื่องราวผ่านความคิด สู่เนื้อหาและสัญลักษณ์ของรูปทรง เพื่อสื่อความหมายในเชิงความรู้สึก เป็นแรงกระตุ้นที่ตอบสนองให้ผู้สร้างสรรค์ค้นหาแรงดลใจ จากประสบการณ์ใกล้ตัว โดยนำเนื้อหา เรื่องราวจากความจริงในเหตุการณ์ที่ผู้สร้างสรรค์ได้ประสบพบเจอ และเกิดคำถามระหว่างผู้ที่ถูก กระทำกับผู้กระทำ ที่ได้รับผลกระทบจากเหตุการณ์ในพื้นที่จังหวัด ปัตตานี ยะลา และนราธิวาส สื่อความหมายจากความรุนแรงในสถานการณ์ที่ผู้คนต่างได้รับผลกระทบจากสื่อข่าวสารผ่านคำ บอกเล่าจากความจริงที่อาจบิดเบือนผ่านกระแสเรื่องเล่าของคนที่ได้ชื่อว่า "ผู้ปกป้อง" แต่สุด ท้ายทุกอย่างกลับกลายเป็น "เหยื่อล่อ" ของอำนาจที่ไม่มีผู้ใดสามารถรับรู้ได้