Hong Kong Arts Centre – Art Actually – HKxBrussels Multi-Arts Encounter
July 6, 2017 @ 6:00 pm
July 8, 2017 @ 9:30 pm
UTC+8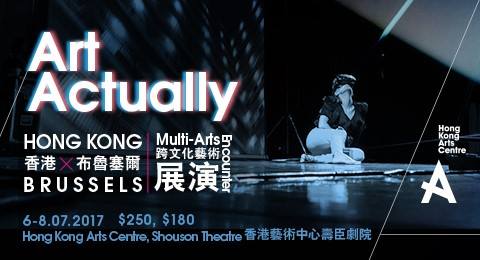 A once in a lifetime chance to experience the act of artistic creation and actively take part as ideas come to life.
A cross-cultural exchange between Belgium and Hong Kong, rooted in the common language of dance, but expanded to every art discipline: theatre, circus, film, sound art, textiles, ink painting and installation.
Twenty artists and nine performances over a single evening, paired with a taste of Belgium's finest craft beers and culinary treats.
Join us and be the spark of creativity, where artistic minds meet.
Hong Kong Artists:
Dancer/Choreographer
MUI CHEUK YIN
DANIEL YEUNG
YANG HAO
MAO WEI
TRACY WONG
Moving Image/Multi Media
JESSEY TSANG
TSUI KA HEI HAZE
Comic Arts
KONGKEE
Theatre
CHU PAK HIM
Fine Art
FRANK TANG
Brussels Artists:
Dancer/Choreographer
SABINA SCARLAT
Visual Arts and Multi Media
CAMILLE PANZA
PIERRE MERCIER
ERIC ARNAL BURTSCHY
LOLA MEOTTI
Textile Arts
ELISE PÉROI
Theatre
GAÏA SAITTA
Circus Arts
ROSA-MARIE SCHMIDT
Schedule:
6:00-7:00pm
3 x Site specific Performance @Hong Kong Arts Centre Main Entrance, McAulay Studio (Free Admission, registration in advance)
Online Registration: https://goo.gl/tojpIy
7:30-9:30pm
6 x Performances @Shouson Theatre, Hong Kong Arts Centre
Ticket : $250, $180
Enjoy 30% off Early Bird discount on Standard Tickets on or before 21 May, 2017!
Tickets are now available at URBTIX
Credit Card Telephone Booking: 2111 5999
Mobile App Booking: My URBTIX (Android & iPhone/iPad)
Ticketing Enquiries: 2582 0278
Internet Booking: https://www.urbtix.hk
Co-presenters: Hong Kong Arts Centre and Les Halles de Schaerbeek
Acknowledgement: Leisure and Cultural Services Department
Supported by: Consulate General of Belgium in Hong Kong and Macau, Belicious, Gulden Draak, Paijas, Godiva, CCDC Dance Centre, V54, Wingplatform
香港藝術中心與比利時的Les Halles de Schaerbeek於去年秋季在Les Halles合辦了「香港x布魯塞爾 布魯塞爾2016跨藝術馬拉松」。而2017的夏季,我們將會為香港帶回整個舞台,重新呈現那令人嘆為觀止的九場跨藝術表演。
「Art Actually」– 香港x布魯塞爾的跨藝術合作項目,讓香港與比利時的表演者進行跨文化交流,示範如何跨越領域、結合不同藝術形式,探索藝術與領域之間的界限,從而展示全新形式的表演。
本地藝術家
舞蹈家梅卓燕、楊春江、楊浩、毛維及黃翠絲;跨媒體藝術家曾翠珊(電影導演)、崔嘉曦(短片及動畫導演)、江記(漫畫家)、朱栢謙(表演藝術家)及鄧啟耀(視覺藝術家)。
比利時藝術家
舞蹈家: SABINA SCARLAT、跨媒體/視覺藝術家: CAMILLE PANZA、PIERRE MERCIER、ERIC ARNAL BURTSCHY、LOLA MEOTTI、纺織藝術家: ELISE PÉROI、表演藝術家: GAÏA SAITTA、馬戲: ROSA-MARIE SCHMIDT
日程:
6:00-7:00pm
3x特定場域演出@香港藝術中心正門、麥高利小劇場 (免費入場,需預先登記)
網上登記﹕https://goo.gl/yhFbW2
7:30-9:30pm
6 x劇場演出 @香港藝術中心壽臣劇院
門票: $250, $180
2017年5月21日或之前購買標準門票可獲額外七折優惠!
門票現於城市售票網發售
信用卡電話購票: 2111 5999
流動應用程式購: My URBTIX (Android & iPhone/iPad)
票務查詢: 2582 0278
網上訂票: https://www.urbtix.hk
合辦:香港藝術中心、Les Halles de Schaerbeek
鳴謝:康樂及文化事務署
支持機構:比利時駐香港總領事館、比利時手工啤酒有限公司、Gulden Draak、Paijas、Godiva、CCDC舞蹈中心、V54、永天台