HOF ART NOW – Grand Opening Art Exhibition
June 27, 2014 @ 6:00 am
11:00 pm
ICT
FREE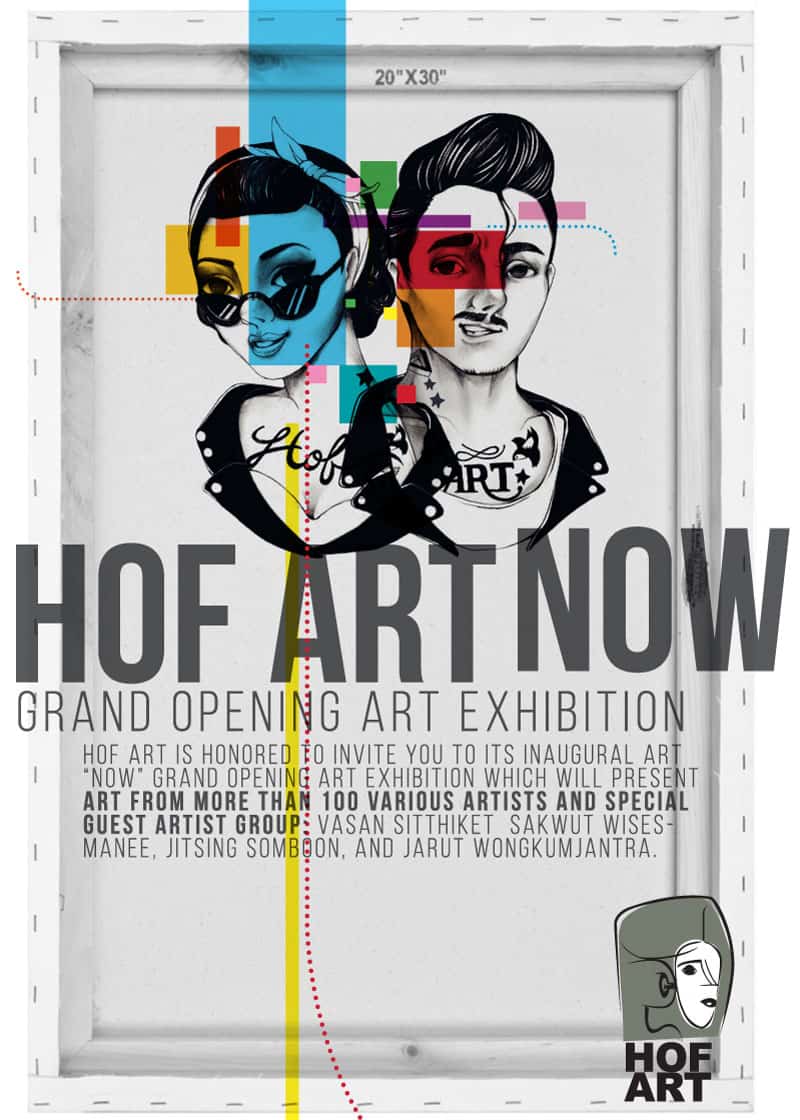 Hof Art is honored to invite you to its inaugural "ART NOW" exhibition which will present art from more than 100 various artists and special guest artist group: Vasan Sitthiket Sakwut Wisesmanee, Jitsing Somboon, and Jarut Wongkumjantra.
The electrifying opening party is a night with a "Rockabilly" theme also showcasing bands such as Keylookz, Yellow Fang and special DJs.
HOF Art was founded in April, 2005 at 244, 248 Ratchadaphisek, Soi 19. Hof Art was renovated from a two-unit-building of 4.5 floors including another unit behind. The property consists of 1,000 square meters formed in a U-shape; which was a beautiful and extensive area at that time. Due to the vast space, HOF Art was able to influence a new generation of artists to create, and presented many exhibitions throughout the past nine years. In the last 4-5 years, HOF Art modified the area into artist studios and creative lofts in order to have a full working space. During this time the exhibitions were suspended, but HOF Art diverted its resources into a trial artistic restaurant in the commercial area of Bangkok Art and Culture Centre (BACC) instead.
In 2014, stepping to its ninth year, HOF ART returns to full art circles once again. Mr.Wichai Poolworaluk, President of Woraluk Property Company has founded the W District project: the new lifestyle mall in downtown on Sukhumwit Rd. next to the Phra Khanong BTS station. He understands the importance of contemporary art in various fields, and also supports artists who love to be creative. Consequently, he set up a project for HOF Art to saturate this downtown area with artwork with the aim to bring in not only art schemes created for artists to show their work but also calling on a local community to devote a space to Thai society at the same time.
At present, HOF Art is located at the W District project on Sukhumwit 69-71 with an exhibition area, named HOF Art Space, to show and sell a great number of artworks. Moreover, there is the space to support a young generation of international artists to cooperate and interact together on behalf of the HOF Art Residency (BKK).
DIRECTION