The never ending loneliness for 2 @ Toot Yung Art Center Bangkok
June 27, 2014 @ 8:00 am
8:00 pm
ICT
FREE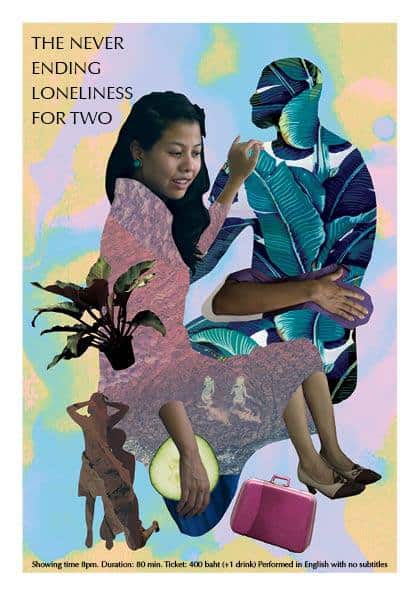 THEATRE PERFORMANCE of Sigitas Parulskis 'THE NEVER ENDING LONELINESS FOR TWO'
PERFORMED BY: Pattarasuda Anuman Rajadhon, James Laver, Robin Schroeter
DIRECTED BY Egle Simkeviciute Kulvelis
Six performances from June 20 to June 29, 2014. 8pm
Opening Nights: June 20 at 'Spanish on 4'and on June 27th at 'Toot Yung Art Center'
Four Bangkok based artistswill produce Thailand's premiere of "The Never Ending Loneliness For Two"by the laureate of National Culture and Art Award in Lithuania – Sigitas Parulskis. Directed by Lithuanian theatre director Egle Simkeviciute Kulvelis, this ironic, witty and provocative play about complicated relationships will feature three actors playing multiple characters, using different non-theatre spaces and will be performed in an interactive/all-round manner.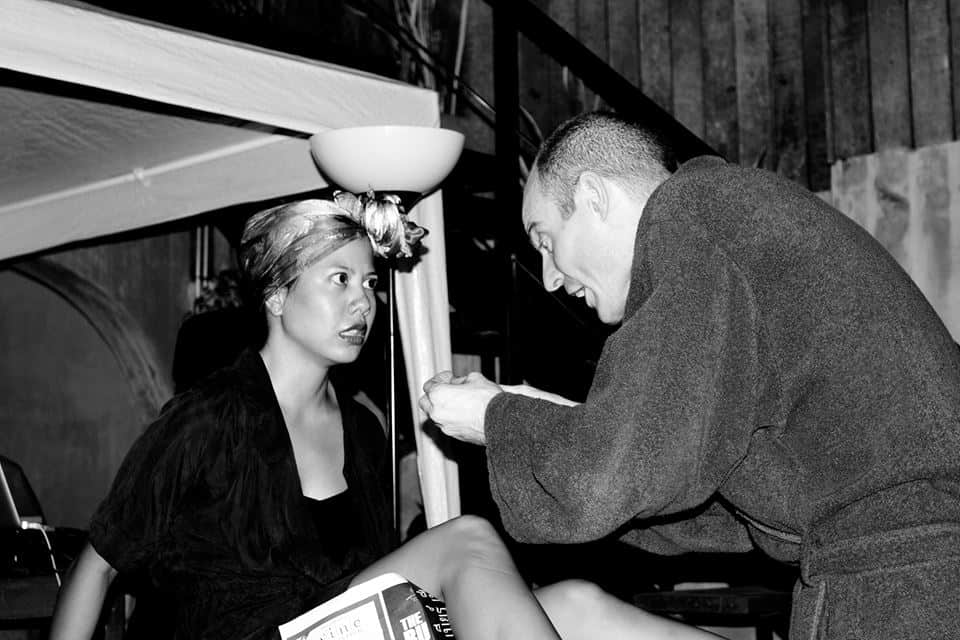 The story is profound, whimsical, yet at the very same time plays with reality and fantasy. This performance explores these themes in the intertwined stories of 5 couples desperate to ease their feelings of isolation, boredom and loneliness. Situations happen in different time and space: a lonely soldier who refuses to forget his first sexual experience and keeps reliving it in his mistress's arm, two strangers who find mutual connection and release their fantasies and desire for each other in the underground train, a couple who turn to violence against each other in order to find their buried lust, a wife and a husband who take their sexual fantasies to another level hoping to reconnect again, and a widower who comes to visit his wife when it is too late.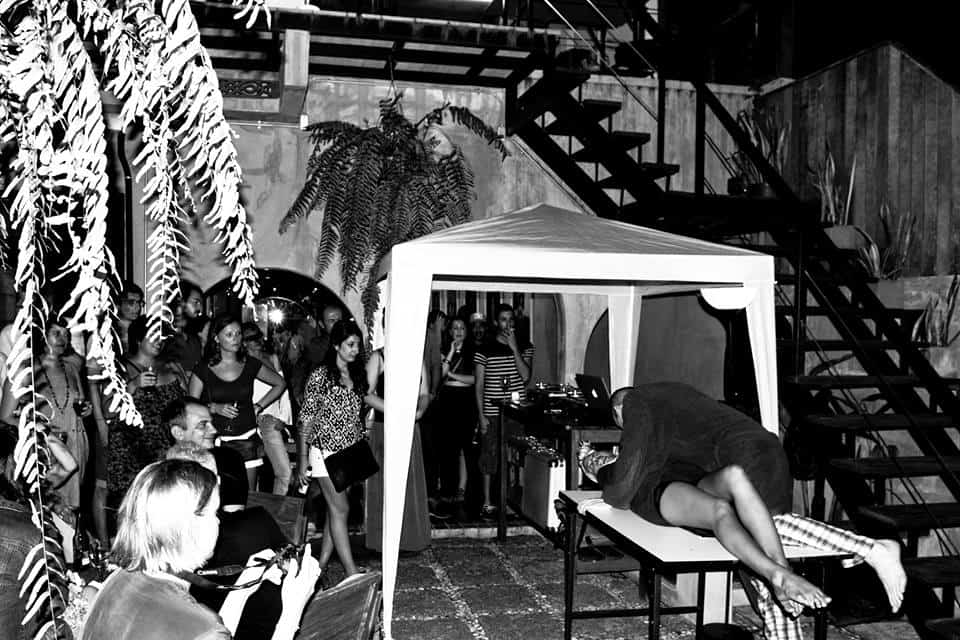 "There is the loneliness of being alone, left or abandoned. Then there is the more poignant kind – when we are alone inside a relationship. Loneliness creates its own set of sub-rules in relationships. It creates its own demands on the soul. Sometimes this loneliness creates a space for creative solutions.If partners are unhappy, they can buy company, disappear into memories or take extreme chances", – says director of the play. She also throws us back the question: "How do we understand closeness today? Why are people afraid of each other's presence? Why does the relationship turn into a rough, searching for adrenaline pulse, primeval passions? Where is the place for love? We do not say we succeed in finding answers, but it is worth to listen to S. Parulskis and his characters. Who will deny their or our dark side?"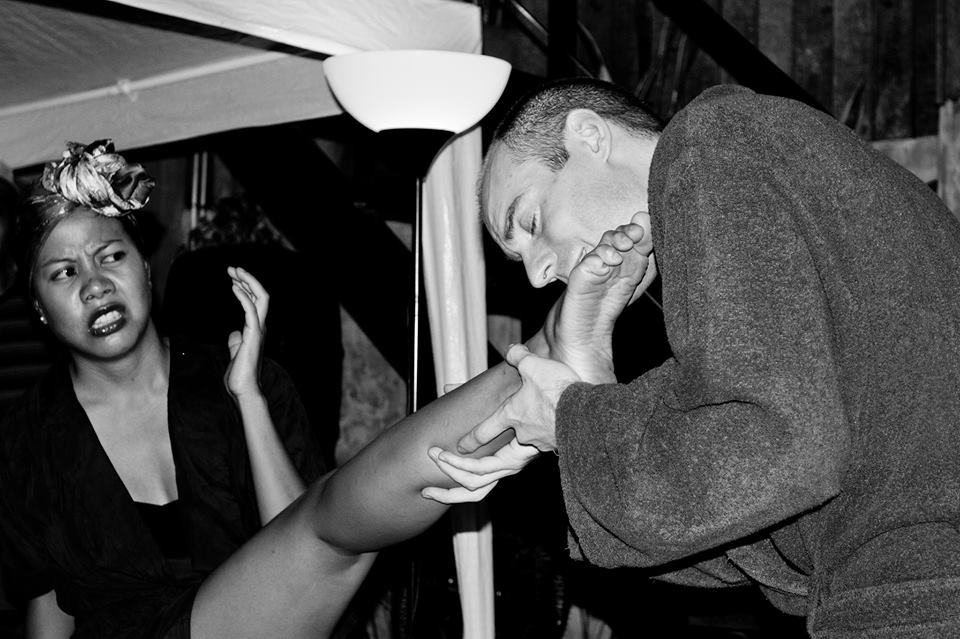 The play features a cast of talented local and international actors –all frequently seen in Bangkok theatre scene: Bangkok native Pattarasuda Anuman Rajadhon, and two residents – James Laver (England), Robin Schroeter (Germany).
The first 3 performances, June 20, 21, 22, will be held at the rooftop of"Spanish on 4" restaurant in Silom soi 4, five minutes by walk from BTS Sala Daeng.
For the second weekend, June27, 28, 29,  we will move to "Toot Young Art Center"in Ekamai soi 2, ten minutes by walk from BTS Ekamai.
While the performances will not require interaction with the audience, actors will literally be acting it out between themselves and without a stage. The seating is limited and the use of space will vary according to each venue. Audience is advised to booked tickets in advance and to arrive early.
This story, in parts and in whole, also will be told over the coming months in various locations around the city. We may or may not divulge the locations ahead of time. First "live teaser" was presented at "Toot Yung Art Center" on 17th of May and it was met with applauses and great feedback (link to video)
ABOUT WRITER:
Sigitas Parulskis (born 1965) is a modern Lithuanian poet, essayist, playwright and reviewer. His writings features in notable journals and newspapers; he gives lectures of creative writing for Vilnius University students. He is outstanding among other Lithuanian writers for his ironic, sharp, critical, sometimes provocative writing style and has been awarded for all main Lithuanian literature prizes, including laureate of National Culture and Art Award and nomination of the Best Adult Book. His works are translated into English, Russian, Latvian, Finnish, Polish, Czech, French, German, Greek, Swedish and other languages.
ABOUT DIRECTOR:
Egle Simkeviciute Kulvelis has bachelor degree in Theatre Directing from Lithuanian Academy of Music and Theatre, master degree in Culture Management in Vilnius Academy of Arts, also studied Drama as exchange student in Bath Spa university, England. She was working as director in Klaipeda University Theatre, Vilnius Little Theatre (Lithuania) and drama teacher in  HO Drama Academy (Vietnam). Egle is an author of various articles in Lithuanian magazines, and now coming with her first directed performance in Bangkok.
ABOUTACTORS:
Pattarasuda Anuman Rajadhon is a native of Bangkok. She holds a bachelor's degree in Dramatic Arts from Chulalongkorn University, a Master of Arts in Performance from Goldsmiths College, University of London and an artist certificate from the Royal Academy of Dramatic Arts in London. Pattarasuda is opera, theatre and musicals director, actor and co-founder a performing arts company, NUNi Productions. Currently, Pattarasuda is teaching at Silpakorn University and at Chulalongkorn University where she also an advisor for its newly opened Petralai Blackbox.
James Laver is an English actor who moved to Thailand in 2007.  He developed an interest in acting at university and went on to train for a further 3 years at the Oxford School of Drama.  After several years with an international language school in Bangkok, James is happy to have returned to a full-time performing career, and he now works as an actor, magician, and voice-over artist.
Robin Schroeter has been acting since high school in Germany. He lives in Thailand for 8 years already and was one of the founders of the theatre company All Soul Production Co., Ltd.  Since 2012 he acted in TV commercials short films, Thai soaps and featured films, main theatre companies and directors in Bangkok. Robin strongly believes in acting as a trade and regularly participates in trainings and workshops training various techniques.
CALENDAR INFORMATION
Performing Arts | Theater
WHAT
THEATRE PERFORMANCE OF Sigitas Parulskis "THE NEVER ENDING LONELINESS FOR TWO"
WHO
PERFORMED BY: Pattarasuda Anuman Rajadhon, James Laver, Robin Schroeter
DIRECTED BY Egle Simkeviciute Kulvelis
WHEN & WHERE:
JUNE 20, 21, 22 "Spanish on 4", Silom soi 4, (5 min walk from BTS Sala Daeng)
JUNE 27, 28, 29"Toot Yung Art Center", Ekamai soi 2 (10min walk from BTS Ekamai)
Showing time 8pm.
TICKETS: 400 baht. This includes 1 drink at the entrance.
For reservation please contact on FB or mob. 0889 63 62 60
DURATION: 80 min.
LANGUAGE: performed in English with no subtitles
MORE INFO:
FB: the never ending loneliness for two
#neverendinglonelinessfortwo