Hof Art # HOFest EP 1 # Art Carnival
November 28, 2014 @ 5:30 pm
January 18, 2015 @ 11:30 pm
ICT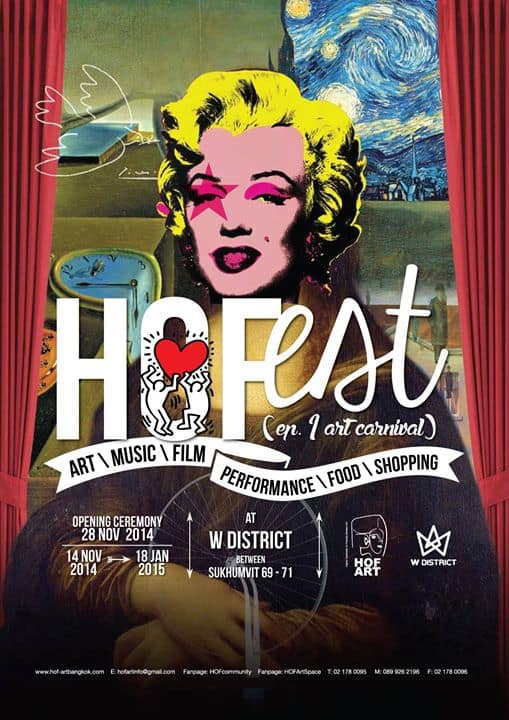 "HOFest" EP 1 Art Carnival starts from 14th November 2014 to 18th January 2015.
Opening is on 28th November 2014
HOF Art invites everyone to join our biggest art Festival "HOFest" Ep 1 Art Carnival.
For welcoming the new year, we will host this annual art festival to make the special moments for all of us, "HOFest" will present the superlative of HOF: The highest optimistic and the friendliest, and it means HOF Festival as well.
We invite all of our artist friends to come here for gathering their smiles, creativities and happiness.
There are more than 400 pieces of art from the fresh artists we select in this affordable "HOFest", you can enjoy a lot of fun and new energies from those gifted pieces during 14th November 2014 to 18th January 2015.
Activities' schedule:
21st November 2014
"Maziru" Hokkaido Okinawa concert + the traditional Isan music band "Siang hong lion"
28th November 2014 – 29th November 2014
Opening Parade (Carnival) party + Artist celebrity auction for children charity + Body Paint + Art Tattoo + Art Fashion + performing art + Video art +Art Talk + Art workshop
5th December 2014 – 6th December 2014
The 87th King's Birthday celebration in art environment of HOF ART & W District + well known artists' celebration
13th December 2014
Bangkok Clay Connection Contest (all of ceramic artists more than 100 people joined)
18th December – 21st December 2014
The 1st Rooftop film "Open Reel Festival"
26th December – 27th December 2014
Charity Event for warming children
9th January 2015 – 10th January 2015
Kids' Art Festival (playing art with friends)
16th January 2015 – 17th January 2015
Closing party + hip-hop party + Dance Battle + Graffiti Battle