GOJA # Art Exhibition # Lisa Mam & Peap Tarr
December 6, 2014 @ 7:00 pm
December 21, 2014 @ 10:00 pm
ICT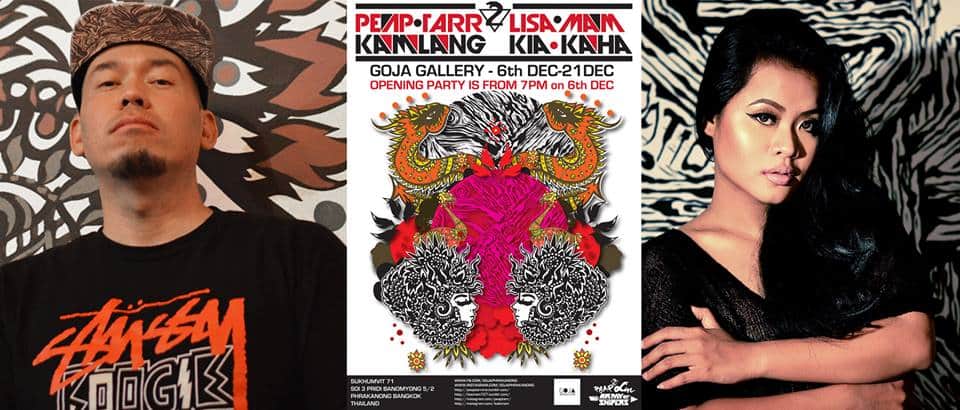 Kamlang Kia Kaha by Lisa Mam & Peap Tarr @ GOJA Gallery
"KAMLANG KIA KAHA"
Place : GOJA Gallery Cafe / Phrakanong Bangkok
Date : 6th – 21st Dec, 2014 (Opening party is on 6th Dec from 7pm at GOJA)
The tile has come from language of Khmer and Maori words together / Kamlang = Strength (Khmer) / Kia Kaha = Stay Strong (Maori) / The theme of the artworks is about Strength and Power.
Artists : LISA MAM & PEAP TARR
Artist profiles:
Name: LISA MAM
Phnom Penh / Cambodia
Website: https://lisamam727.tumblr.com/
Bio: LISA MAM Cambodia's first Khmer female Urban Street Artist having had show's both in Cambodia and abroad most notably with, Lotus Arts De Vivre in Bangkok, Bed Supperclub Bangkok, including shoes released by Bucketfeet and selling at Nordstrom USA also a feature in the French Documentary called " Beauty of woman around the world " broadcast by Arte TV, Lisa is a rising star on the scene.
Lisa Mam has been on the rise fast in Phnom Penh City, she is the future of Cambodian Urban art and a true trailblazer so keep your eyes to the streets and international Art galleries Lisa Also states that she is helping a new urban art movement grow here in her hometown of Phnom Penh city and she wants Khmer Graffiti and Street Art to be seen all around the world which she believes will help boost urban Khmer Art as officially being on the map which she believes will enhance Modern Khmer arts and culture and hopefully will make the youth of Cambodia and Khmer Youth around the world proud of their culture.
https://www.facebook.com/pages/Lisa-Mam/165834593489127
Press links:
https://www.art4d.asia/interviews-detail.php?id=198
https://jetlaglounge.blogspot.com/2011/08/august1-cambodia-phnom-penh.html
Video links:

Name: PEAP TARR
Auckland / New Zealand & Phnom Penh / Cambodia
Website: https://peaptarrone.tumblr.com/
Bio: PEAP TARR has his roots in graffiti art culture yet later evolving the style into his own creation by combining his New Zealand Heritage and Cambodian Heritage to create a unique form of street art with his signature sinister yet tranquil works of art which has caught the attention of art lovers around the world and also gained respect from many of his art peers that has given Peap international recognition and lead to features in various international art magazines and galleries. Peap's art exists in a world where lightness and darkness battle, yet coexist in the same breath to balance each other and contrast against each other.
Point blank-Peap's version of street art is truly unique. Working almost exclusively in black and white, Peap's tribalistic patterns take as much influence from his New Zealand heritage as they do from his Cambodian heritage.
Twitter handle: https://twitter.com/PeapTarr
Instagram handle: https://instagram.com/peaptarr/
Press links:
https://www.thepatternbase.com/featured-artist-peap-tarr/
https://hypebeast.com/2012/3/pen-paper-peap-tarr
https://nakamabrand.com/content/2012/02/meggs-x-will-barras-x-peap-x-mr-jago-x-woes/
https://www.complex.com/art-design/2012/02/pow-wow-hawaii-in-pictures-murals-in-progress#13
https://powwowhawaii.com/participants/peap-tarr/
Video links: