Gillman Barracks – NTU CCA Singapore – Shoot for the Contents (1991)
July 7, 2017 @ 7:30 pm
9:00 pm
UTC+8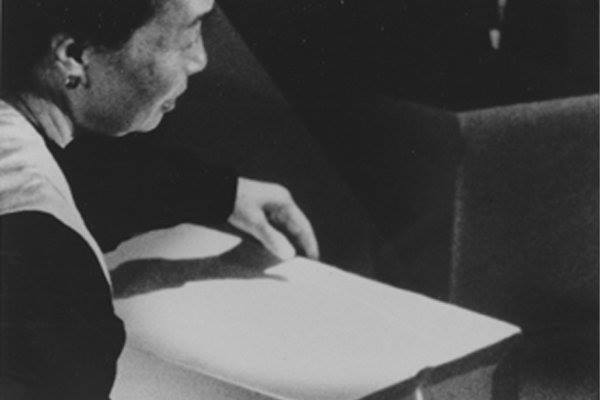 Reflecting on Mao's famous saying, "Let a hundred flowers blossom and a hundred schools of thought contend," Trinh T. Minh-ha's film—whose title refers in part to a Chinese guessing game—is a unique excursion into the maze of allegorical naming and storytelling in China. The film ponders questions of power and change, politics and culture, as refracted by Tiananmen Square events. It offers at the same time an inquiry into the creative process of filmmaking, intricately layering Chinese popular songs and classical music, the sayings of Mao and Confucius, women's voices and the words of artists, philosophers, and other cultural workers. Video images emulate the gestures of calligraphy and contrast with film footage of rural China and stylised interviews. Like traditional Chinese opera, Trinh's film unfolds through "bold omissions and minute depictions" to render "the real in the illusory and the illusory in the real." Exploring color, rhythm and the changing relationship between ear and eye, this meditative documentary realises on screen the shifts of interpretation in contemporary Chinese culture and politics.
BIOGRAPHY
Trinh T. Minh-ha (Vietnam/United States) is a filmmaker, writer, composer and Professor of Rhetoric and of Gender & Women's Studies at the UC Berkeley. Her work includes numerous books, such as Lovecidal. Walking with The Disappeared (2016), D-Passage. The Digital Way (2013), Elsewhere, Within Here (2011); eight feature-length films including Forgetting Vietnam (2015), Night Passage (2004), and The Fourth Dimension (2001) and Surname Viet Given Name Nam (1989). Her work has been recipient of many awards, including the Wild Dreamer Lifetime Achievement Award at the Subversive Festival, Zagreb, Croatia, 2014; the Lifetime Achievement Award from Women's Caucus for Art, 2012; and the 2006 Trailblazers Award at the MIPDoc (International Documentary Film Event) in Cannes, France.
This Screening is part of the public programmes for Ulrike Ottinger: China. The Arts ­– The People, Photographs and Films from the 1980s and 1990s, at NTU CCA Singapore from 27 May to 13 August 2017. For more information about the exhibition, visit https://www.ntu.ccasingapore.org/exhibitions/ulrike-ottinger-china-arts-people/.