Gillman Barracks – NTU CCA Singapore at Singapore Design Week 2018
March 17, 2018 @ 2:00 pm
5:00 pm
UTC+8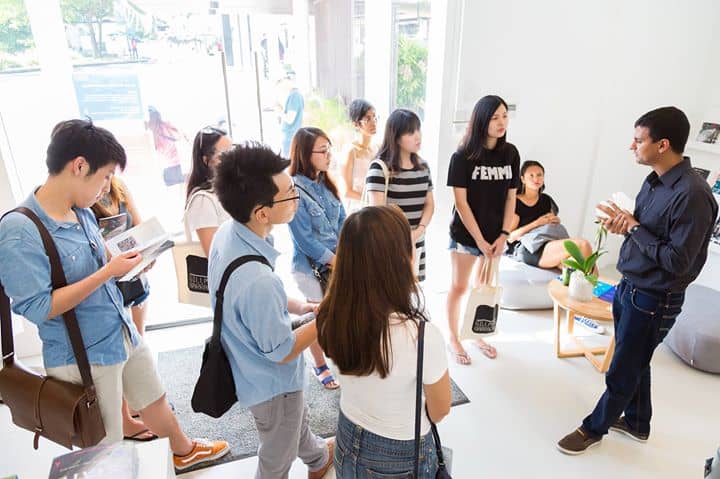 For the upcoming Art Day Out! x Singapore Design Week 2018 at Gillman Barracks on Saturday, 17 March, NTU CCA Singapore will present an interesting lineup of events, including talks by our Artists-in-Residence and curated tours!
All programmes are held at Block 43 Malan Road unless otherwise stated:
2.00 – 3.00pm
Talk by Michael Lee (Singapore) Creatif Compleks, Artist-in-Residence
The Single Screen, Block 43 Malan Road
Developed during his residency at NTU CCA Singapore, Creatif Compleks (2018) is the culmination of Michael Lee's reflection on the function of the artist's studio within the arts ecology of a city. The work takes the form of a diagram about a hypothetical property development consisting of various configurations of the artist's home/studio. The use of LED light strips, a popular fixture in advertising and interior design, alludes to latent apprehensions about the development and promotion of the arts in Singapore which today are, arguably, at a feverish pitch. Informed by myths and fantasies of artists in their studios, the work takes a speculative leap into the utopian and the absurd.
Creatif Compleks is on view in The Vitrine until 17 June 2018.
*
4.00 – 5.00pm
Residencies Studio Sessions: Shifting Topographies
Artist Talk by Monica Ursina (Switzerland/United Kingdom), Artist-in-Residence
Block 38 Malan Road, Studio #01-06
The importance of the spatial dimension of our lives and of the physical spaces we produce and experience cannot be underestimated. Space, place, landscape, and environment form essential realms of our daily lives as they shape, and are shaped by, political discourses; they are the grounds in which our past is layered and upon which our future is built. In presenting a selection of her artworks in dialogue with a range of iconographical and historical referents, Monica Ursina Jäger will explore the multifaceted nature of spatial experience and the rich history of its representation. Using Singapore as a unique case study, she will also address the "vertical shift" in the concept of landscape and discuss new forms of non-linear perception of time and space.
*
3.00 and 5.00pm
"Culture City. Culture Scape." Guided Tours at Mapletree Business City II
Meeting Point: Gillman Barracks, Outside Block 43 Malan Road, Singapore 109443
Explore the new art installations nestled in the lush compound of Mapletree Business City II (MBC II). Themed "Culture City. Culture Scape.," this public art project, commissioned by Mapletree and curated by NTU Centre for Contemporary Art Singapore (NTU CCA Singapore), comprises of works by internationally renowned artists, namely: Dan Graham (United States), Zul Mahmod (Singapore), Studio Tomás Saraceno (Argentina/Germany), and Yinka Shonibare, MBE (Nigeria/United Kingdom).
Inspired by the idea of expanded sculptural environments, the artworks explore the interplay between landscape, architecture, and the broader social and economic environments they are placed in. More than being monumental or site-specific, each work alters or permeates its local context to invite visitors to a richer engagement.
All tours are free and are guided by curators from NTU CCA Singapore. Tour slots are on a first come, first served basis. To register or for further queries, please email [email protected].
*
Admission is free for all programmes unless stated.
#gillmanbarracks #ArtDayOut