GIANT SWING meets BASED ON KYOTO @ Toot Yung Gallery
November 14, 2014 @ 8:00 pm
11:55 pm
ICT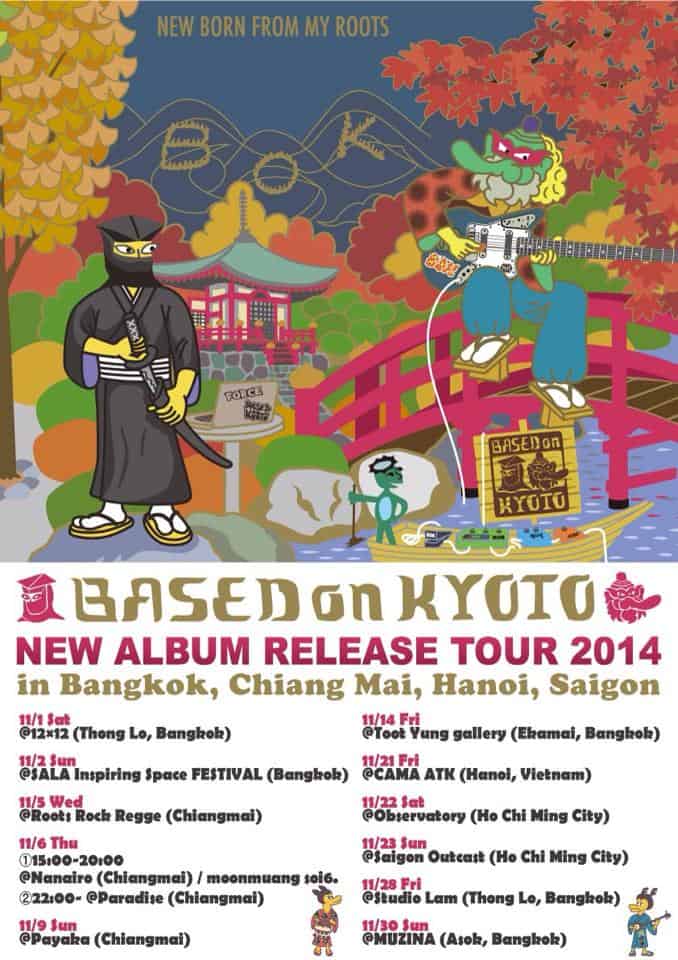 GIANT SWING meets BASED ON KYOTO 3rd time deep impact in Bangkok again !!!!!!!!!
————————————-
Friday 14th November 2014
Start 20:00pm until Late
at Toot Yung Gallery , Ekamai soi 2
300baht / 1 drink
————————————–
LIVE Based on Kyoto
BASED ON KYOTO is a Japanese dance music unit consisted of DAICHI, a DJ and producer and MARRON, a guitarist for DUBDUB ON-SENG, dubmarronics and Datenryu. BOK was formed in 2006 to seek for groove that only Japanese can formulate while taking in variety of music genres including house, electro, ambient, dub, soul, jazz, rock. The duo has been performing all over the nation especially in Kyoto and Osaka in the western region and their name is well known in the club scene in Japan. Top artists they have performed for include Theo Parrish, Idjut Boys, Filastine, Hifana, Juzu aka Moochy, A Hundred Birds, Kuniyuki, Kentaro Iwaki, Altz, Sayoko. Their track "Flower" was added to the compilation album "4 Season" (2007). It was later released in 12 inch format and became an underground hit in the Japanese club scene. "Flower" was also highly acclaimed overseas and Giles Peterson played the track for his world-renowned "Worldwide" on BBC Radio 1. BOK has just released a remix of the cross-genre hit "Calypso On-Seng" by Dubdub On-Seng this autumn.
In 2009 the unit released the first album and tree pieces of 12inch EP.
In 2010 they decided to take a break for two years, restarted from the performance of Rainbow2012.
In 2012 they at first time performed in Thailand, and also performed in Thailand and Vietnam in 2013.
Now the unit is preparing for a new album to release for the first time in four years.
In this fall, they are planning to have a new releasing tour throughout Japan and other Asia counties.
↓↓↓↓↓↓↓↓↓↓↓↓↓↓↓↓↓↓↓↓↓↓↓↓↓↓↓↓↓↓↓↓
info : member of BASED ON KYOTO
Marron aka Dubmarronics
Euphoria flooded with glittering shower of sound…
Marron is the originater of guitar electronica.
He uses a lot of pedals to make his unique sound.
He made a big floor hit as Dub Dub on-seng (calypso on-seng) and as Based on kyoto (flower) .
Marron just released his beautiful solo album "voicing for example3 " this year from shrine.jp.
He is also well known as improviser.
He also collaborate with great musicians are Fernando Kabusacki, Bill Horist, Grey Fillastine, Chris Corsano,
Yamamoto Seiichi, Katsui Yuji and so on.
And he produced the music of p.a.n (performance group of Seattle, USA ), Max Hattler (visual artist of London, UK),
Holon (performance group of nagoya).
Marron plays a lot of outside festivals during the Summer season in Japan.
In 2004, he performed at Volda, Norway in the event of International Peace Forum.
In 2005, he visited at Chunchoen International Mime Festival as a music leading member of "P.A.N." which based in Seattle,
was awarded the best prize Dokkebi Award.
In 2006, he was awarded AAC Sound Performance Dojyo Special Prize as a member of Holon.
During over 10 times overseas performance, he was succeeded playing solo performance at the historical place in Seattle,
"Moore Theater" in 2009.
At same time, he assumed as a special music guest teacher at a one of high school in Seattle.
In 2011, he was invited to Japan Improvisers Festival in Belgium, performed in front of thousands audiences.
As a Based on Kyoto member, he visit Thailand for their performance tour in 2012.
During year of 2013, they expand their live field to Thailand and also Vietnam, resulted to a big success giving a new Japanese music scene.
[band]
DubDub on-seng
Based on Kyoto
dubmarronics
Datetenryu
[released titles]
2004
dubmarronics
melts slowlyt(cil)
2005
dubdub on-seng
spring(cil)
fernando kabusacki,kei,marron,yoshitake.expe
ten oxherding picture(coup)
2006
bill horist and marron
sleephammer(public eyesore)
2007
based on kyoto
4season compiration(jetset)
flower(jetset)12inch
2008
dubdub on-seng
calypso on-seng(japonica)12inch
2009
based on kyoto
based on kyoto(japoniba)
flower.i want you.sunrise(japonica)12inch
2010
dubdub on-seng
tropical garage(japonica)
surf on-seng(japonica)7inch
2011
recloose and frank booker
hit it and quit it(nz)
dubdub on-seng
trIp trop
2012
marron aka dubmarronics
voicing for example3
〜basef on love〜(shrine.jp)
MO-WAII a.k.a. DJ DAICHI (Kyoto, Japan)
livePA and DJ activity will be started from the middle of the 90s.
From 1999 It participates in SOFT of the jam band of Kyoto which will play an active part in a rave scene of Japan from the 90s.
It participates in work of album of two sheets.
BASED ON KYOTO is formed with MARRON in 2007.
It is based on producing of himself.
Four 12-inch records and album 'BASED ON KYOTO' are released.
With SHINKICHI, it supposes that it is in the SLOW AIR name, and plays an
active part.
'FLOWER' which is BASED ON KYOTO especially 'イチカバチカーノ' of KINGDOMAFROCKS which took charge of remix read subject —
that Gilles Peterson play over many weeks by 'WORLDWIDE' of Britain BBC. 2001~2004 VOLCANO ASO, 2005.2012 RAINBOW-ASO, 2006~2009
NAGISA Music Festival A number many It participates in a field festival or rave party also as DJ.
It plays an active part in support of the Japanese tour of artists,
such as Mix Master morris, Theo Parrish, Larry Heard, Derrick May, and Carl Craig, and the party of Japanese every place.
2010 Release the first 12-inch record 'mbilite ep' from RUDIMENTS as a solo.
Activity is stopped for two years after that.
7 inches of 'star house' is released in the name of MO-WAII from NNNF this year.
Activity is resumed and it continues up to now.
—————————————————-
VJ
QOTAROO( CosmicLab / POWWOW )
Born in Osaka, Japan at 4:04 on September 9th,1977
Graphic artist, collage artist and designer
Started as House music DJ from the teenage time. Participated in "Burning Man", the most famous freaky art festival in 2003. Started organizing party and graphic design after return home from "Burning Man". Organized many parties as a booking manager of the Club Zing (Osaka) and introduced many talented domestic and oversea artists. Producing artworks including the design offer to the party flyer, CD and Vinyl jacket, advertisement, WEB and apparel brand of various parts of Japan, by changing his manner of various artistic styles and method. Now based in Osaka, his Original Future Dance Party "POWWOW" is being held at every region of the county. Also participating in creator's mixed media production "Cosmic Lab"
"QOTAROO is graphic artist / designer and the one of the leader of a party scene in Kansai. In past, he had organized many parties as a booking manager in Club Zing. Now he is holding "Powwow" in various places in Japan dropping the imagination, which comes from the party into the design, while he circulates a dance floor and design. Like he says "When making a flier and a jacket, I think the color changes the melody/shape for a groove, and it's translation to sight from hearing." QOTAROO expresses, naturally and very closely, the feeling and vibration of the moment when DJ sets sound free. " I watch the sound. I hear the light" This sense is the true charm of the design of QOTAROO.
with
mAsa niwayama [GIANT SWING/ZUDRANGMA RECORDS]
NK CHAN [GIANT SWING]
—————————————————-
Supported by traps
★WEBSITE★    https://www.trapsbkk.com/
★ONLINESHOP★ https://trapsbkk.ocnk.net/
★TWITTER★   https://twitter.com/trapsbkk
★SHOP★ ■Terminal21 2F London floor
■ChatChak Market Section26 soi1
■Asiatique NightBazaar wearhouse 5
■Singapore Branch near Haji lane