Gallery VER – Landscape and a Man Who Eats the Sun
October 21, 2017 @ 6:00 pm
December 2, 2017 @ 10:00 pm
UTC+7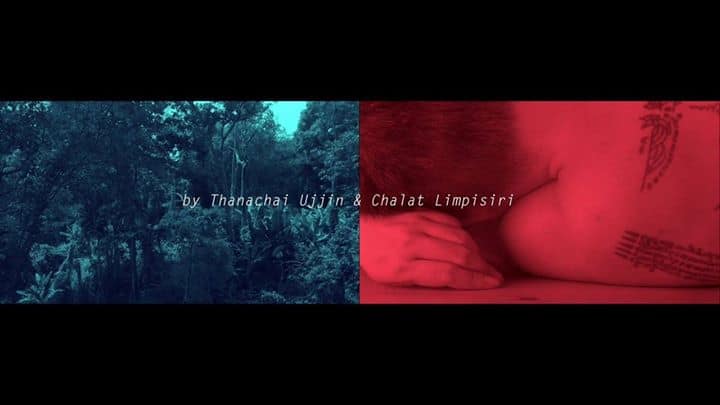 Landscape and a Man Who Eats the Sun
An exhibition Chai Siris
At Gallery VER
Live performance on the opening night by Thanachai Ujjin & Chalat Limpisiri
: Performing time 19.30 pm.
**opening: 21 October 2017 at Gallery VER, Bangkok
exhibition period: 21 October – 2 December 2017
I often have tonsillitis after being with too many strangers, or while I travel. The good thing about it is it allows me the time to revisit landscapes in my memories.
I remember when I was younger than 10 years old, I often get it at least 3-4 times a year. When I had it I would have to go to Manit Medical Clinic. I would immediately jump up onto the bed covered in green rubber sheets, asking to be given injections. As the recurring neck pains and high fever were repetitive and rather tedious. When it was bad, the headaches felt like I was being electrocuted from the inside. It was so awful it reminded me of an image of the garden in my backyard during storms. Flashes of lightning appear against the cloud's dark grey mass before the rain hits the ground. My doctor recommended a tonsillectomy, tonsil removal when I was mature enough. I never got to do it. When I was in high school, I moved to study in Bangkok city and stayed with my aunt. All of the symptoms disappeared. It was just gone like I never had it before. The symptoms, together with the loneliness of my hometown, had disappeared.
Before entering high school I grew up alone. My two older brothers moved to Bangkok since I was in elementary school. I tried to remember why I did not have other friends who were of the same age. But I can't recall why. In the afternoons I usually take my books and read in the Sala next to the canal in front of the police station. Back in the days, fewer and fewer people use boats for transportation. Every once in a while the house across the canal that had no connecting road would row their boat to the Sala where I was at. The long-tailed boat for hire, which was very similar to motorcycle taxis, completely stopped when I was around 8 years old. But really, when I was reading at that Sala I might not even be alone at all. I guess there are some Laotian and Cambodian ghosts of the dead who died while digging up the canal keeping me company. I assume they too would be lonely. I can't remember what I read because I spent years there, so a lot of books were used for killing time. I tried to remember but the only sentence I can recall was "the toad told the lady that I am lonely, I am lonely" I think it was from the book Ton Som San Rak – Ton Som San Rak (I can't really remember the story, just this particular sentence that stuck). At night I would climb up to read on my mat, at the rooftop of the house. It was nice and breezy. Looking out one can see the cityscape wrapped in layers of purplish dark blue. The city view seen from above kept changing. From wooden community by a small canal, it grew to a large city filled with factories and flats. Sometime after, an old lady next door passed away. When she was still alive she would always be seated in a rocking chair woven from Rattan. All day she would rock it back and forth. After she died, her family left that rocking chair on the rooftop. I thought it was nice. It felt like there was always someone keeping me company no matter how late into the night.
Before moving to Bangkok I would have a lot of free time during summer holidays. I would know every corner of the district. In the days the advertisements were still hand-painted. Every once in a while a famous Luk Tung singer would perform in the district. Sayan himself came too, once. I can't remember if Pumpuang actually came because it was just a small district. The pictures on those advertisements were not always perfect, sometimes faces were a bit distorted. Those who are obsessed with kitsch and collectibles would go crazy over it. In those times, a cut-out image of our late King would be decorated once a year during the Royal Birthday Anniversaries. Nowadays everyone keeps it yearlong and the decoration can be seen everywhere in the district. Every single image is grand and perfect. Unlike back in the olden days when it was all hand drawn.
Lately, I had been trying to visit home more often as grandpa is getting old. He's over 90 years old now. Whenever I visit home, I notice some things were no longer there, and changes, as expected, occurred. The waterfront Sala near the police station, two years ago when I visited, it was falling apart. It tilted so much that it now makes a shape of a bad hand scribbled letter h. The last time I visited it was no longer there. What used to be a quiet city turned into a vibrant community of workers from factories in the industrial sectors of Samutprakarn and Cholburi Province. In this district, business owners used to only be Chinese in the old times, but now people from the North-East and Northern region start new businesses, selling new products everywhere. Food and restaurants here used to be very boring, just typical food stalls or noodle stall by the canal. However, it's now changed. There is more food diversity to cater workers from every region. If you want some exotic vegetable or mushroom, they are also easily available. The Chinese immigrants that are still residing in the area are only the first generations, fathers and grandfather generations. The younger generations had migrated out of the city. Grandpa used to say that those who do well in school move far away, it's only the school drop-outs left in this district, and how can we ever be developed? But actually, the school drop-outs ended up successful. They stayed and continued expanding their parents' businesses to provide services for the ever-increasing customers who migrated from elsewhere. Descendants of Chinese overseas who moved to the big cities ended up being employees or finding themselves in poverty, for example, those who decided to go against the family and chose to become artists.
However, something in the area just refused to be changed. For instance, remaining parts of the wooden market that survived the fire of B.E.2530 still stands. The night of the fire I was sleeping inside my old house in that market. Rumors are that fire originated from traditional Thai medicine store that left a pot of Yaa Moh simmering. Some said the old man who owned the store ran outside carrying Laotian help but left his old disabled wife inside the fire. My aunt rescued me. We ran outside, barefooted. I was too young to understand what was going on. I only realized that there was a fire when I was outside and standing on the bridge looking back. That was then when I saw fire blaze covering the roofs of the wooden market. It was the largest fire, and the most beautiful one I've every seen in my entire life. It was orange red, the blaze reached the sky, covering a large amount of area that seems infinite. That landscape was powerful and forever left an imprint in my memories. Whenever fire spread and reach another household, there would be a gas explosion. I was watching and waiting until ours exploded, then we crossed the bridge to reunite with our parents that awaits us in another house. That was the first and the only time that I saw grandpa cried. All of his savings burnt away in that fire. He refused to use banks as he was suspicious of them. As he had experienced forced eviction from his own land, and witnessed the mistreatment immigrants faced by the state during the oppression of Field Marshal Plaek Phibunsongkhram.
A couple of months ago I visited the part of that market which survived fire, there are some wooden stores that are failing apart, but the residents are still residing there. It's like ghosts waiting to be reborn, reincarnated, or waiting to end the cycle of suffering. Still waiting. Like so many other ghosts in this nation.
To get back to tonsillitis, they had started again in the past 8 years. I don't think it's related to the more frequent visits home, but it does remind me of the time when I was affected by it, and oftentimes the landscapes of childhood memories that reoccurs. I get it about twice a year. Doctors from private hospitals said that the tonsil is now useless. From what used to be beneficial in preventing diseases now it is harboring diseases instead. When the body is weak, it makes me sick. He recommends a tonsil removal surgery. I was not sure of his diagnosis so I seek for second opinion in the largest public hospital in Chiangmai. I researched and found a very good doctor. He's a specialist in this field, and he had signed petitions declaring refusal of treatments for the police and red shirt protesters in B.E. 2553. He said there is no need to remove it, but we can use treatments to manage the symptoms. Chances are the tonsillectomy will lead to even more severe complications. I believed him without doubt, because he is good and is also a great man.
In the last three years I often get sick when I travel long distance, and when I meet people at events. After the realization, I started to wonder whether I should find jobs that allow me to work from home, so I don't have to travel and can avoid meeting too many people. If that is at all possible the bacterias in my throat would be extremely delighted, as it will lessen their workload as well. However, if I were to continue loving this line of work, I would have to have a tonsillectomy, a surgical procedure to remove the tonsils. The surgical removal of what connects between the past and present.
As I am typing this, my fever returns. Usually after midnight it feels like there are lighting strikes inside my head and my joints. If I was alone in a quiet setting, it would be like watching thunderstorms in the yard. It is strangely magnificent. Hopefully this round it won't be so severe that I cannot return to the present.
Goodnight
15 September