NTU CCA – 4th Anniversary Party
October 28, 2017 @ 7:00 pm
11:59 pm
UTC+8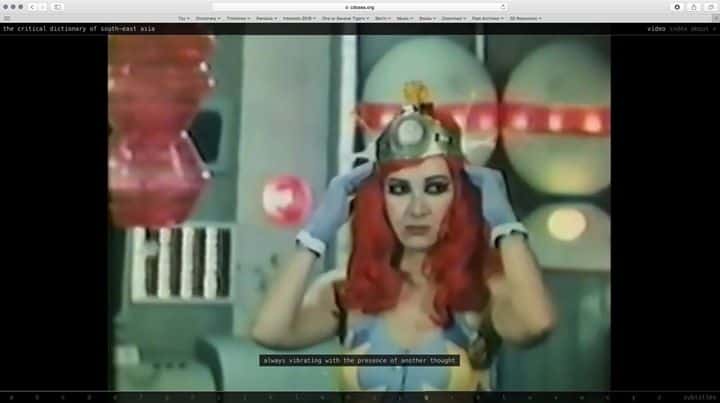 YOU'RE INVITED to our 4th-anniversary celebrations on Saturday, 28 October 2017!
Featuring the first live performance of Ho Tzu Nyen (Singapore) "The Critical Dictionary of Southeast Asia Volume 4: V for Voice" together with Bani Haykal (Singapore)
Admission is free.
First performance: 7.00 – 8.00pm
Second performance: 8.20 – 9.20pm
Venue: The Single Screen, Block 43 Malan Road
***
We're excited to kickstart our 4th Anniversary Party with a special performance of "The Critical Dictionary of Southeast Asia Volume 4: V for Voice" by Ho Tzu Nyen and Bani Haykal.
"Volume 4: V for Voice" is the first time cdosea is presented in a live context, with sound artist Bani Haykal performing in response to the spontaneous audio-visual images conjured up by the ghostwriter that is the algorithms.
"The Critical Dictionary of Southeast Asia" (cdosea) (2012) has generated a number of filmic, theatrical, and installation works for Ho Tzu Nyen including "The Name" (2015) and "The Nameless" (2015), and a number of projects engaging with the figure of the tiger. Since 2016, Ho has been working with a group of collaborators to manifest the dictionary itself, most recently creating an algorithm that endlessly composes new combinations of audio-visual materials glossed from the Internet, according to the 26 terms of the dictionary.
Learn more about cdosea: https://cdosea.org/
From 8.00pm, enjoy food by Intermission Bar – at The Projector, free-flow drinks, and music by Singaporean deejay RAH at the tents outside Block 43 Malan Road.
Symposium: Ghosts and Spectres. Four-Year Anniversary of NTU CCA will be held earlier in the day. Download and read the full programme here: https://ntu.ccasingapore.org/events/symposium-ghosts-spectres-shadows-history/
***
BIOGRAPHY
Ho Tzu Nyen (Singapore) works primarily in film, video, and (theatre) performance, and develops immersive multimedia installations. Drawing from historical and philosophical texts as well as artefacts, he appropriates the structures of epic myths, invoking their grandeur while revealing that these are not merely stories, but discursive tools. In 2015 he was awarded the prestigious DAAD Scholarship and in 2011 he represented Singapore at the 54th Venice Biennale. His works have been shown in numerous places such as the Guggenheim Museum Bilbao (2015); Guggenheim Museum, New York (2013); Mori Art Museum, Tokyo (2012); Tate Modern, London (2010); just to name a few. His films have premiered at the Sundance Film Festival in Park City, Utah (2012); Cannes Film Festival (2009); and the 66th Venice International Film Festival (2009). He has also written extensively on art as a critic.
Bani Haykal (Singapore) experiments with text and music. As an artist, composer, and musician, Haykal considers music (making / processes) as a metaphor for cybernetics and his projects revolve around modes of interfacing and interaction in feedback / feedforward mechanisms. He is a member of b-quartet and Soundpainting ensemble Erik Satay & The Kampong Arkestra. Manifestations of his research culminate into works of various forms encompassing installation, poetry, and performance. In his capacity as a collaborator and a soloist, Haykal has participated in festivals including Media/Art Kitchen (Indonesia, Malaysia, Philippines and Japan), Liquid Architecture, and Singapore International Festival of Arts (Singapore), among others. His current project is an online public repository of canned laughter and applause based on research, which looks into the histories of synthesisers relating to notions of artificiality.
Image credit: Ho Tzu Nyen, "The Critical Dictionary of Southeast Asia," 2012-ongoing, screenshot from cdosea.org. Courtesy the artist.