Edouard Malingue Gallery Hong Kong – Zheng Zhou – 2014
May 24, 2018 @ 10:00 am
July 12, 2018 @ 7:00 pm
BMT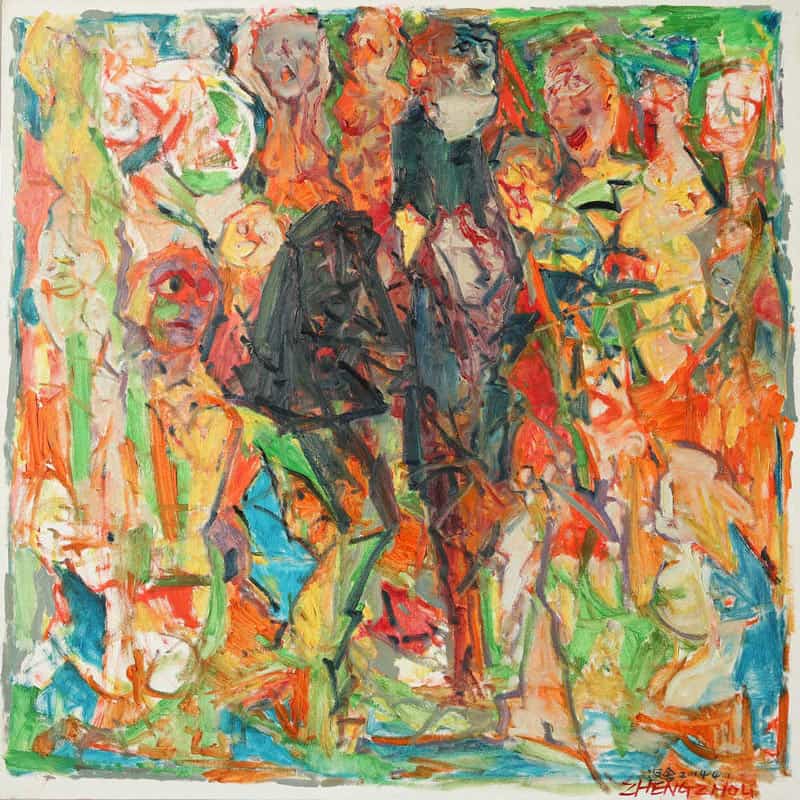 Zheng Zhou | 2014
[24.05.18 – 12.07.18]
2014
2014 was a special year for the artist Zheng Zhou. That year, he attempted all kinds of "destruction" in his paintings—discarding the rules of perspective and messing around with space. He did not seek the accuracy of plasticity; he was determined to break down the various principles imbibed in an art academy education. Before this, Zheng Zhou's work had appeared ordered and limpid. Just as the artist Xue Feng said, "From secondary school to his undergraduate degree, eight years of technical training made Zheng Zhou into a technician. After many years of struggle, he morphed into a solitary artist."
Zheng Zhou is from Wenzhou. In the early 1990s, he studied printmaking at the Zhejiang Academy of Fine Arts (now called the China Academy of Art). After graduation, Zheng Zhou had always maintained his position as an art instructor all the while persisting in making paintings. Only in 2013 did he move to Beijing, to begin focusing on his own creative practice. One can imagine how in 2014 enormously proud an act it was when Zheng Zhou put himself in the position to set everything else aside in order to focus and concentrate on realising his artistic ideals. Zheng Zhou has defined the year 2014 as a point of departure, a nascent opportunity. He attempted to undertake all sorts of experimentation in the language of painting. As he describes it, this was an especially exciting and gratifying thing, drifting between the abstract and the representational, in search of a middle path, in search of order in a disorderly space.
The works of 2014 can be seen as a response to surrealism, an attempt at automatic painting. This influenced Zheng Zhou's later works. For instance, with the works exhibited in the 2017 exhibition 'Celestial Phenomena' at Edouard Malingue Gallery Shanghai (most of the works shown were painted in 2017), the thing that Zheng Zhou called "the will of heaven" (tianyi) was actually an Eastern elucidation of automatic painting, of an unconscious act coming purely from the soul which spurns traditional morality, aesthetics norms, as well as the perplexity of rational thought, thereby establishing a new order.
This time, Edouard Malingue Gallery's Hong Kong space will present a series of works created by Zheng Zhou in 2014. The dimensions of all works are 110 x 110 cm. The artist believes that creating square compositions differs from traditional "landscape compositions" (hung horizontally) or "portrait compositions" (hung vertically) and makes greater demands of the artist's ability to deal with the picture plane. Aside from that, Zheng Zhou has never stopped experimenting with colours. He likes using pure colours, believing them to hold the greatest challenge. The works in this exhibition are mainly bright in colour, with great visual impact. After experiencing over twenty years of enduring and refining the self and his inner experiences, Zheng Zhou has independently and firmly staked out his own path in painting. Without a care for mainstream judgements and values, he paints the paintings he wants to paint.
////
Zheng Zhou's Bio Graphy
Zhejiang, China, 1969
Born in 1969 in Wenzhou, Zhejiang, Zheng Zhou studied printmaking at the Zhejiang Academy of Fine Arts from 1990 to 1994. Between 1994 and 1996, he worked at the department of print making at the China Academy of Art. From 1997 to 1999, he undertook further graduate studies in oil painting at the China Academy of Art. Then from 2000 to 2010, he worked at a secondary school affiliated to the China Academy of Art. From 2013 onwards, he has lived in Beijing as an independent artist. In 2017, Zheng Zhou had his first solo exhibition 'Celestial Phenomena' at Edouard Malingue Gallery's Shanghai space.
Delineated contours, a subconscious blur of decipherable imagery and extraneous elements, a wistful expressive tide between the figurative and the abstract; Zheng Zhou (b. 1969, China) is a painter of instinct, conveying onto canvas observations from the world, as ad hoc as they may be. His strokes, furtive yet decisive, depict an urgency – to grasp, to depict, to capture that mesmeric multitude of the cosmos, the 'phenomena' we, or more precisely he, is a witness to. Referencing 'I Ching' ("The Book of Changes"), Zheng channels the astronomical, remarking the myriad of components that make up our universe, mimicking its duplicity through his subject range, hues and techniques.
A prolific painter, Zheng debuted by studying Printmaking at the Zhejiang Academy of Fine Arts, which led to a post at the Printmaking Department of the China Academy of Arts from 1994 to 1996. Zheng subsequently shifted his creative practice towards one of painting, pursuing a Masters in Oil Painting at the China Academy of Art from 1997 to 1999, following which he became a lecturer at the China Academy of Art Affiliated High School from 2000-2010. Throughout these years of tuition and pedagogy, Zheng painted, systematically, doggedly, before finally relocating to Beijing in 2013 to work as an artist. Over the course of several decades Zheng created canvas after canvas, depicting a range of phenomena, albeit away from the public eye – a private stream of observational consciousness.
Figures, crowds, animals, objects – elements of the quotidian are the protagonists of Zheng's vision, except none are depicted quite as is. Consider 'Walking Around the Cliff of Happy Journal' (2017); a group of figures clad in winterly gear are depicted in action, hand or leg raised, their dexterity emphasised by contouring their largely white bodies by citrine hues against a darker backdrop. In addition to the individuals' painterly overlap, cerulean lines connect them, as if each character were a star in Zheng's anthropomorphic constellation. In the distance, plum blocks seem to allude to an urban sprawl whilst in the foreground a shroud of black adds compositional depth whilst a window of light in the bottom left creates a hint of figurative voyeurism. The composition is a loose yet defined expression of an instant, a moment frozen in time.
Veering from the anthropomorphic, fauna equally plays a returning role in Zheng's paintings, each animal taking on a pseudo spiritual or existential stance. 'Bird' (2016) depicts a stand alone stork, the winged creature most associated with childbirth and delivery, whereas in 'Bird Whisperer' (2016) swallows hover over a man's clowned face appearing contrastingly free as his facade and torso sink into an indistinct unctuous fluid. 'Fusion' (2017) visualises a stag – a creature linked to strength and virility, on its hind legs – unexpectedly feeding from the cupped hands of an individual hovering outside a building window. 'The Moment of Ecstasy' (2016) envisions a more erotic exchange with a dog, oft cited as man's best friend, sexually pleasuring an upright woman. The line between humanity and animalism is thus considered, shifted and moved, suggesting at once a complicity and form of role reversal.
The segments of life captured by Zheng vary in warmth and emotive standing, from the seemingly joyful Cartier-Bressonesque leap of a young girl in 'Rosy Plash' (2017) to the ominous see tenebrous vision of a devilish figure amidst a crackling fire of snakes in 'Song of Fear' (2017). Zheng equally jumps between technical approaches, from the abstract block colour outlines used in 'Baby' (2016) and 'Descend Baihua Hill in Rain' (2017) to the freeform painterly trickles in 'King of Beasts' (2017) and 'Structure of the Chair' (2016). Darting between imagery and mood, tonalities and method, Zheng creates breaks between space and vision, capturing at once the complete rapture and depth of this world, both physical and mental.
Deliberately varied, Zheng's body of work is marked by an unapologetic pluralism. Casting a sort of painterly net, Zheng captures and entangles the variance of existence as defined by the possibilities of what is and could be, but also how one perceives it. Indeed, each painting acts as an epistemological outlet, a canvased portal unto a segment of our cosmos.
Education
1994 Print-making, China Academy of Art, Hangzhou
1990 Art High School, China Academy of Art, Hangzhou
Solo Exhibitions
2017 Celestial Phenomena, Edouard Malingue Gallery, Shanghai, China