De Sarthe Gallery – Bernar Venet – In relation
March 26, 2019 @ 8:00 am
May 18, 2019 @ 5:00 pm
HKT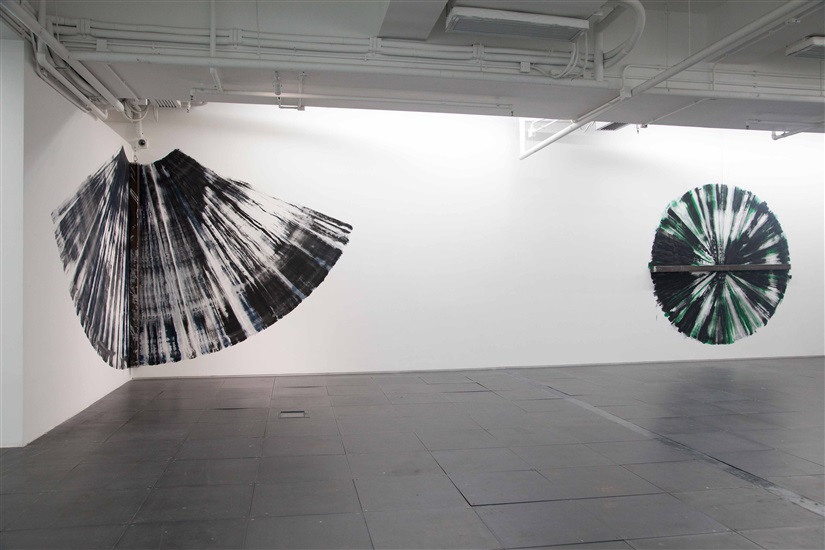 de Sarthe is pleased to announce a new site-specific performance and solo exhibition of celebrated French artist and sculptor Bernar Venet. One of today's most important conceptual artists, IN RELATION: PERFORMANCE/SCULPTURE/PAINTING marks the third Hong Kong exhibition for the artist, who first exhibited in Tsim Sha Tsui in 1995 and at the Hong Kong harbor in 2012.
IN RELATION: PERFORMANCE/SCULPTURE/PAINTING continues the artists' exploration of the dynamics between line and material, form, and force, the rational and the organic. Venet will travel to Hong Kong and create site-specific works that capture all three titled mediums on the walls of the gallery. The artist's unique process utilizes an installed metal bar covered in paint, the visual image is realized by the artists' gesture and movements as well as the particular attributes of the material, the angle of the bar and the fluidity of the paint.
Venet's artistic career rose to prominence in the 1960s after he moved to New York and began experimenting with the tenets of Minimalism, he is best known for his experimental approach to media and his strong emphasis on process over outcome. Venet's work is highly innovative, often based on mathematical models, and using industrial materials such as coal, metal, layers of tar on cardboard and large-scale steel installations.
The artist will travel to Hong Kong to create new works in the gallery across the days of 25 and 26 March, with the resultant exhibition continuing until 18 May 2019. IN RELATION: PERFORMANCE/SCULPTURE/PAINTING will be the artist's third exhibition in Hong Kong and follows an exhibition at the Hong Kong Cultural Centre in 1995, and a display of seven monumental sculptures presented in collaboration with de Sarthe at the Hong Kong bay, in 2012.
Speaking about the evolving trajectory of his practice and returning to Hong Kong, Bernar Venet said: "Returning to Hong Kong in such a great context – at the time of the most prestigious Art Fair in Asia – is a unique opportunity for an artist to present a group of works mainly unknown to a large public. More specifically, I will present works at de Sarthe that simultaneously involve the mediums of Performance, Sculpture, and Painting."
IN RELATION: PERFORMANCE/SCULPTURE/PAINTING examines and redefines the relationships between performance, sculpture, and painting, each work presented at the exhibition will be created on-site at a series of special performances in the de Sarthe Gallery on 25 and 26 March 2019.
About the artist
Bernar Venet is a French Conceptual artist known for his curved, mathematically precise metal sculptures, and for his material exploration of coal, asphalt, and tar. "My work is self-generated. Nothing around me serves as a particular inspiration," Venet said of his art. "I work, and I make discoveries while remaining open-minded to anything that might present a new possibility in the context of my work; this framework looks to enlarge its scope as a result of new formal and conceptual discoveries." Born on April 20, 1941, in Château-Arnoux-Saint-Auban, the painter and sculptor studied at La Villa Thiole in Nice in 1958 for a year before pursuing a career as an artist.
Friends with Arman, Jean Tinguely, Donald Judd, and Sol LeWitt, Venet worked within Minimalist and Conceptualist modes during the 1960s and 1970s. Awarded the Chevalier de la Legion d'Honneur in 2005, in 2012 he collaborated with the car manufacturer Bugatti to create a unique piece which was debuted at the Rubell Family Collection at Art Basel Miami. The artist established the Venet Foundation in 2014, which serves as a museum and archive of his oeuvre. He currently lives and works between New York, NY and Le Muy, France. Venet's works are held in the collections of The Museum of Modern Art in New York, the Art Institute of Chicago, Fotomuseum Winterthur in Switzerland, and the National Gallery of Art in Washington, D.C., among others.