BACC – Master Lecture : Apichatpong Weerasethakul
August 2, 2017 @ 4:00 pm
7:00 pm
UTC+7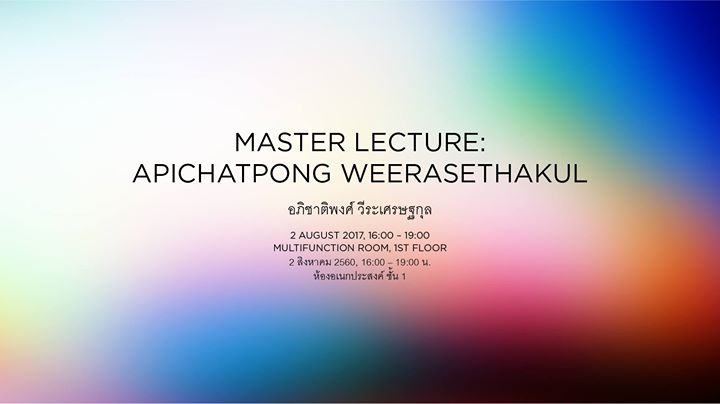 Master Lecture:
Apichatpong Weerasethakul
2 August 2017
Multifunction Room, 1st floor
16:00 – 19:00
As part of the exhibition What is not visible is not invisible: Selection from the 23 French Regiona Collections of Contemporary Art (FRAC), the BACC exhibition and education department present the Master Lecture conducted by Apichatpong Weerasethakul, a renowned Thai artist with his works in the collections of FRACs and won many awards from the prestigious Cannes Film Festival including the film Uncle Boonmee Who Can Recall His Past Lives in 2010. In this lecture, the artist will share milieus behind the works, thoughts, process, and experience focusing on films in the direction of art. The artist will share memory, social, and politic aspects embedded in his works and also join in conversations with the invited curator Gridthiya Gaweewong who presented and worked with the artist from the early years.
**Lecture is conducted in Thai with English simultaneous translation,
No RSVP required.
Operated by BACC Exhibition and Education department.
For more information, please contact education@bacc.or.th or 02 214 6630 ext. 519
Master Lecture:
อภิชาติพงศ์ วีระเศรษฐกุล
วันที่ 2 สิงหาคม 2560
ห้องอเนกประสงค์ ชั้น 1
เวลา 16:00 – 19:00 น.
ส่วนหนึ่งของนิทรรศการ What is not visible is not invisible: Selection from the 23 French Regional Collections of Contemporary Art (FRAC) ที่ได้นำเสนอผลงานของอภิชาติพงศ์ วีระเศรษฐกุล ศิลปินไทยที่มีผลงานอยู่ในการสะสมในคอลเล็คชั่นงานศิลปะร่วมสมัยระดับภูมิภาคของฝรั่งเศส และได้รับรางวัลเกียรติยศจากเทศกาลหนังเมืองคานส์หลายครั้งรวมถึง Palme d'Or จาก ลุงบุญมีระลึกชาติ ในปี 2553 กิจกรรมการบรรยาย Master Lecture ครั้งนี้ จึงเป็นการเรียนเชิญศิลปินเพื่อเผยแพร่และแบ่งปันต่อสาธารณชนไทยในผลงานความคิด กระบวนการทำงาน ประสบการณ์ และทัศนะต่องานและศิลปะร่วมสมัย โดยเนื้อหาการบรรยายมุ่งเน้นไปที่ผลงานภาพยนตร์ในแนวทางของศิลปะ เพื่อตีแผ่การทำงานประเด็นต่างๆ ที่แฝงอยู่ในผลงาน เช่น การเมือง สังคม และความทรงจำ การบรรยายครั้งนี้ร่วมสนทนาโดย กฤติยา กาวีวงศ์ ภัณฑารักษ์ผู้ร่วมงานและนำเสนอผลงานของศิลปินตั้งแต่ช่วงเริ่มต้น
**กิจกรรมเป็นการบรรยายภาษาไทยพร้อมการแปลฉับพลันเป็นภาษาอังกฤษ
โดยไม่มีการเปิดสำรองที่นั่งล่วงหน้า
ดำเนินงานโดย ฝ่ายนิทรรศการ ร่วมกับ ฝ่ายการศึกษา หอศิลปวัฒนธรรมแห่งกรุงเทพมหานคร
สอบถามข้อมูลหรือติดต่อได้ที่ education@bacc.or.th หรือ 02 214 6630 ต่อ 519
Related Events