Teamlab – mifuneyama rakuen – Where gods live
July 12, 2019 @ 8:00 am
November 4, 2019 @ 5:00 pm
JST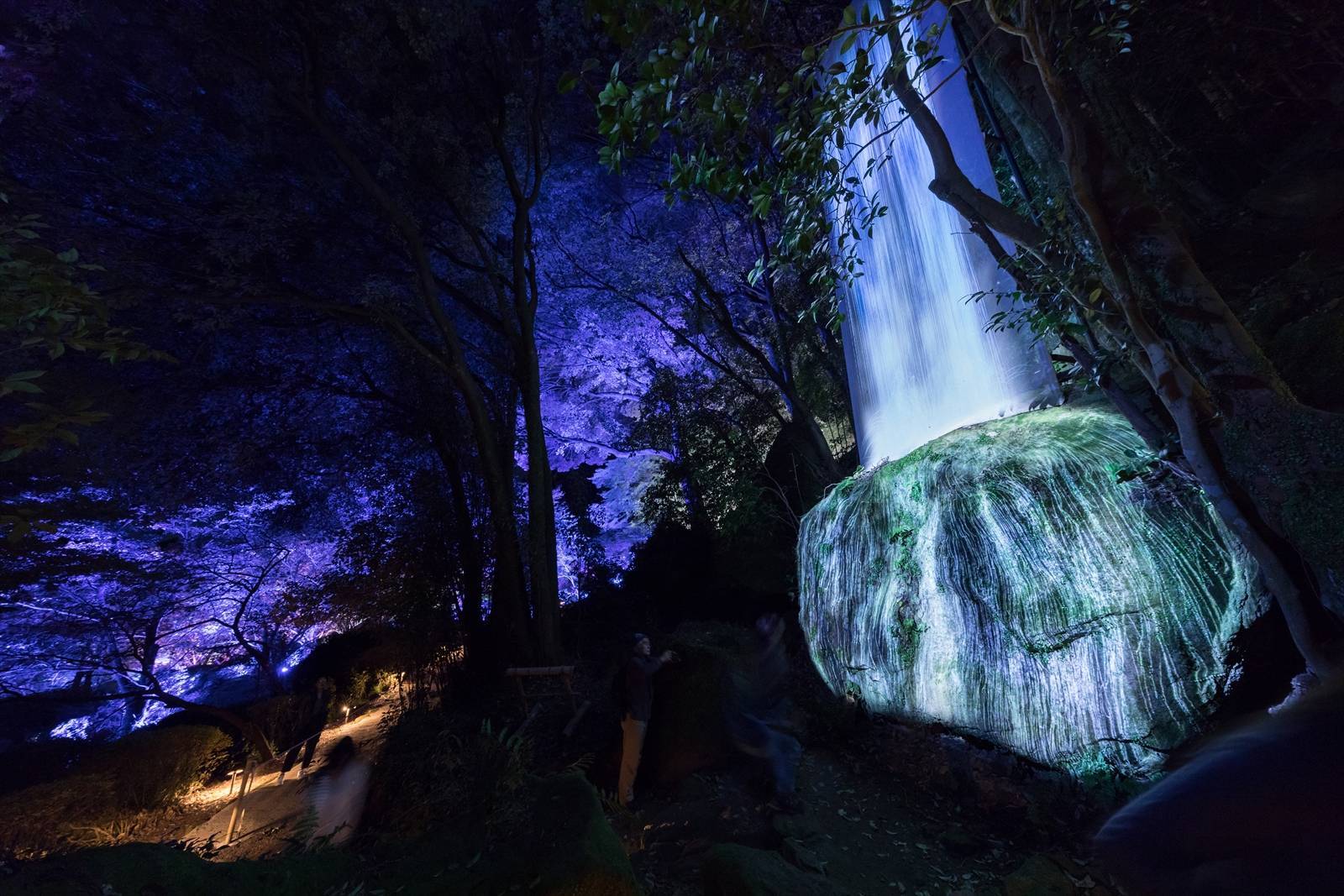 Also in the heart of the garden is another 300-year-old sacred tree. Knowing the significance of this, our forebears turned a portion of this forest into a garden, utilizing the trees of the natural forest. The border between the garden and the wild forest is ambiguous, and when wandering through the garden, before they know it, people will find themselves entering the woods and animal trails. Enshrined in the forest is the Inari Daimyojin deity surrounded by a collection of boulders almost supernatural in their formation. 1,300 years ago, the famous priest Gyoki came to Mifuneyama and carved 500 Arhats. Within the forest caves, there are Buddha Figures that Gyoki directly carved into the rock face that still remains today.
The forest, rocks, and caves of Mifuneyama Rakuen have formed over a long time, and people in every age have sought meaning in them over the millennia. The park that we know today sits on top of this history. It is the ongoing relationship between nature and humans that has made the border between the forest and garden ambiguous, keeping this cultural heritage beautiful and pleasing.
Lost in nature, where the boundaries between man-made garden and forest is unclear, we are able to feel like we exist in a continuous, borderless relationship between nature and humans. It is for this reason that teamLab decided to create an exhibition in this vast, labyrinthine space so that people will become lost and immersed in the exhibition and in nature.
We exist as a part of an eternal continuity of life and death, a process which has been continuing for an overwhelmingly long time. It is hard for us, however, to sense this in our everyday lives, perhaps because humans can not recognize a longer time than their own life.
When exploring the forest, the shapes of the giant rocks, the caves, and the forest allow us to better perceive and understand that overwhelmingly long time over which it all was formed.
TeamLab is executing an art project called Digitized Nature, where nature becomes an art. The concept of the project is that non-material digital technology can turn nature into art without harming it.
Using the giant rocks, caves, forests, and gardens of Mifuneyama, teamLab's works encourage once again the contemplation of the meaning of "Continuous Life" that has existed over many years in Mifuneyama.
The story behind earth music & ecology's contribution
We feel a conceptual affinity between "teamLab: A Forest Where Gods Live", an art project created by a worldwide spectacle teamLab, and earth music&ecology. We will support the art collective over the long term.
We Believe that the Digital Domain can Expand Art
teamLab believes that the digital domain can expand the capacities of art and that digital art can create new relationships between people.
Digital Technology Releases Expression from Substance and Creates an Existence with the Possibility for Transformation
Digital technology enables complex detail and freedom for a change. Before people started accepting digital technology, information and artistic expression had to be presented in some physical form. Creative expression has existed through static media for most of human history, often using physical objects such as canvas and paint. The advent of digital technology allows human expression to become free from these physical constraints, enabling it to exist independently and evolve freely.
Digital Technology Has Allowed Us to Express Change in Itself
The characteristics of digital technology allow artworks to express the capacity to change much more freely. Viewers, in interaction with their environment, can instigate perpetual change in an artwork. Through an interactive relationship between the viewers and the artwork, viewers become an intrinsic part of that artwork.