Artist Talk : Scenes From Bangkok life: 1983 – 2014 @ RMA Institute
November 8, 2014 @ 2:30 pm4:00 pm ICT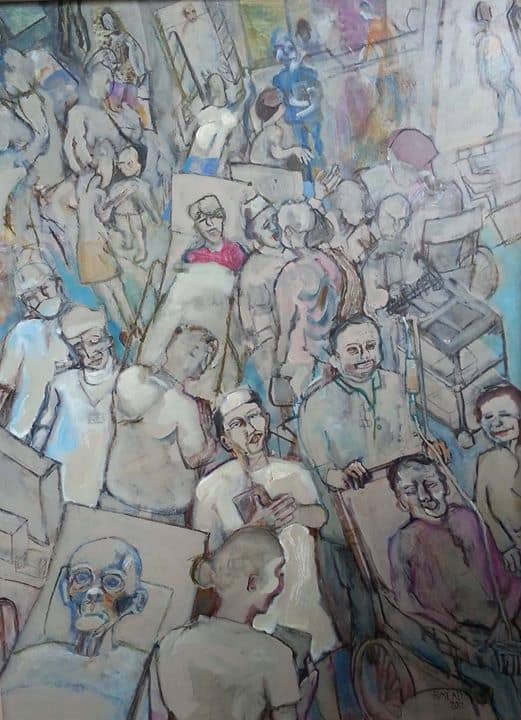 "Exploring Bangkok Scenes with Richard Mead" @ RMA Institute
Richard Mead, artist from current exhibition will give an talk on 8th November 2014 ,2.30 pm. at RMA Institute
"ร่วมสำรวจกรุงเทพ กับ คุณริชารด์ มี้ด" ศิลปินจากนิทรรศการล่าสุด ในงานเสวนาที่ อา เอม เอ ใน วันเสาร์ที่ 8 พฤศจิกายน 2557 เริ่มเวลาบ่าย 2.30 เป็นต้นไปค่ะ
…………………………………………………………………………………..
"SCENES" Painting exhibition
The spirit of Bangkok lies in its people. Each painting in this exhibition documents the domestic life of our city. It reminds us of our everyday richness, nuances and complexities. SCENES is a celebration of the Thai people. In our displays of generosity and of glamour, these images reflect the contracts that we make within the environment.
SCENES tells the story of an English man looking at Bangkok. Colourfully depicted, his paintings reflect a curiosity towards a world in which he knows both too much and too little about. The first images, created at the time of great social change in the 1980s, capture people engaged in new economic activities. The spirit of trade was infectious. Here is the bustle of the street, of girly bars and of restaurants. More recent work has a broader basis. A street dog protects it's territory, patients and staff hustle over space in a hospital ward, the restaurants show a new affluence. These paintings reflect a new era of change in Bangkok. For the artist, it mirrors his need to paint with greater urgency.
" ซีน "
จิตวิญญาณของกรุงเทพฯ ขึ้นอยู่กับผู้คนในเมือง ภาพแต่ละชิ้นในงานนิทรรศการบันทึกเรื่องราวของชีวิตในเมืองหลวง ย้ํา เตือนถึงความสมบูรณ์ ความแตกต่าง และความซับซ้อนในชีวิตประจําวันของคน SCENES เป็นการฉลองความเป็นคนไทย การแสดงออกซึ่งความมีน้ําใจและความมีเสน่ห์ดึงดูดใจ ภาพวาดเหล่านี้ยังสะท้อนให้เห็นสัญญาที่เรามีไว้กับสภาวะแวดล้อม รอบตัว SCENES บอกเล่าเรื่องราวของชายชาวอังกฤษที่เฝ้ามองกรุงเทพฯ ภาพวาดที่มีสีสันสดใสเหล่านี้สะท้อนให้เห็นถึงความสงสัย ที่จะขุดค้นสังคมที่เขาทั้งรู้น้อยและรู้มากเกินไป ภาพวาดชิ้นแรกได้รับการรังสรรค์ขึ้นในช่วงทศวรรษ 1980 ซึ่งเป็นช่วงที่เกิด การเปลี่ยนแปลงทางสังคมขนานใหญ่ ถ่ายทอดภาพผู้คนที่เข้ามีส่วนร่วมกับกิจกรรมทางเศรษฐกิจใหม่ๆ จิตวิญญาณของการ เติบโตทางค้าแพร่กระจายไปทั่ว ภาพวาดแสดงให้เห็นความวุ่นวายของท้องถนน บาร์พัฒน์พงษ์และร้านอาหาร ขณะที่งานชิ้น ใหม่ๆ สะท้อนมุมมองที่กว้างกว่านั้น ไม่ว่าจะเป็นภาพวาดสุนัขที่พยายามปกป้องพื้นที่ของตัวเอง คนไข้และพนักงานผู้เร่งรีบในโรงพยาบาล หรือแม้แต่ร้านอาหารที่แสดงออกถึงความ ร่ํารวยที่เกิดขึ้นใหม่ ภาพวาดเหล่านี้สะท้อนยุคแห่งการเปลี่ยนแปลงครั้งใหม่ในกรุงเทพฯ อีกทั้งยังแสดงให้เห็นถึงความรู้สึก ของศิลปินที่เกิดจากการถูกบีบคั้น เร่งเร้าที่จะแสดงออกถึงสิ่งที่เขารับรู้