Art Workshop @ SSRU University Bangkok
October 18, 2014 @ 10:00 am
4:00 pm
ICT
THB550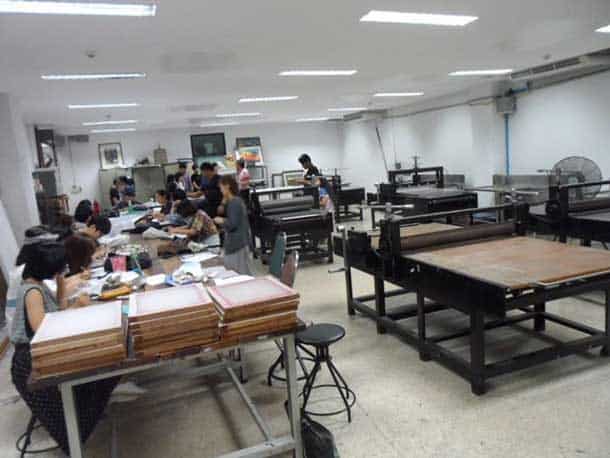 For English, please check out as below, Thank you.
เปิดสอนการทำเสื้อมัดย้อมและซิลค์สกรีนบนเสื้อยืด
โดยวิทยากร มัดย้อม-ซิลค์สกรีนโดย อาจารย์ธวัชชัย แสงน้ำเพชร รศ ธานินทร์ ตันตระกูล อาจารย์ไชยยงค์ บุบผากลิ่น และ คาริช่า จริยไพบูลย์
สถานที่: ห้องภาพพิมพ์ ชั้นใต้ดิน มหาวิทยาลัยราชภัฏสวนสุนันทา คณะศิลปกรรมศาสตร์ สาขาจิตรกรรม
วันเสาร์ที่ 18 ตุลาคม 2557 เวลา 10.00 น.-16.00 น.
ค่าธรรมเนียม: 550 บาทต่อท่าน รวมอุปกรณ์+ผ้า 1 ผืน
กรุณาลงชื่อเข้าร่วมได้ด้านล่างเลยค่ะ
หรือติดต่อ: คาริช่า (พิม) จริยไพบูลย์ โทร: 0874967775
Email: [email protected]
ชำระค่าธรรมเนียมได้ที่:
บัญชีธนาคารไทยพาณิชย์ สาขา เซนต์คาเบรียล
รศ ธานินทร์ ตันตระกูล
AC No. 1582175733
ออมทรัพย์
ปล. กรุณาแจ้งชื่อหลังจากการโอนเงินด้วยค่ะ ขอบคุณค่ะ
Tie dye cloth & Silkscreen Printing Art Workshop
Learn how to do Tie dye and silkscreen your own cloth. Tie dye cloth and Silkscreen with Associate Professor Tanin Tantrakul Ajarn Chaiyong Boophaklin Ajarn Thawatchai Sangnumphet and Kalisha Jariyapaiboon
At: SSRU University in Faculty of Fine & Applied Arts in Printing room, Underground floor.
On Saturday 16 August 2014 from 10.00 am- 4 pm.
Fee: 550 ฿ per person ( Included equipment+Cloth)
To enroll please write your name down below the comment on this event, thank you
Or Contact: 0874967775 Kalisha Pim Jariyapaiboon
Email: [email protected]
Payment:
Siam Commercial Bank Branch: Saint Gabriel
AC Name: Tanin Tantrakul
AC No.: 1582175733
Saving Account
PS. Please confirm your payment after money transfer, Thank you