Alisan Central Hong Kong – Hui Hoi-Kiu and CC Ling Pui-Sze – Women + ink
March 29, 2019 @ 8:00 am
June 1, 2019 @ 5:00 pm
HKT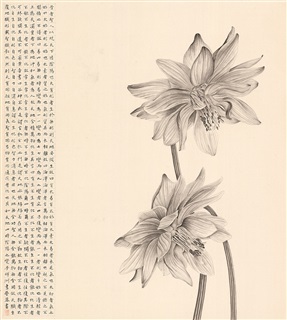 Open especially for South Island Art Day
29 March (Friday) 10am-2pm (Opening reception)
Hong Kong artists Hui Hoi-Kiu and CC Ling Pui-Sze will be present to introduce their new works
Free shuttle bus from Grand Hyatt to Alisan Fine Arts via Wong Chuk Hang (Ovolo Hotel) from 10 am to 12noon, for more information, visit www.sicd.com.hk
Address: 2305 Hing Wai Centre, 7 Tin Wan Praya Road, Aberdeen, Hong Kong
1 April -1 June 2019 (by appointment only)
Alisan Fine Arts, a pioneering gallery in the promotion of New Ink Art, is pleased to present a group exhibition for four emerging women artists, each deserving of the increasing attention paid to artworks with feminine viewpoints within the realm of contemporary Chinese art. Artists include Zhang Yirong from Beijing, Qiao Yuan from Shanghai, and Hui Hoi-Kiu and CC Ling Pui-Sze from Hong Kong. These four artists, from the perspective of women of the 21st century, are at the forefront of a movement to take traditional ink painting into a new era.
The exhibition includes fine floral and landscape paintings, as well as fan-shaped paintings and ink installations. Artists Hui Hoi-Kiu and Zhang Yirong follow the classical techniques of detailed gongbi paintings, using monochromatic and delicate lines in their creation of flora and fauna, showcasing the beauty and exquisiteness of Chinese culture. Qiao Yuan and CC Ling Pui-Sze create overlapping textures of Chinese ink & color pigments on rice paper, adding a rich layering to their landscape painting and installation art. Local artists Hui Hoi-Kiu and CC Ling Pui-Sze will create new works especially for our exhibition and will be present on South Island Art Day, Friday, 29 March to personally introduce their works to visitors, from 10 am to 2 pm.
Hui Hoi-Kiu (b. 1990 Hong Kong) an emerging artist who is famous for her amazing ink work on tissue paper in recent years. She is fascinated in daily objects and often discovers new meaning in them by twisting traditional art form and appropriating common materials to become part of her artwork. She received her BA in Visual Arts from Hong Kong Baptist University in 2014 and subsequently an MA in Experimental Art from Central Academy of Fine Arts, Beijing in 2017.
Currently, she studies and works between Hong Kong and Beijing.
She has received numerous art awards including a scholarship from China Education Development Foundation in 2016 and 2017; Silver Award of New Art Wave International Artist in 2015; Outstanding Award from the 10th 'L&XF' China Fashion Illustration Competition in 2011, and was one of the finalists of The Hong Kong Fine Art Prize in 2014. She has exhibited her works in Hong Kong, Macau, Beijing, Shanghai, Chengdu, and Australia. In 2016, Hui was invited by Lane Crawford to create an art window display showcasing her modern interpretation of Chinese traditions, and in this March, she was invited to exhibit at Rosewood Beijing group show by the Office of the Government of HKSAR in Beijing. Alisan Fine Arts included her famous "tissue" artworks in the group exhibition Desiring: Post 97 Hong Kong Ink Art in 2017.
Ling Pui-Sze CC (b. 1989 Guangzhou) focuses on experimental ink painting and collage, reconstructing biological images of cells and water into organic abstractions. Her work explores natural laws, biology, and the development of human society. Her choice of creative media extends beyond ink to include sculpture and Installation. CC moved to Hong Kong in 1997.
In 2012, she graduated in Fine Arts (BFA) from The Chinese University of Hong Kong, receiving the Wucius Wong Creative Ink Painting Award at graduation. Her solo exhibitions include It all begins in the Sea (2014) and Metamorphosis (2012). Joint exhibitions include the artist residency project in Iceland Stundum (2018), Hong Kong's Art Next Expo (2017), 2+2 (2015) and CC & SE (2014). Alisan Fine Arts included her works in two group exhibitions: A Legacy of Ink: Lui Shou-Kwan 40 Years On (Hong Kong Arts Centre, 2015); and 3-Dimensional Ink (Alisan Fine Arts Aberdeen, 2017).
Qiao Yuan (b. 1980 Yixing, Jiangsu) is one of the most talented contemporary ink landscape artists in Shanghai. Over the past decade, she has explored a new perspective of Chinese traditional landscape paintings with the use of blue and green mineral pigments. Combining techniques of meticulous painting and freehand brushwork, she creates detailed layers and atmosphere of tranquility in her compositions. The application of over twenty layers of colors upon the rice paper adds richness to simplicity. Qiao received a BA from the College of Fine Arts of Nanjing University of the Arts in 2004.
Prior to completing an MA at the same institute in 2007, she obtained Silver Awards at both the National Exhibition of Outstanding Ink Paintings by Young Fine Arts Tutors (2004) and Jiangsu Meticulous Paintings Exhibition (2006). Her paintings have been included in several influential exhibitions, including the Nanjing in the Six Dynasties: Young and Middle Age Jiangsu Artists Exhibition at Cangzhou Art Museum in 2015; Impression·City: Nomination Exhibition of Contemporary City Landscapes, Ningbo Museum of Art in 2010; 3rd Chengdu Biennial in 2007 and 5th Shenzhen International Ink Biennial in 2006. Her works have been exhibited in major art museums in China, including the Art Gallery of China National Academy of Painting, Beijing; Shanghai Art Museum; Creative Centre of Fine Arts College, Shanghai University; Ningbo Museum of Art; Jiangsu Art Museum, Nanjing; Chengdu Contemporary Art Gallery; and Shenzhen Art Museum.
Zhang Yirong (b.1979 Shanxi) is known for her quietly sophisticated butterfly and flower paintings. She first received her training in classical Chinese ink painting at a young age from her father, Zhang Xiubiao. In 2001 she obtained her BA from the Communication University of China, Beijing and an MA from Peking University in 2008. Upon graduation, she spent eight years practicing under the internationally acclaimed artist Liu Dan. With his guidance, she has created meticulous paintings that display her ability to capture painted subjects with exquisite and analytical details.
Her art, with its feminine sensitivity and natural style, is swept up in a wide range of classical influences and inspirations from the Song and Yuan Dynasties, particularly the Song Dynasty artistic tradition of direct observation. Zhang's elegantly wrought compositions avoid hackneyed themes and instead focus on an organic source of perfected beauty. Her works are in the collection of the Brooklyn Museum, New York, and Museum of Fine Arts, Houston, United States. She has had exhibitions in the US, Russia, China and Hong Kong, including the AFA group, shows Beyond the Jade Terrace (2014) and One with the Universe (2017).