A2Z Art Gallery Hong Kong – Engku Iman – Rukun Iman
September 20, 2018 @ 1:00 pm
October 21, 2018 @ 9:00 pm
HKT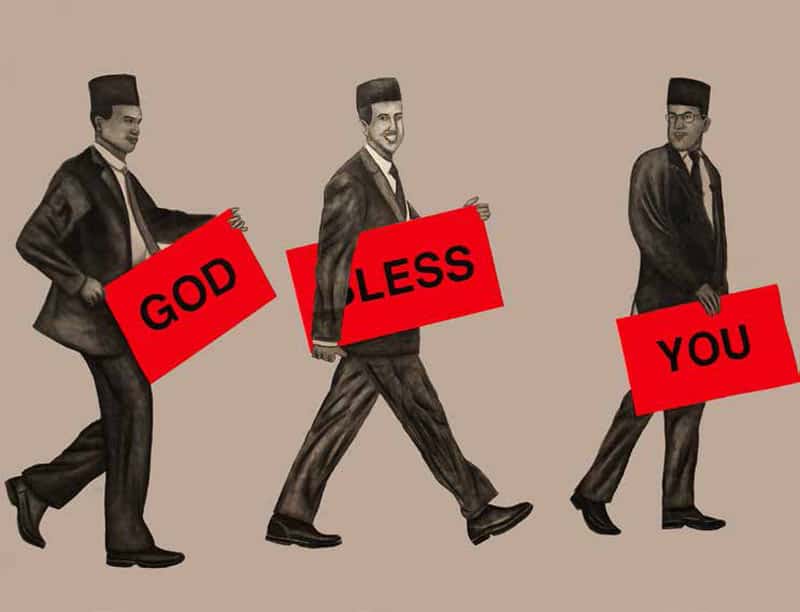 "Rukun Iman"
A solo exhibition by
20 September – 21 October, 2019 (Opening 20 Sep, 6-8pm)
gkon, Hong Kong
"Rukun Iman" known as the articles of faith or the "six pillars of Islam" are regarded as the foundation in which a Muslim's beliefs stand on. These pillars are very important and hold heavy weight to all Muslims. The name "Iman", meaning "faith" or "belief" is derived from the Arabic نما (amura) "meaning to be faithful" As a concept "Iman" in Islamic theology denotes a believer's faith in the metaphysical aspects of Islam. It's most simple definition is the belief in the six articles of faith "Rukun Iman" (arkān al-īmān.)
In the inaugural solo exhibition entitled "Rukun Iman" at A2Z Art Gallery in Hong Kong, the South East Asian artist Engku Iman presents a selected body of works that expound the six foundations of her artistic practice: Religion / Culture / Society / Roles / Gender / Humanity.
Born into a Muslim family in Kuala Lumpur, Iman more often than not faces backlash from the
Muslim community for her depictions and cultural references. Belonging to the groups Malay, Muslim and Women statistically places her the in the top three most repressed groups in the country. A crucial aspect of her drive and motivation is the artist feeling disadvantaged as an artist in her own environment. Iman feels strongly that Malaysians in general, undervalue art and art isn't appreciated due to the education systems not promoting art as a significant part of their lives. Despite not wanting to label herself an artist because she feels the term itself is corrupted, Iman uses art as a tool to be herself outside of the system. If only the privileged individuals know how or have the guidance and opportunity to appreciate art then as an artist Iman self assigned herself a mission and feels obligated to reach out to a broader community.
Iman's illustrations often feature a cameo like the inclusion of a self-portrait, which is more than the deed of just capturing an image of her features. This inclusion of self-portraits channels her beliefs into her work in a way that is both revealing and revolutionary, memorializing her young woman "self" and ultimately her story. In her works that are deeply personal and broadly relatable, giving her audience an intimate look at subject's dear to her heart, or a particular moment in time, a platform is provided which finds common ground. Moreover, the featuring of self-portraits enable the artist to engage viewers into the core of her founding principles as an artist.
Engku Iman, b. 1990, Kuala Lumpur, Malaysia
Engku Iman is in your face sardonic in taking on local cultural ironies, paradoxes, and colloquialisms. At just 4 years old Iman began drawing, only taking art seriously enough to consider herself a professional artist after studying architecture in 2011. It was then when Iman vowed not to contribute to urbanizing her native city by becoming an architect but to be the architect of her own future as an artist. She felt that in the Kuala Lumpur metropolis, there was a distinct need for more art parks and not more high rise buildings.
Iman uses her mostly monochromatic illustrations to provoke the viewer to a certain interpretation. Her chosen topic can often be an everyday, household scene, something everyone might find familiar or an image created to represent an important subject that the artist believes in strongly. Either way, her canny communications skills through her chosen medium are sharp, witty, amusing and extremely engaging despite the void of texture, or palette.
"This guarantees a trigger; something will click inside people that'll make them think about the meaning behind the piece instead of creating something that continuously makes them feel numb."      Engku Iman
The visual artist's illustrations are created with oil markers, charcoal, oil and acrylic paint and othermediums, including a carbon tracing technique, transferring her graphic illustrations for a different effect. Iman confidently invites the audience home to witness her viewpoint as a post nineties artist from Kuala Lumpur. Concurrently, Iman has always been working with mixed media installations and has much larger scale installations in planning. Through large-scale installations, Iman is truly coming into her own as an artist and in these works she is able to find the desired freedom of expression.Every artwork produced reveals tensions in her identity as a young Malay woman in Malaysia. Her conception of a self-image is a nebulous intersection of private thoughts and public actions, repercussions and conformity, independence and belonging.
"Before you start, ask yourself whether you're getting involved for fame, money or society. Know yourself. Know your sexuality. Know social construction. Know the ideas that people are not allowed to think about. Be curious about things that are considered taboo because the more profane the subject, the bigger the impact on society."      Engku Iman
Artist Statement "Rukun Iman
"An insignificant thing has a certain secret – both beautiful and contaminated. Like the photographer's ability to capture important events, so do the creators with the intention of finding the implied meaning of something.

When such a thing is isolated from its original context – it still has a great impact on the observer or the audience. Being guided by the artwork's justifications and within the gallery's atmosphere itself – the meaning of each moment can be understood well enough.

I chose six factors (Religion / Society / Culture / Roles / Gender / Humanity) that can be seen as a big influence and form the reality of the artist. Every factor interconnected with other factors, as justification that these six determine realities of a person's reality. That intersection is seen as a complex form of reality – that it does not lie in a fixed hierarchy – it does occur according to specific circumstances and context. Each work can also be divided into two aspects: Subjective – A statement based on one's experience as an individual in the community as well as Objective – A factual observation based on collective and comprehensible agreement in general. "      Engku Iman